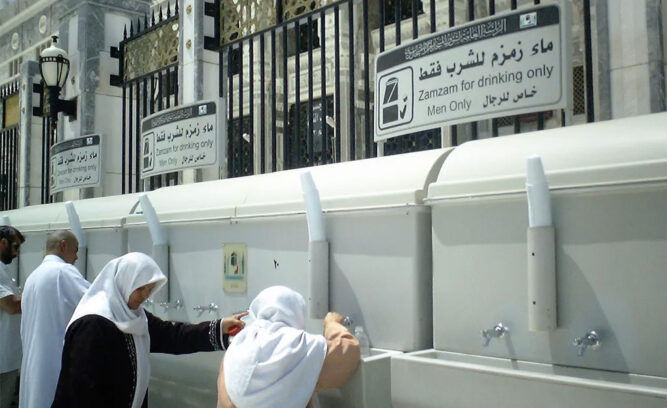 Many Muslims believe that Zam Zam water is blessed water. However, there is no mention in the Quran of Zam Zam water. The Quran does talk about rainwater and honey, however. The story of Zam Zam is linked with the story of prophet Abraham's wife, Hagar, his son, prophet Ishmael, Safa and Marwa. However, there is absolutely no mention of Hagar or the Hagar-Ishmael story in the entire Quran. As a matter of fact, there is not even a single mention of the word "Zamzam" in the Quran. Safa and Marwa are not even described as "mountains" in the Quran but rather as "symbols". Pagan Arabs used to circumambulate (tawaaf) around Safa and Marwa before Islam was revealed to them. The Quran merely allowed this practice of "tawaaf" around Safa and Marwa to continue as optional.
إِنَّ الصَّفَا وَالْمَرْوَةَ مِن شَعَائِرِ اللَّهِ ۖ فَمَنْ حَجَّ الْبَيْتَ أَوِ اعْتَمَرَ فَلَا جُنَاحَ عَلَيْهِ أَن يَطَّوَّفَ بِهِمَا
Indeed, as-Safa and al-Marwah are among the symbols of Allah. So whoever makes Hajj to the House or performs 'umrah – there is no blame upon him for walking between them. … (2:158)
The statement "there is no blame / sin upon him for walking between them (Safa and Marwa)" clearly indicates that newly converted Muslims (ex Pagans) were allowed to continue the practice of walking between Safa and Marwa as they used to when they were pagans. The Quran does not require this practice.
The Healing Power of Honey
According to verses 16:68-69, honey has the power to heal.
وَأَوْحَىٰ رَبُّكَ إِلَى النَّحْلِ أَنِ اتَّخِذِي مِنَ الْجِبَالِ بُيُوتًا وَمِنَ الشَّجَرِ وَمِمَّا يَعْرِشُونَ ثُمَّ كُلِي مِن كُلِّ الثَّمَرَاتِ فَاسْلُكِي سُبُلَ رَبِّكِ ذُلُلًا ۚ يَخْرُجُ مِن بُطُونِهَا شَرَابٌ مُّخْتَلِفٌ أَلْوَانُهُ فِيهِ شِفَاءٌ لِّلنَّاسِ ۗ إِنَّ فِي ذَٰلِكَ لَآيَةً لِّقَوْمٍ يَتَفَكَّرُونَ
And your Lord inspired to the bee, "Take for yourself among the mountains, houses, and among the trees and [in] that which they construct. Then eat from all the fruits and follow the ways of your Lord laid down [for you]." There emerges from their bellies a drink, varying in colors, in which there is healing for people. Indeed in that is a sign for a people who give thought. (16:68-69)
The Reviving Properties of Rainwater
According to verse 50:9, rainwater is referred to as "blessed" water" and has revitalizing properties.
وَنَزَّلْنَا مِنَ السَّمَاءِ مَاءً مُّبَارَكًا فَأَنبَتْنَا بِهِ جَنَّاتٍ وَحَبَّ الْحَصِيدِ
And We have sent down blessed rain from the sky and made grow thereby gardens and grain from the harvest. (50:9)
Related articles