Section 8
Section 8 is a housing voucher program. It is the federal government's major program for assisting very low-income families, the elderly, and the disabled to afford decent, safe, and sanitary housing in the private market.
Many landlords don't like to offer Section 8 housing – possibly because renters who get Section 8 support may be less desirable. However, there are advantages to accepting Section 8 renters like
guaranteed on-time partial or full rent directly from the government
potentially higher rent
Many landlords get below-market rents for one reason or another. With Section 8, governments will pay rent for eligible tenants up to a certain amount based on zip code and number of bedrooms. The rent amount is called the Fair Market Rent (FMR). For example, one of my rentals in Stockton, California (San Joaquin County) is a triplex consisting of two 2-bedroom units and one 3-bedroom unit. According to the table below, I could get
$1410 / month for each 2-bedroom unit
$2000 / month for the 3-bedroom unit
When I purchased the property, I inherited the tenants who were paying $1200 / month for a 2-bedroom unit and $1250 / month for the 3-bedroom unit. If the tenants leave, I could increase the rents to the FMR and accept Section 8 in case non-Section 8 renters are willing to pay the FMR.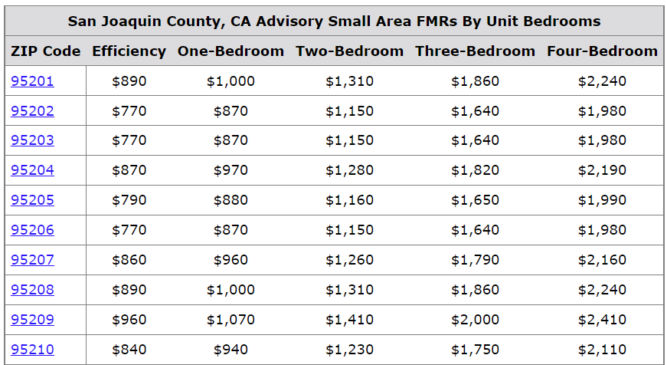 https://www.huduser.gov/portal/datasets/fmr/fmrs/FY2022_code/2022summary_sa.odn
The FMR above, which is from the Housing and Urban Development (HUD) website, gives a value of $1410 and $2000 for a 2 and 3-bedroom apartment in the 95209 zip code. Interestingly, the housing authority for San Joaquin County (HACSJ) provides their own FMR table with higher max rent values for the same year (2022).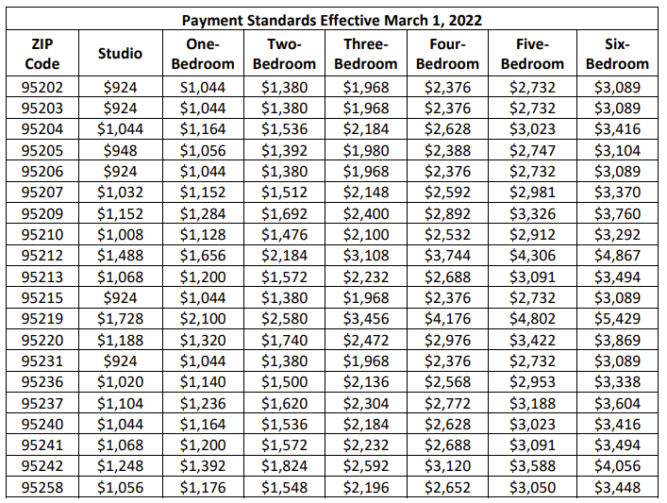 Using this table, the max rent for a 2 and 3-bedroom apartment in the 95209 zip code is $1692 and $2400, respectively. However, this doesn't mean a landlord will get that full amount. The following factors will affect the max rent amount.
A deduction must be made if the family will be responsible for any of the utilities (i.e. PG&E, water, sewer, garbage, etc.)
The owner is asking more for this unit, than for other similar units.
Your share of the rent plus the utility allowance may not exceed 40% of your family monthly adjusted gross income at move-in.
For example, in my rental, I pay for water, sewer, and garbage but the tenant is responsible for paying for gas and electricity to PG&E (Pacific Gas & Electric). One prospective tenant (single mother and daughter) has a total income of $1033 from the following sources:
$600 from federal social security
$733 from CalWorks (California)
As such, the max rent the housing authority would pay is $1575 instead of $1692. If the tenant's income is higher, then the housing authority would pay up to $1692. Interestingly, this rule only applies upon move-in. Every year, a landlord could increase the rent by a maximum of 10%.
To accept Section 8 housing vouchers in San Joaquin country, California, here's the process:
Advertise your rental indicating that you accept Section 8 housing vouchers
Verify the prospect has a valid housing voucher.
Verify your prospect's income. The higher their income, the better.
Each prospect will have a case worker.
The prospect may give you a Request for Tenancy Approval form (HUD-52517). Fill it out and email it to the housing navigator.
The housing navigator will run some numbers and tell you whether your asking rent is too high. If it's too high, they will give you a counteroffer for a lower rent amount.
If you accept the lower rent amount, you will need to reply with a lease agreement showing the lower rent amount. Otherwise, you can simply decline the lower rent offer and see if you can rent the apartment to someone else for more money.
After providing a lease agreement with an amount both the landlord and the housing authority accept, the housing navigator will notify the inspection department to schedule an inspection. The housing authority needs to verify the apartment is in reasonable condition for living.
Inspection Checklist
All utilities must be on (PG&E, water, etc.)
Unit is vacant and free of debris (interior/exterior); all of owner's personal belongings are removed.
Smoke detectors are operable on each level of the home, including the basement
Repairs or rehabilitation is completed (painting, carpet replacement, etc.)
Doors do not have double-key deadbolt locks
All windows accessible from the outside must have working locks
Operable heater
Cover plates on all electrical outlets and light switches
Operable appliances such as stove, oven, refrigerator, microwave and dishwasher. Stove must have readable control knobs.
Plumbing leaks repaired
Chipping, peeling paint on any painted surface removed
Free of cockroach or rodent infestation
Water heater must have a pressure release valve and the discharge line must be of rigid pipe material pointed towards the floor or outside
Bathrooms must have exhaust fan and/or window for proper ventilation
If the unit passes inspection, the tenant may move in at the landlord's discretion. The landlord then must contact the payment contract processor to set up a payment contract (direct deposit, etc). If the unit doesn't pass inspection, the landlord has to make some fixes and contact the housing authority to schedule a re-inspection.
The landlord signs the payment contract which is then sent to the accounting department for payment processing (first payment made on the 1st or 15th).  
Housing Authority – San Joaquin County Staff List
2023 California Fair Market Rent By Metropolitan Area
View the fair market rent for all metro and local areas in California
The screenshot below shows the rents sorted by 2-bedroom rent descending.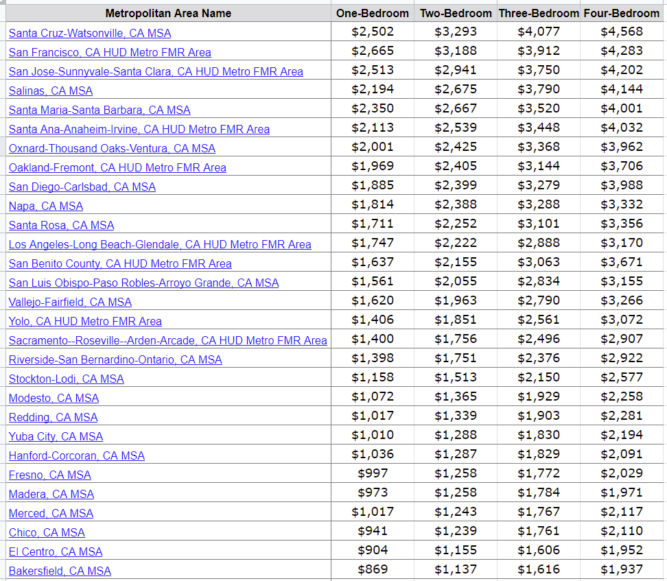 Rent-o-meter
You can get rent information for similar neighboring properties at rentometer.com. For example, for my 2-bedroom, 1-bathroom unit in Stockton (95209), the average rent is $1717. That's $300 more than the government's FMR (Fair Market Rent) amount. If the apartment is in great condition. you can even justify charging $1800.