WARNING
Never let anyone stay in your property on a temporary basis. Even if you haven't signed a rental agreement or accepted rent, giving a person a key or allowing him or her to move in as much as a toothbrush can give that person the legally protected status of a tenant. Then, if the person won't leave voluntarily, you will have to file a lawsuit to evict him or her.
Section 8
Landlords are not required to accept Section 8 tenants per California law.
Example Rental Application
(click to enlarge)

Downloadable Forms
Landlord Disclosures
California landlords are legally obligated to make several disclosures to prospective tenants. You can add the military, utility, and environmental disclosures to the rental application or put them on a separate sheet of paper attached to the rental application.
Megan's Law Database
Every written lease or rental agreement must inform the tenant of the existence of a statewide database of the names of registered sexual offenders.
Location Near Former Military Base
If your property is within a mile of a "former ordnance location"— an abandoned or closed military base in which ammunition or military explosives were used— you must notify all prospective tenants in writing. (CC § 1940.7.)
Shared Utility Arrangements
State law requires property owners to disclose to all prospective tenants, before they move in, any arrangements where a tenant might wind up paying for someone else's gas or electricity use. (CC § 1940.9.)
Environmental Hazards
Federal law requires landlords to warn tenants about the presence of asbestos and lead paint hazards in the rental property. California landlords must also disclose the presence of dangerous mold. California considers dampness and visible mold to be a substandard housing condition. (H& S § 17920.3.)
Bed Bugs
Starting July 1, 2017, California law requires landlords to give prospective tenants information on bed bug identification and control, including methods tenants should use to alert the landlord of a problem.
Smoking
Landlords are free to specify that some parts (or all of) their property will be smoke free. (CC § 1947.5.) For example, you may want to prohibit smoking in individual units, but permit it in common areas or certain common areas.
Check With Current and Previous Landlords and Other References
Always call current landlords or managers for references— even if you have a written letter of reference from them. Also, call personal references listed on the rental application. The current landlord may give an encouraging reference for a current problem tenant in order to get rid of that tenant. A prior landlord has less incentive.
Ask for current and previous managers by name
One suggestion is to call the number given for the previous landlord or manager and simply ask for the landlord or manager by name, rather than begin by saying that you are checking references. If the prospective tenant has really given you a friend's name, the friend will probably say something that gives away the scam.
Verify facts
Finally, if you have any doubts, ask the previous landlord or manager to pull out the tenant's rental application so you can verify certain facts, such as the tenant's Social Security number. If the so-called landlord can't do this, you are perhaps being conned.
See the Condition of Their Vehicles and Current Homes
When a prospective tenant comes to see your rental, pay close attention to their vehicle. If their vehicle is beat up and filthy, both inside and out, then you know they're ghetto and they will treat your rental property the same way. Definitely do not rent to them.
When a prospective tenant fills out your rental application, they will give their current address. Use Google Maps Street View to see what their current home looks like. If cars are double or triple-parked, and there's garbage on the ground everywhere, etc, then there's a good chance that they will bring that condition to your property. It's best to avoid renting to people who are used to that kind of living condition.
Example Tenant References Document
(click to enlarge)
Downloadable Forms
Verify a Potential Tenant's Income and Employment
How much income is enough? Think twice before renting to someone if the rent will take more than one-third of their income, especially if they have a lot of debt.
Obtain a Credit Report
Credit reporting agencies collect and sell credit and other information about consumers— for example, whether they pay their bills on time or, if reported by prior landlords, whether they've failed to pay the rent. As long as you use the information only to help you decide whether to rent to that person, or on what terms, you do not need the applicant's consent.
Never order a credit report unless you are doing so in order to evaluate a potential (or current or ex-) tenant. If you ask for a report for any other reason (such as a wish to check out the solvency of your future son-in-law or the resources of your ex-business partner whom you're considering suing), you could face a lawsuit and penalties of thousands of dollars.
Information covers the past seven to ten years. To run a credit check, you'll need a prospective tenant's name, address, and Social Security number (or other identifying information, such as a driver's license number, ITIN, or passport number).
You can get someone's credit report on the Experian website. Landlords don't pay anything. Tenants pay $14.95.
Do Not Request Proof of, or Ask About, Immigration Status
You may wish to make sure that every person you rent to has a legal right to be in the United States. However sensible you might think it is to know about the legal status of your tenants or prospects, it is illegal to ask them. (CC § 1940.3.)
Record Keeping
A crucial reason for any tenant-screening system is to document how and why you chose a particular tenant. Be sure to note your reasons for rejection— such as poor credit history, pets (if you don't accept pets), insufficient income relative to the rent, a negative reference from a previous landlord, or your inability to verify information— on the Tenant References form or separate paper. Keep organized files of applications, credit reports, and other materials and notes on prospective tenants for at least three years after you rent a particular unit.
Information You Must Provide Rejected Applicants
The Fair Credit Reporting Act, as amended by the Fair and Accurate Credit Transactions Act of 2003, requires you to give certain information to applicants whom you reject (or take other negative action toward) as the result of a report from a credit reporting agency (credit bureau), a tenant screening or reference service, or any other third party (except your own employees). (15 U.S.C. § § 1681 and following.) Known as "adverse action reports," these notices must be given not only to applicants who are rejected, but also to those whom you accept with qualifications, such as requiring a cosigner on the lease, a higher deposit, or more rent than others pay based on the report. The federal requirements do not apply if your decision is based on information that you (or your employee) gathered on your own.
Marketing Your Rental
You can advertise your property for rent on a number of websites including
Online Applications
Instead of dealing with paper and reading handwritten applications, allow prospective tenants to apply online. If you advertise on Zillow, you can use the Zillow Rental Manager to turn on/off applications and send prospects a link to the online application. In the screenshot below, you can also see a link to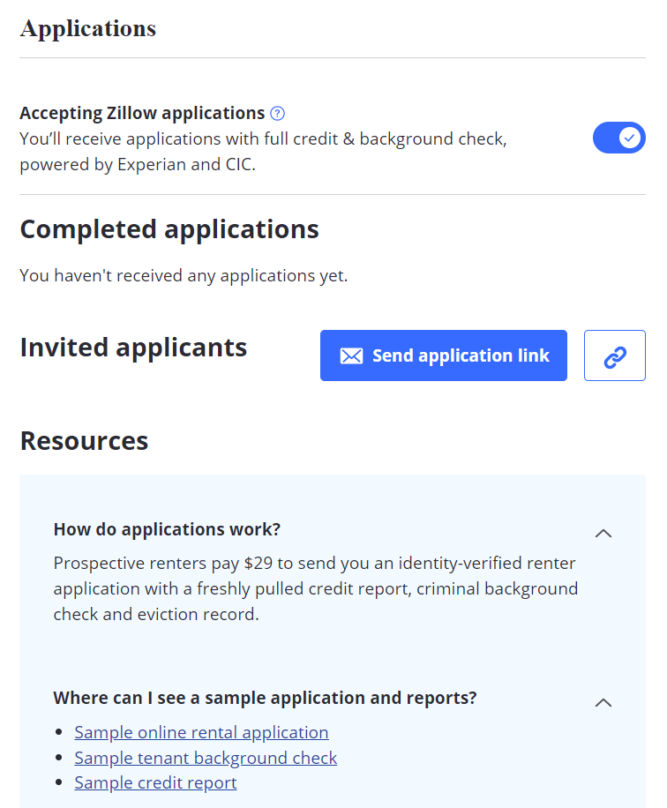 When they open the link, they will see an online application as in the screenshot below.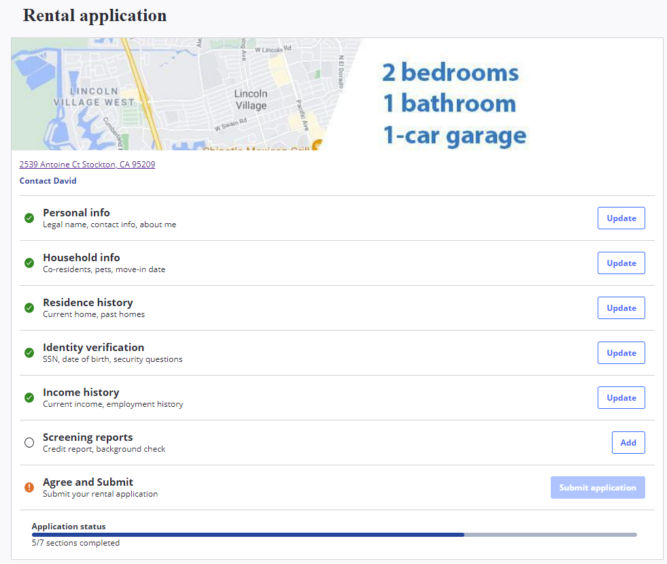 In the screening reports section, prospective tenants will have to pay $29 for a credit report and background check. They will not be able to submit the application without paying the fee. Since you don't want to make them pay unless they meet all other requirements, it might be good to provide a preliminary, short online application so that you can quickly see if they meet your other requirements, e.g. minimum income, no pets, etc.