The City of Stockton has banned no-fault evictions. Therefore, to evict tenants, you must have a legally-allowed reason including, but not limited to,
tenant did pay rent
tenant breached the rental contract
etc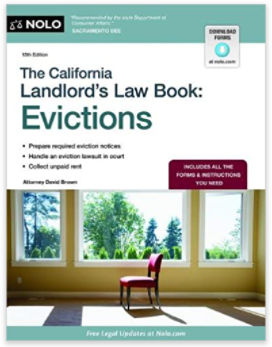 The California Landlord's Law Book: Evictions
Eviction Consequences on Tenant
If you plan on spending money to evict, e.g. by hiring a lawyer, you may want to first inform the tenant that if they do not move out, an eviction judgment could make it very difficult for them to rent another apartment since eviction judgments show up in background reports. Landlords will most likely reject tenants who have been evicted.
Unlawful Detainer Eviction Service
You can do a Google search for "Stockton California Unlawful Detainer Eviction Service" and find services that help with evictions ranging from UDAs (Unlawful Detainer Assistants) to lawyers. If you are a member of Nor Cal Rental Property Association, you can pay them to evict for $775 (plus $295 if you want an attorney). As of May 2021, membership for a triplex costs $216 per year with one time registration fee of $75.
If you choose to do it yourself, you can get free help from the Self-Help / Pro Per Clinic in Stockton courts.
Overview of Eviction Process
Serve (Conditional) Termination Notice on Tenant
The landlord terminates the tenancy by serving a termination notice on the tenant, which may be a Three-Day Notice to Pay Rent or Quit, a Three-Day Notice to Perform Covenant or Quit, an Unconditional Three-Day Notice to Quit, or a 30- or 60-Day Notice.

The notice must be prepared and served in accordance with state and local law. If the tenant pays rent, corrects the violation, or moves (depending on the particular notice), that's the end of the matter, but the tenant may still owe rent.
File Unlawful Detainer Complaint with Court and Serve Tenants
After the three, 30, or 60 days are up, and if the tenant hasn't paid the rent, corrected the violation, or left, the landlord can begin an eviction lawsuit by filing an "unlawful detainer complaint" in superior court. The tenant must file a written response in court, usually within five days (plus applicable extensions).
If Tenant Doesn't Respond, Get Default Judgment and Writ of Possession
If the tenant hasn't filed a written response in court by the deadline, the landlord wins. The court clerk issues a Default Judgment for Possession of Premises and Writ of Possession, which the landlord takes to the sheriff or marshal.

If the tenant doesn't respond within 5 days, quickly file a Notice to Enter Default with the Court Clerk to automatically win.



If Tenant Responds, Go to Trial
If the tenant files a response, the court will set the case for trial. After trial (or if the case is decided summarily by a judge), if the landlord wins, the landlord gets a judgment for possession of the property and for rent and court costs. The landlord gets a Writ of Execution from the clerk and gives it, and eviction instructions, to the sheriff or marshal.
Sheriff Gives Eviction Notice to Tenants
After several days, the sheriff or marshal gives the tenants written notice they'll be forcibly evicted within five days if they don't move out first.
If Tenants Don't Leave, Sheriff Forces Them Out
After five more days, the sheriff or marshal forcibly evicts any tenants who have not left, and turns the property over to the landlord.
Landlord Can Get Judgment for Rent and Court Costs
After eviction, if the landlord got a default judgment for possession, the landlord can go back to court and get a judgment for rent and court costs.
San Joaquin County Superior Court
Landlord – Tenant Issues
To learn about how to evict a tenant in Stockton, be sure to read the San Joaquin County Superior Court's website which has updated information on specific procedures.
Self-Help / Pro Per Clinic
The court offers help for people who don't have attorneys in the Self-Help / Pro Per Clinic including help will filling out unlawful detainer forms.
Eviction Videos
Provided by the California Courts Self-Help Division.
Chapter 1: Eviction Disputes – Introduction
Chapter 2: Eviction Disputes – Introduction
Chapter 3: Resolving an Eviction Dispute – Mediation
Chapter 4: Eviction Disputes – Resources
Chapter 5: Resolving Your Eviction Case in California Courts