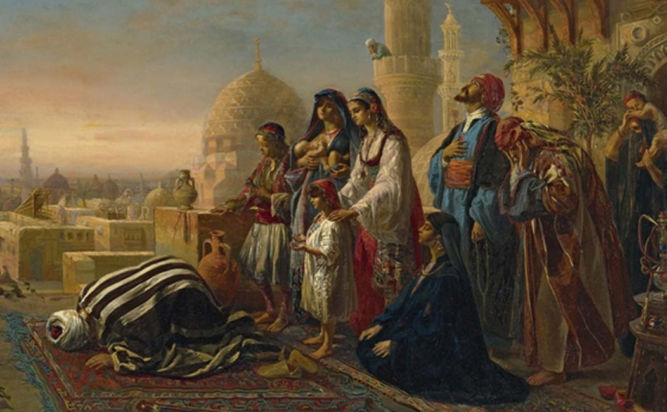 People Prayed Before Muhammad's Time
Many Muslims believe that the Islamic prayer began with Muhammad. However, below is proof that people prayed Islamically much before Muhammad was even born.
Additionally, many Muslims argue that the Quran is incomplete because it doesn't explain how to pray and therefore the hadith are required to clarify the shortcomings of the Quran. This argument is invalid because
God says the Quran is complete (6:115) (6:38)
God says the Quran is fully detailed of all things (6:114) (12:111) (41:3) (11:1)
God says the Quran is clarification of all things (16:89)
God taught Abraham how to pray (21:73). Ever since then, people already knew how to pray and therefore God didn't need to explain in the Quran how to do it again.
God told Muhammad to establish prayer and give zakah in Quran chapter 73. This is the 3rd chapter that was revealed to Muhammad. The first and second chapters that were revealed to Muhammad were chapters 96 and 68. Neither one of these three chapters explain to Muhammad how to pray. That makes sense because people at the time (and since prophet Abraham) already knew how to pray.
Prophet Ibrahim, Lot, Isaac and Jacob prayed
God said, "O fire, be coolness and safety upon Abraham." … And We delivered him (Abraham) and Lot to the land which We had blessed for the worlds. And We gave him Isaac and Jacob in addition, and all [of them] We made righteous. And We made them leaders guiding by Our command. And We inspired to them the doing of good deeds, establishment of prayer, and giving of zakah; and they were worshippers of Us. (21:69 – 21:73)
Prophet Ishmael instructed his people to pray
يَا بَنِي إِسْرَائِيلَ … وَأَقِيمُوا الصَّلَاةَ وَآتُوا الزَّكَاةَ وَارْكَعُوا مَعَ الرَّاكِعِينَ
And mention in the Book, Ishmael. Indeed, he was true to his promise, and he was a messenger and a prophet. And he used to enjoin on his people prayer and zakah and was to his Lord pleasing. (2:40 – 2:43)
The Children of Israel (Jews) prayed
يَا بَنِي إِسْرَائِيلَ … وَأَقِيمُوا الصَّلَاةَ وَآتُوا الزَّكَاةَ وَارْكَعُوا مَعَ الرَّاكِعِينَ
O Children of Israel, … establish prayer and give zakah and bow with those who bow [in worship and obedience]. (2:40 – 2:43)
Maryam (Mary), Mother of Prophet Jesus, prayed
يَا مَرْيَمُ اقْنُتِي لِرَبِّكِ وَاسْجُدِي وَارْكَعِي مَعَ الرَّاكِعِينَ
"O Mary! Be obedient to your Lord and prostrate and bow down with those who bow down" (3:43)
The phrase "bow with those that bow" is clearly a reference to congregation prayer such as the Friday Dhuhr prayer.
Prophet Jesus prayed
وَجَعَلَنِي مُبَارَكًا أَيْنَ مَا كُنتُ وَأَوْصَانِي بِالصَّلَاةِ وَالزَّكَاةِ مَا دُمْتُ حَيًّا
And He has made me (Jesus) blessed wherever I am and has enjoined upon me prayer and zakah as long as I remain alive. (19:31)
People prayed at the Kaaba
وَإِذْ بَوَّأْنَا لِإِبْرَاهِيمَ مَكَانَ الْبَيْتِ أَن لَّا تُشْرِكْ بِي شَيْئًا وَطَهِّرْ بَيْتِيَ لِلطَّائِفِينَ وَالْقَائِمِينَ وَالرُّكَّعِ السُّجُودِ
And [mention, O Muhammad], when We designated for Abraham the site of the House (Kaaba), [saying], "Do not associate anything with Me and purify My House for those who perform Tawaf and those who stand [in prayer] and those who bow and prostrate. (22:26)
Many other people before Muhammad's time prayed
In verses 19:58-59, we are told that God blessed many prophets before Muhammad and that after them, some generations stopped praying. This indicates that they did know how to pray.
أُولَٰئِكَ الَّذِينَ أَنْعَمَ اللَّهُ عَلَيْهِم مِّنَ النَّبِيِّينَ مِن ذُرِّيَّةِ آدَمَ وَمِمَّنْ حَمَلْنَا مَعَ نُوحٍ وَمِن ذُرِّيَّةِ إِبْرَاهِيمَ وَإِسْرَائِيلَ وَمِمَّنْ هَدَيْنَا وَاجْتَبَيْنَا ۚ إِذَا تُتْلَىٰ عَلَيْهِمْ آيَاتُ الرَّحْمَٰنِ خَرُّوا سُجَّدًا وَبُكِيًّا فَخَلَفَ مِن بَعْدِهِمْ خَلْفٌ أَضَاعُوا الصَّلَاةَ وَاتَّبَعُوا الشَّهَوَاتِ ۖ فَسَوْفَ يَلْقَوْنَ غَيًّا
Those were the ones upon whom God bestowed favor from among the prophets of the descendants of Adam and of those We carried [in the ship] with Noah, and of the descendants of Abraham and Israel, and of those whom We guided and chose. When the verses of the Most Merciful were recited to them, they fell in prostration and weeping. But there came after them successors who neglected prayer and pursued desires; so they are going to meet evil. (19:58-59)
Example prayer form before Muhammad's time
In 2:43, the Children of Israel (Jews) were told to pray. According to Hayim H. Donin in his book titled "To Pray As A Jew", we see diagrams as shown below describing the ancient way Jews prayed. Unsurprisingly, the way they prayed is very similar to how Muslims today pray, even though Jews today no longer pray the way ancient Jews prayed.
It is interesting to learn from this book that Jews also wash before praying (like ablution / wudhu for Muslims) and have a call for prayer (like the adhan for Muslims).
People didn't and don't learn how to pray from the hadith
Many people argue that Islam originated with Muhammad and that the hadith of the Prophet Muhammad are necessary to explain the details of prayer which are missing from the Quran. However, as we have proven above,
(Submission) Islam originated with Abraham
Muhammad was instructed to follow the religion of Abraham
People prayed ever since the time of Prophet Abraham
Logically, God didn't go into detail to describe how to pray because people already knew how to pray ever since Abraham's time. Just like people nowadays learn to pray from the practice being passed on from generation to generation, that too happened since Abraham's time. No one both past and present learn to pray by reading the hadith.
Did you learn to pray from reading the hadith or did you learn from your parents or teachers?
Quran-Follower (Muslim) Prayer
Submitters who follow the Quran (Muslims) are supposed to pray 5 times a day. Following is what they say.
Torah-Follower (Jewish) Prayer
Submitters who follow the Torah (Jews) usually pray 2 times a day. Following, known as the Shema, is what they say.
שְׁמַע, יִשְׂרָאֵל: יְהוָה אֱלֹהֵינוּ, יְהוָה אֶחָד.וְאָהַבְתָּ, אֵת יְהוָה אֱלֹהֶיךָ, בְּכָל-לְבָבְךָ וּבְכָל-נַפְשְׁךָ, וּבְכָל-מְאֹדֶךָ.וְהָיוּ הַדְּבָרִים הָאֵלֶּה, אֲשֶׁר אָנֹכִי מְצַוְּךָ הַיּוֹם–עַל-לְבָבֶךָ.וְשִׁנַּנְתָּם לְבָנֶיךָ, וְדִבַּרְתָּ בָּם, בְּשִׁבְתְּךָ בְּבֵיתֶךָ וּבְלֶכְתְּךָ בַדֶּרֶךְ, וּבְשָׁכְבְּךָ וּבְקוּמֶךָ.וּקְשַׁרְתָּם לְאוֹת, עַל-יָדֶךָ; וְהָיוּ לְטֹטָפֹת, בֵּין עֵינֶיךָ.וּכְתַבְתָּם עַל-מְזֻזוֹת בֵּיתֶךָ, וּבִשְׁעָרֶיךָ.וְהָיָה, אִם-שָׁמֹעַ תִּשְׁמְעוּ אֶל-מִצְוֺתַי, אֲשֶׁר אָנֹכִי מְצַוֶּה אֶתְכֶם, הַיּוֹם–לְאַהֲבָה אֶת-יְהוָה אֱלֹהֵיכֶם, וּלְעָבְדוֹ, בְּכָל-לְבַבְכֶם, וּבְכָל-נַפְשְׁכֶם.וְנָתַתִּי מְטַר-אַרְצְכֶם בְּעִתּוֹ, יוֹרֶה וּמַלְקוֹשׁ; וְאָסַפְתָּ דְגָנֶךָ, וְתִירֹשְׁךָ וְיִצְהָרֶךָ.וְנָתַתִּי עֵשֶׂב בְּשָׂדְךָ, לִבְהֶמְתֶּךָ; וְאָכַלְתָּ, וְשָׂבָעְתָּ.הִשָּׁמְרוּ לָכֶם, פֶּן יִפְתֶּה לְבַבְכֶם; וְסַרְתֶּם, וַעֲבַדְתֶּם אֱלֹהִים אֲחֵרִים, וְהִשְׁתַּחֲוִיתֶם, לָהֶם.וְחָרָה אַף-יְהוָה בָּכֶם, וְעָצַר אֶת-הַשָּׁמַיִם וְלֹא-יִהְיֶה מָטָר, וְהָאֲדָמָה, לֹא תִתֵּן אֶת-יְבוּלָהּ; וַאֲבַדְתֶּם מְהֵרָה, מֵעַל הָאָרֶץ הַטֹּבָה, אֲשֶׁר יְהוָה, נֹתֵן לָכֶם.וְשַׂמְתֶּם אֶת-דְּבָרַי אֵלֶּה, עַל-לְבַבְכֶם וְעַל-נַפְשְׁכֶם; וּקְשַׁרְתֶּם אֹתָם לְאוֹת עַל-יֶדְכֶם, וְהָיוּ לְטוֹטָפֹת בֵּין עֵינֵיכֶם.וְלִמַּדְתֶּם אֹתָם אֶת-בְּנֵיכֶם, לְדַבֵּר בָּם, בְּשִׁבְתְּךָ בְּבֵיתֶךָ וּבְלֶכְתְּךָ בַדֶּרֶךְ, וּבְשָׁכְבְּךָ וּבְקוּמֶךָ.וּכְתַבְתָּם עַל-מְזוּזוֹת בֵּיתֶךָ, וּבִשְׁעָרֶיךָ.לְמַעַן יִרְבּוּ יְמֵיכֶם, וִימֵי בְנֵיכֶם, עַל הָאֲדָמָה, אֲשֶׁר נִשְׁבַּע יְהוָה לַאֲבֹתֵיכֶם לָתֵת לָהֶם–כִּימֵי הַשָּׁמַיִם, עַל-הָאָרֶץ.וַיֹּאמֶר יְהוָה, אֶל-מֹשֶׁה לֵּאמֹר.דַּבֵּר אֶל-בְּנֵי יִשְׂרָאֵל, וְאָמַרְתָּ אֲלֵהֶם, וְעָשׂוּ לָהֶם צִיצִת עַל-כַּנְפֵי בִגְדֵיהֶם, לְדֹרֹתָם; וְנָתְנוּ עַל-צִיצִת הַכָּנָף, פְּתִיל תְּכֵלֶת.וְהָיָה לָכֶם, לְצִיצִת, וּרְאִיתֶם אֹתוֹ וּזְכַרְתֶּם אֶת-כָּל-מִצְוֺת יְהוָה, וַעֲשִׂיתֶם אֹתָם; וְלֹא-תָתוּרוּ אַחֲרֵי לְבַבְכֶם, וְאַחֲרֵי עֵינֵיכֶם, אֲשֶׁר-אַתֶּם זֹנִים, אַחֲרֵיהֶם.לְמַעַן תִּזְכְּרוּ, וַעֲשִׂיתֶם אֶת-כָּל-מִצְוֺתָי; וִהְיִיתֶם קְדֹשִׁים, לֵאלֹהֵיכֶם.אֲנִי יְהוָה אֱלֹהֵיכֶם, אֲשֶׁר הוֹצֵאתִי אֶתְכֶם מֵאֶרֶץ מִצְרַיִם, לִהְיוֹת לָכֶם, לֵאלֹהִים: אֲנִי, יְהוָה אֱלֹהֵיכֶם.
Deuteronomy 6:4–9

4 Hear, O Israel: the LORD our God, the LORD is one.

5 And thou shalt love the LORD thy God with all thy heart, and with all thy soul, and with all thy might.

6 And these words, which I command thee this day, shall be upon thy heart;

7 and thou shalt teach them diligently unto thy children, and shalt talk of them when thou sittest in thy house, and when thou walkest by the way, and when thou liest down, and when thou risest up.

8 And thou shalt bind them for a sign upon thy hand, and they shall be for frontlets between thine eyes.

9 And thou shalt write them upon the door-posts of thy house, and upon thy gates.

Deuteronomy 11:13–21

13 And it shall come to pass, if ye shall hearken diligently unto My commandments which I command you this day, to love the LORD your God, and to serve Him with all your heart and with all your soul,

14 that I will give the rain of your land in its season, the former rain and the latter rain, that thou mayest gather in thy corn, and thy wine, and thine oil.

15 And I will give grass in thy fields for thy cattle, and thou shalt eat and be satisfied.

16 Take heed to yourselves, lest your heart be deceived, and ye turn aside, and serve other gods, and worship them;

17 and the anger of the LORD be kindled against you, and He shut up the heaven, so that there shall be no rain, and the ground shall not yield her fruit; and ye perish quickly from off the good land which the LORD giveth you.

18 Therefore shall ye lay up these My words in your heart and in your soul; and ye shall bind them for a sign upon your hand, and they shall be for frontlets between your eyes.

19 And ye shall teach them your children, talking of them, when thou sittest in thy house, and when thou walkest by the way, and when thou liest down, and when thou risest up.

20 And thou shalt write them upon the door-posts of thy house, and upon thy gates;

21 that your days may be multiplied, and the days of your children, upon the land which the LORD swore unto your fathers to give them, as the days of the heavens above the earth.

Numbers 15:37–41

37 And the LORD spoke unto Moses, saying:38 'Speak unto the children of Israel, and bid them that they make them throughout their generations fringes in the corners of their garments, and that they put with the fringe of each corner a thread of blue.

39 And it shall be unto you for a fringe, that ye may look upon it, and remember all the commandments of the LORD, and do them; and that ye go not about after your own heart and your own eyes, after which ye use to go astray;

40 that ye may remember and do all My commandments, and be holy unto your God.

41 I am the LORD your God, who brought you out of the land of Egypt, to be your God: I am the LORD your God.'
Related articles