Assuming you have 3 bedroom, 2 bathroom 1100 square foot investment property, following is a breakdown of costs to remodel it relatively cheaply and quickly using neutral colors.
Floor Plan
Using Live Home 3D, this is an example of a 3 bed, 2 bath, 2 car garage house. The kitchen is U-shaped. The bedrooms are almost all the same size. Two of the three bedrooms have walk-in closets. The laundry is central to the house. There is a small patio next to the kitchen and living room.
Colors
Here are the neutral colors we'll be choosing.
Floor – beige or light gray
Wall – beige (Roman Plaster PPU7-10U) Behr / Home Depot
Ceiling – same as wall color for simplicity or Swiss Coffee
Baseboard – pure white
Kitchen cabinets – light gray
Kitchen appliances – stainless steel
Kitchen countertop – white
Bathroom vanity – light gray
Bathroom sink – white
Doors – pure white
Wall
Replace all outlets and switches with Dekora ones
Ceiling
Spray walls and ceiling same color for simplicity. Or, spray ceiling Swiss Coffee.
Floor
Choose large 12"x24" tiles for fewer grout lines and quicker completion.
Kitchen
Get cabinets from IKEA. They deliver.
Average 10×10 kitchen
Bathroom
Laundry
Landscaping
Garage Floor and Driveway
Whole House Renovation Plan
Turn on water, gas and electricity
Use laser measure to measure each room
Use Live Home 3D to draw floor plan
Print multiple copies of floor plan and staple to wall
Demolition – Day 1 – 2

Wear coveralls / protective clothing
Lay down large tarp in driveway to make debris cleanup easier
Demolish kitchen using Bosch jackhammer, monster sawzall and pry bar

Remove both bathroom toilets and and vanities

Remove all flooring.
Rent floor surface prep tool to smoothen floor. Include the garage floor.
Remove all outlets and switch covers
Remove all interior door knobs, if necessary
Put all debris in driveway
Vacuum all dust using cyclone filter to minimize filter clogs and simplify disposal

Drywall – Day 3

Add drywall where necessary
Patch holes in walls where necessary
Texture walls where necessary

Paint – Day 4

If reusing baseboard, label each baseboard with a number and label corresponding wall in the floorplan with the same number
Remove baseboard and put on floor and cover with plastic
For each area that needs to be covered, e.g. outlets, ceiling lights, registers, vents, etc, cut painter's plastic to size
Spray glue around the area that needs to be cover and stick plastic to it
Wear coveralls / protective clothing
Use air sprayer to spray paint on walls and ceilings.
If necessary, spray paint doors white

Floor and Wall Fixtures – Day 5 – Day 9

Pay someone to install tile flooring on all floors
While floor tiles are being installed, do following

Replace outlets, switches and plates with Dekora ones
Install bathroom lights
Install bathroom towel hangers
Replace all door knobs, if necessary
Paint baseboard

Kitchen – Day 10 – Day 13

Pay someone to install IKEA kitchen
Install kitchen appliances
Pay someone to install quartz countertop

Bathrooms – Day 13

Install toilets
Install vanity
Install vanity faucet

Landscaping – Day 14 – 18

Remove trees
Rent mini skid steer to remove 3 inches of dirt
Rent excavator to dig holes for Cypress trees
Plants Cypress trees
Lay down weed fabric
Lay down cement board
Pour and level Ginger rocks

Debris removal – Day 19

Rent dumpster
Transfer all debris from driveway to dumpster for haulaway

Fence, garage floor, driveway, and exterior cement walkways – Day 20 – Day 21

Pressure wash the garage floor, driveway and fence
Spray tan Granite Grip using air compressor
Paint fence
Cost Breakdown
Using a spreadsheet, create a cost breakdown like below.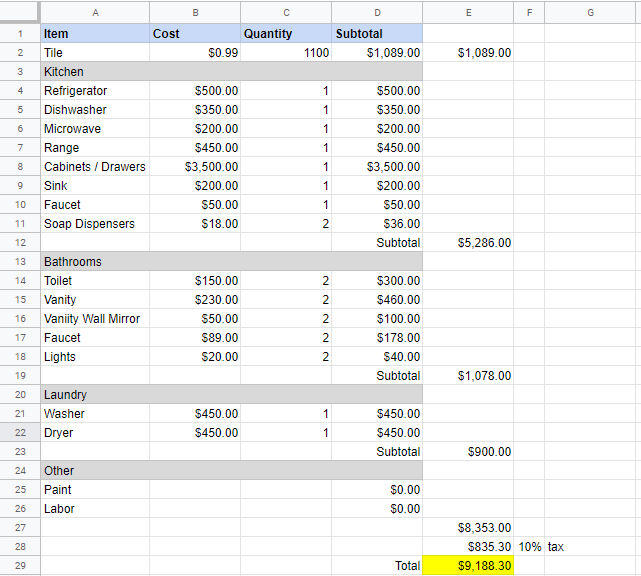 Based on this, we can estimate that including labor and other items, the total cost for a whole house renovation would be around $20K.