The Caribbean is a subregion of the Americas that includes the Caribbean Sea and its islands.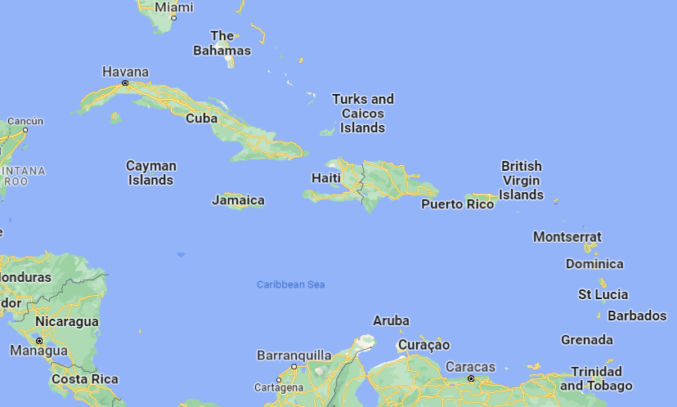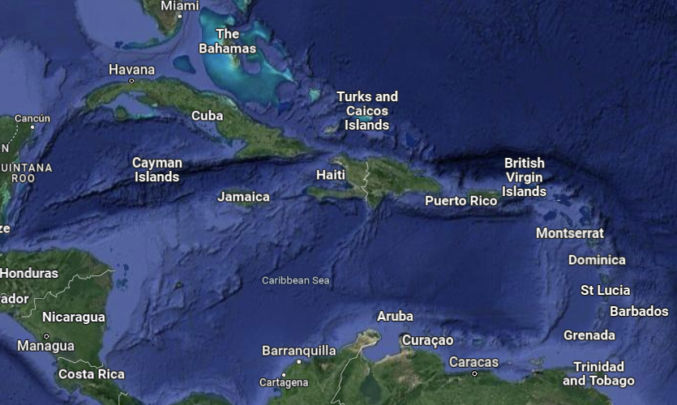 Best Beaches
If your idea of the best beach is like mine, which are beaches that have
shallow turquoise or clear water,
fine white sand,
no garbage, seaweed, rocks and corral
like this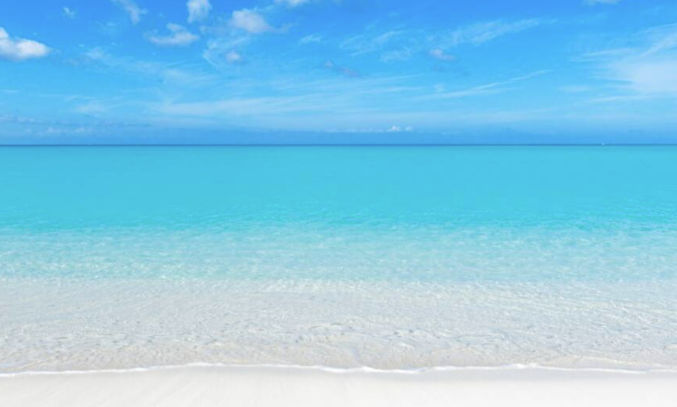 then, looking at the Google satellite image above, it should be evident that one spot stands out: The Bahamas! Actually, if we zoom in on that area, we'll find that the Turks and Caicos Islands also have that same turquoise color.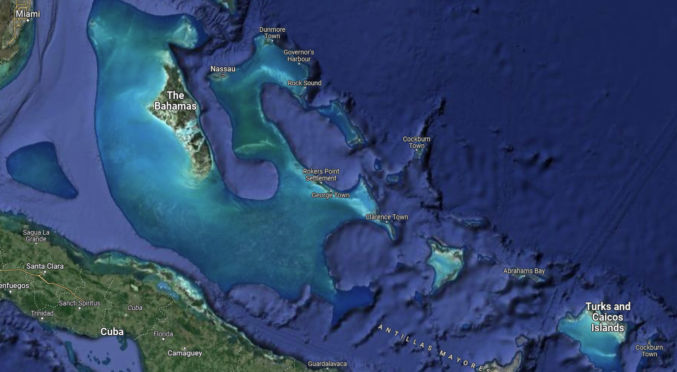 Both of these countries have many beaches, and some are better than others. According to the World Travel Awards, Turks and Caicos Islands has the best beaches, and the country has held that rank since 2012.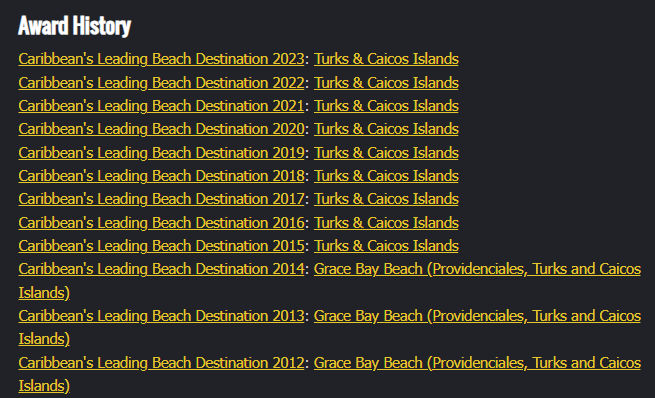 According to the award history for 2012, 2013 and 2014, and according to the "Visit Turks & Caicos Islands'" website, the best beach is Grace Bay Beach on Providenciales island. Learn more about Grace Bay Beach.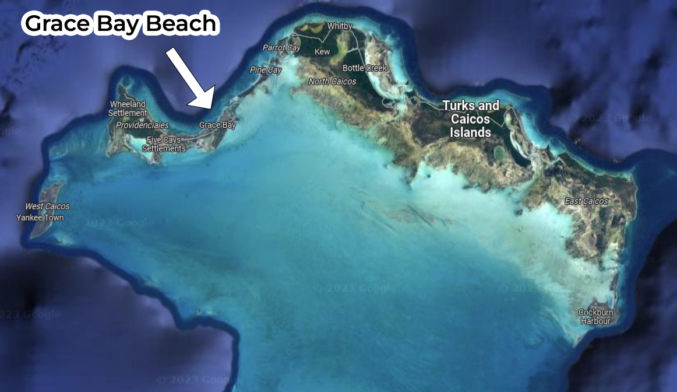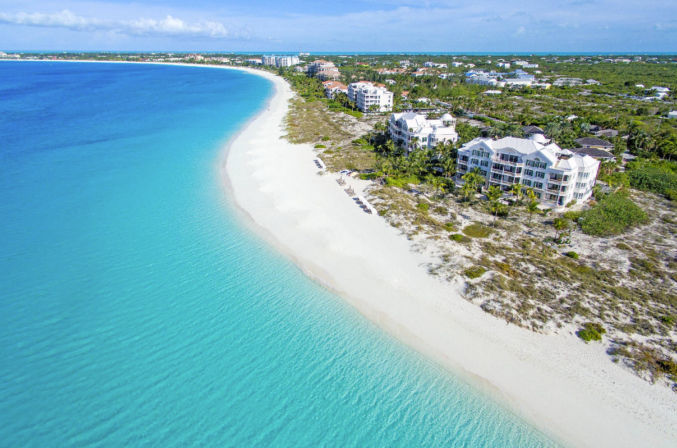 Grace Bay Beach is located on the west side of Providenciales island. As you can see in the picture above, it looks amazing. But, the beach and water on the eastern side looks even better according to the zoomed-out photo below.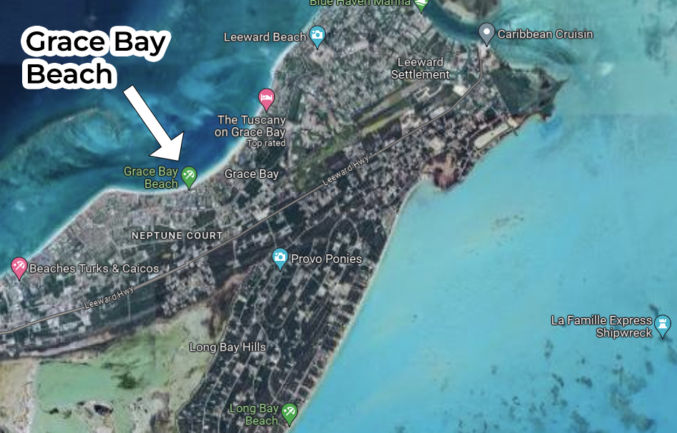 So, what about the Bahamas? According to Lonely Planet, two beaches that meet the criteria above are
Junkanoo beach
Located in the city of Nassau on the island of New Providence and near the cruise port, this beach gets really crowded.
Tropic of Cancer Beach
This beach is located in a small town far from Nassau. You may feel lonely at this beach.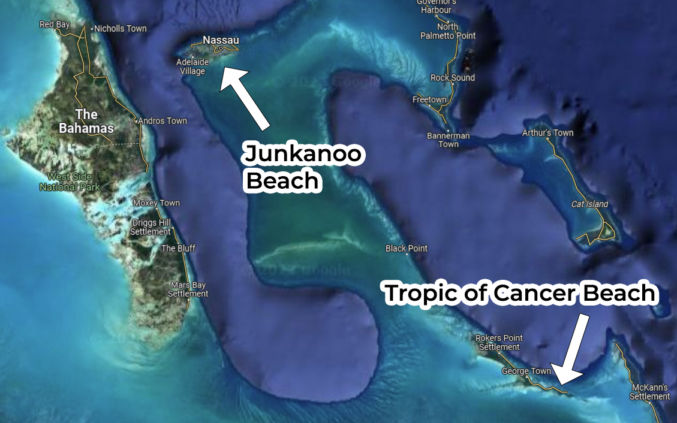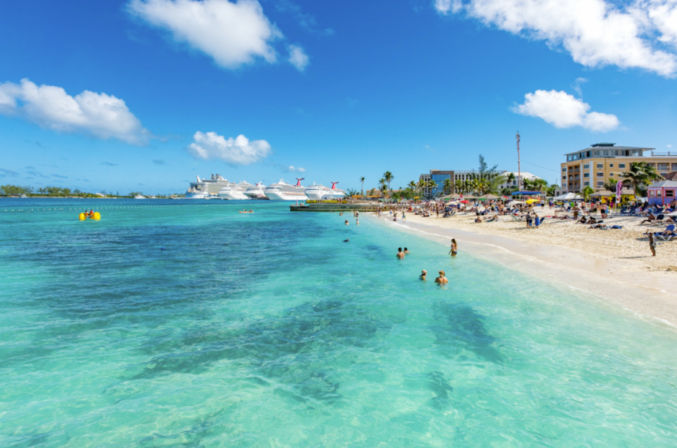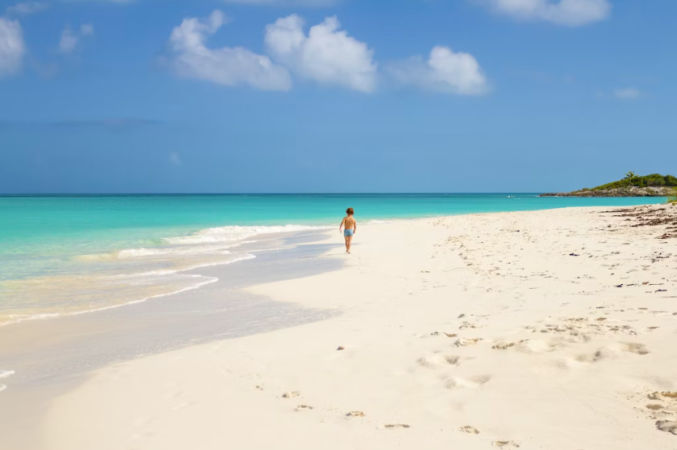 Another popular beach is Cabbage beach on Paradise Island where the Atlantis resort is in Nassau, Bahamas.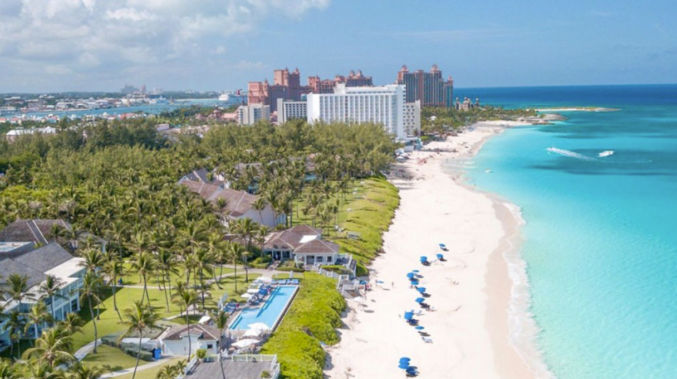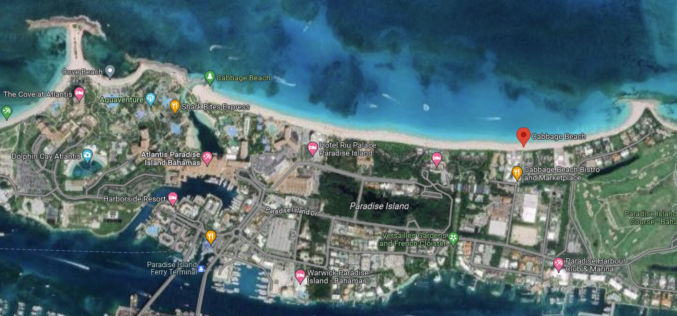 Best Luxury Island Destination
Though the Bahamas may not have won the record for having the best beach, it did consistently win for being the best luxury island destination in the Caribbean.
Probably the most notable luxury spot in the Bahamas is the Atlantis resort on Paradise island.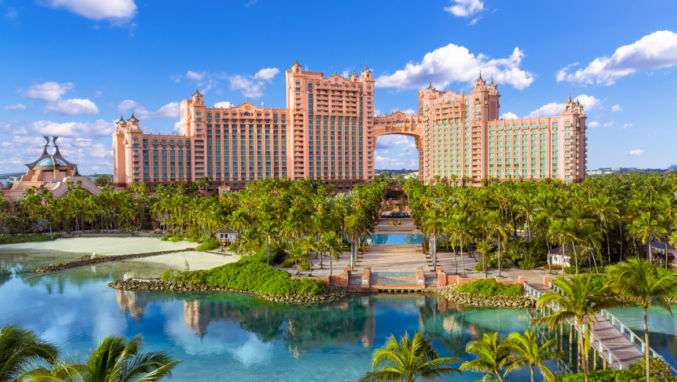 Other Islands
I'm sure there are many other islands with very nice beaches. Some may even be better than the ones mentioned above, but they may be so remote that they would be difficult to get to. You may think that the U.S. and British Virgin Islands (U.S.V.I and B.V.I.) have nice beaches, but from my personal experience visiting them, they are nowhere as nice as the ones mentioned above. There is one beach on Sint Maarten however that is nice and very unique and attractive among tourists. It's the Sint Maarten Airport Beach or Maho Beach, where the airport landing strip is literally right next to the beach.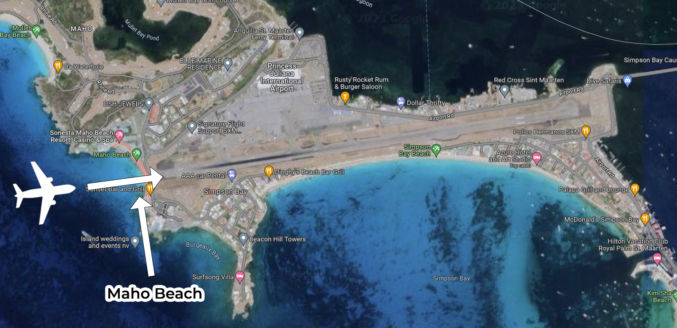 The airport runway is half the length of typical runways, so airplanes have to land close to the start of it to avoid overrunning the landing strip.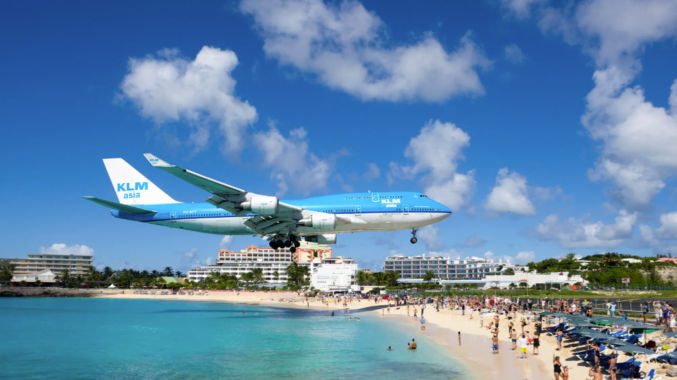 Tourists love taking photos of themselves standing right below a plane coming in for a landing.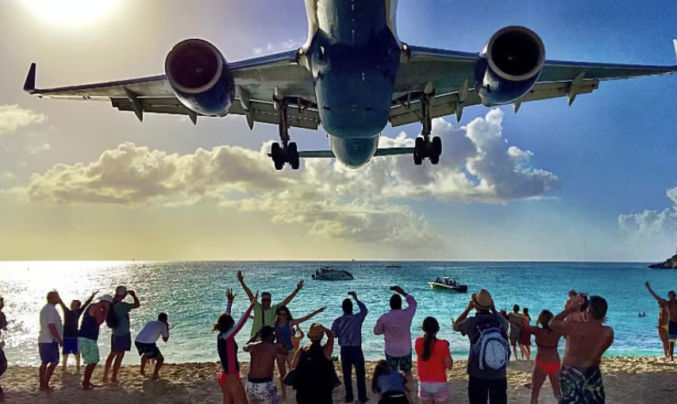 Weather
The best time to go to the Caribbean is during the winter months when the temperature isn't too high and rainfall is low. Below are average temperatures and rainfall by month for the Bahamas, Turks & Caicos, and Sint Maarten.
The Bahamas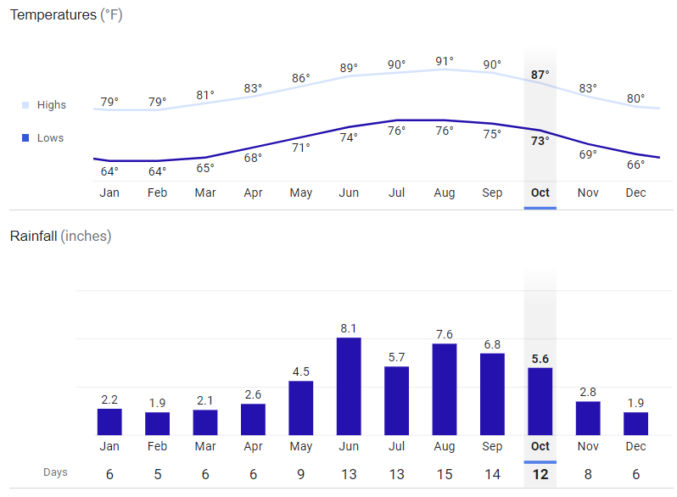 Turks & Caicos
Sint Maarten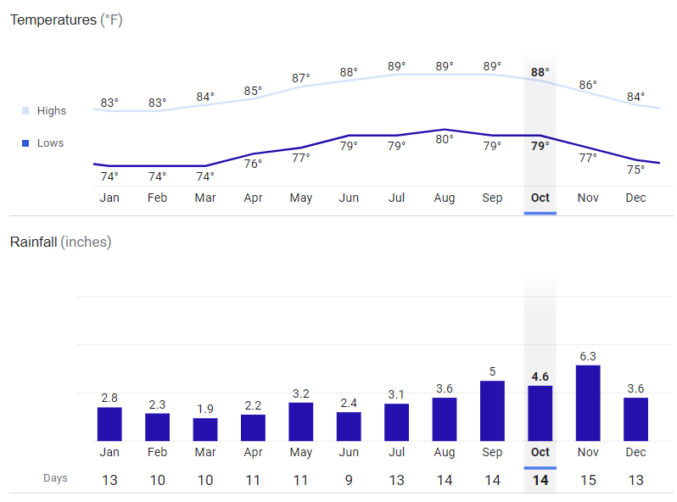 And since many cruises depart from Miami, it may be worth it to spend a few days in Miami before or after the cruise. The weather is Miami similar to that in the Caribbean.
Miami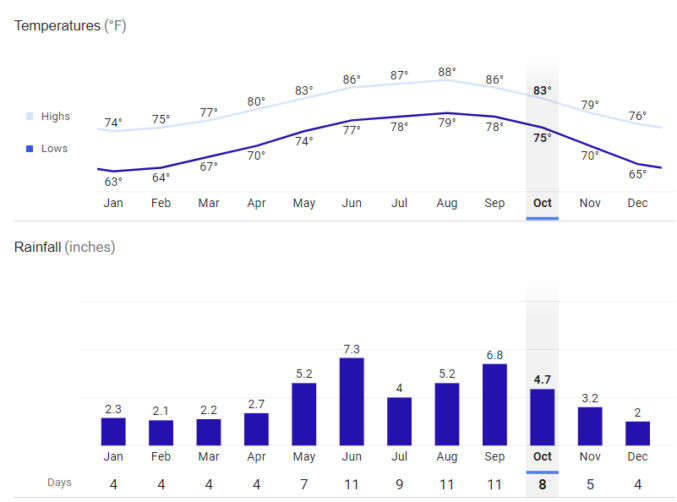 Based on the graphs above, it would appear that February is the best time to go.
Humidity and Heat Index
Note that the Caribbean has a humid climate, and high humidity actually makes you feel hotter than in low humidity climates. The heat index is a measure of how hot you feel when taking into both temperature and humidity into consideration. Learn more.
In Nassau, Bahamas,
On average, September is the most humid month, at 81.0%.
On average, April is the least humid month, at 74.0%.
The average annual percentage of humidity is: 78%
According to this heat index calculator, if the temperature is 79 degrees and the humidity is 78%, then the heat index is 82 degrees Fahrenheit.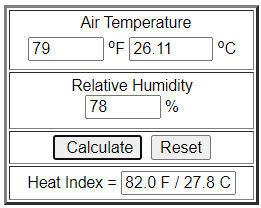 Flights
You can easily find flights from Miami to the Bahamas, Turks and Caicos, and Sint Maarten. Below are non-stop flights to each country, flight time, and cost for travel in February 2024.
| Destination | Travel Time | Cost |
| --- | --- | --- |
| Nassau, Bahamas | 1 hr 10 min | $262 |
| Sint Maarten | 3 hr | $400 |
| Turks and Caicos | 2 hr | $200 |
Cruises
The Caribbean is a popular region for cruises. Many cruise lines go to all 3 countries mentioned above. But, cruise ships don't necessarily dock at the specific islands mentioned above. Here are the cruise ship ports of call for each country.
| Country | Port of Call |
| --- | --- |
| The Bahamas | Nassau City, New Providence Island |
| The Bahamas | Princess Cays |
| Turks & Caicos | Grand Turk |
| Sint Maarten | Sint Maarten |
In particular, note that Grand Turk is an island in Turks & Caicos that is very far from Providenciales island where the best beach (Grace Bay Beach) is. You'd have to fly from Grand Turk to Grace Bay Beach.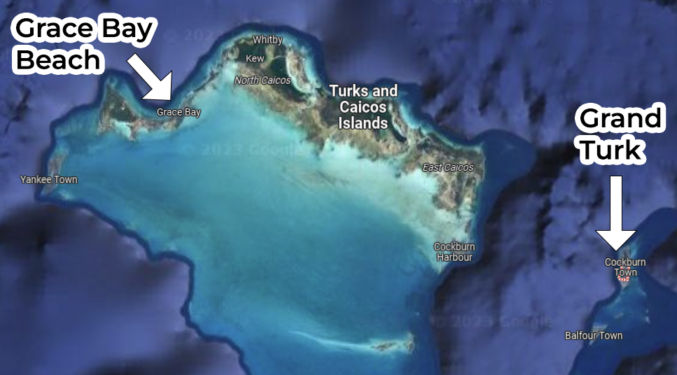 If you are looking for a cruise ship that goes to these islands, you can do a search from sites like Cruiseweb.com where you can specify search criteria like
month (January, February)
ports of call (Nassau and Grand Turk)
etc
The cruise line that primarily goes to Grand Turk is Carnival. Following are some cruise itineraries that meet the criteria above.
Ship: Carnival Magic – 6-Night Cruise
Sun Feb 18, 2024 – Sat Feb 24, 2024
| Date | Port | Arrival | Departure |
| --- | --- | --- | --- |
| Feb 18, 2024 | Miami | — | 3:30 PM |
| Feb 19, 2024 | Fun Day At Sea | — | — |
| Feb 20, 2024 | Grand Turk, Turks & Caicos | 8:00 AM | 5:00 PM |
| Feb 21, 2024 | Amber Cove, Dominican Republic | 8:00 AM | 5:00 PM |
| Feb 22, 2024 | Fun Day At Sea | — | — |
| Feb 23, 2024 | Nassau | 8:00 AM | 4:00 PM |
| Feb 24, 2024 | Miami | — | 8:00 AM |
Ship: Princess Cruises – 14-Night Cruise
| Date | Port | Arrival | Departure |
| --- | --- | --- | --- |
| Feb 11, 2024 | Fort Lauderdale (Port Everglades), Florida | — | 3:00 PM |
| Feb 12, 2024 | Princess Cays, Bahamas | 9:00 AM | 4:00 PM |
| Feb 13, 2024 | Cruising | — | — |
| Feb 14, 2024 | Ocho Rios, Jamaica | 8:00 AM | 4:00 PM |
| Feb 15, 2024 | Georgetown, Grand Cayman, Cayman Islands | 7:00 AM | 4:00 PM |
| Feb 16, 2024 | Cozumel, Mexico | 10:00 AM | 7:00 PM |
| Feb 17, 2024 | Cruising | — | — |
| Feb 18, 2024 | Fort Lauderdale (Port Everglades), Florida | 7:00 AM | 3:00 PM |
| Feb 19, 2024 | Princess Cays, Bahamas | 9:00 AM | 4:00 PM |
| Feb 20, 2024 | Cruising | — | — |
| Feb 21, 2024 | San Juan, Puerto Rico | 9:00 AM | 10:00 PM |
| Feb 22, 2024 | St. Thomas, U.S. Virgin Islands | 8:00 AM | 5:00 PM |
| Feb 23, 2024 | Cruising | — | — |
| Feb 24, 2024 | Cruising | — | — |
| Feb 25, 2024 | Fort Lauderdale (Port Everglades), Florida | 7:00 AM | — |
Cruise Line Private Islands
Some cruise lines bought or made islands just for their passengers. Since the islands were custom-made for tourists, they have many tourist benefits that you may not find on other islands. Following are some notable islands.
Ocean Cay, The Bahamas: MSC Cruises
This island is located on a former sand extraction site. MSC Cruises owns it. It's located pretty close to Miami.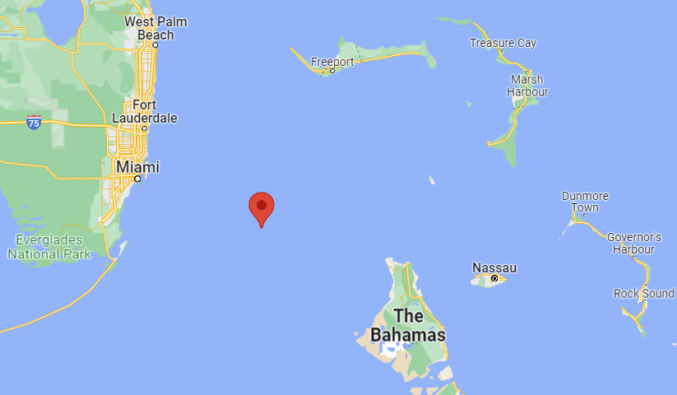 Google Maps' satellite view shows a lot of beaches with turquoise water.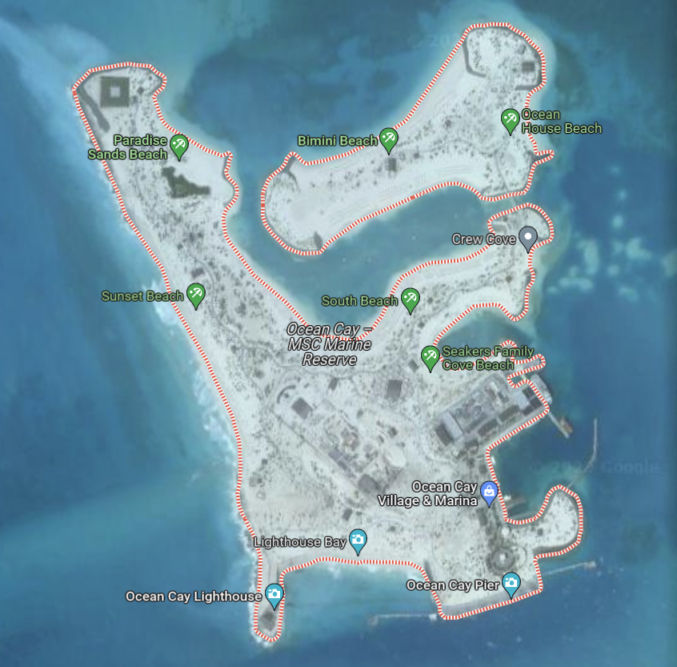 There's a beach right by the port where the cruise ship docks. If you want calm water and are afraid of accidentally being pulled out to sea, you can swim between the two beaches at the lagoon.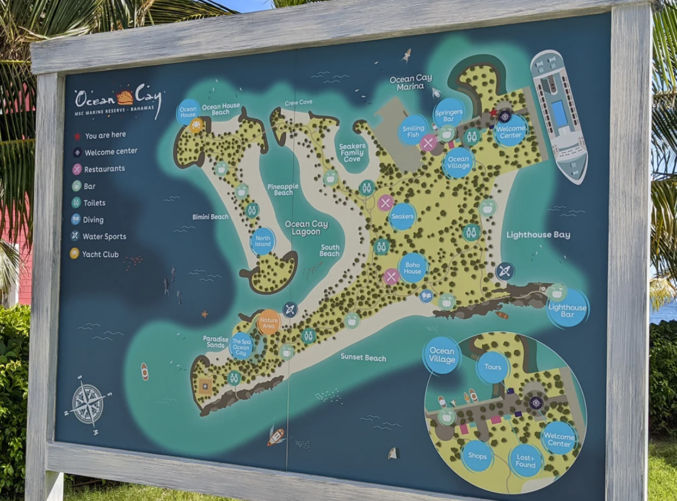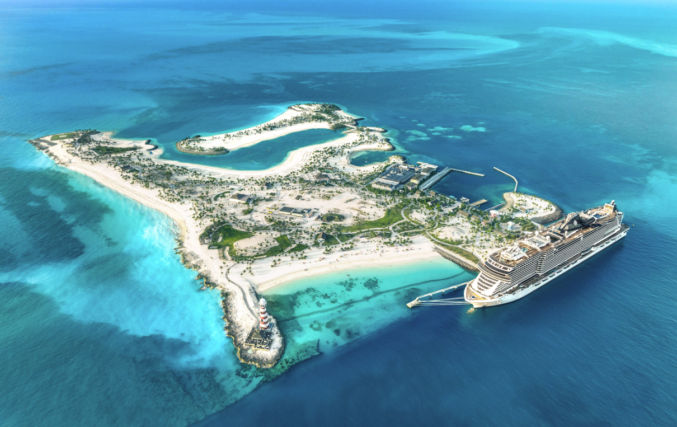 Perfect Day at CocoCay, Bahamas: Royal Caribbean
This island is owned by Royal Caribbean and is exclusively for Royal Caribbean guests. The Google Maps satellite view may make you think the water isn't turquoise, but it's deceiving. Many photos show that the water is actually very turquoise. Note that the pier can accommodate two ships, so if you want to avoid crowds, try to find a trip when only your ship will dock there.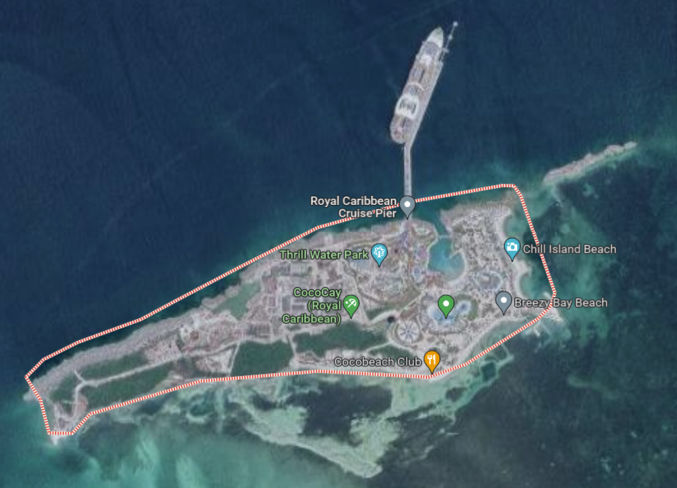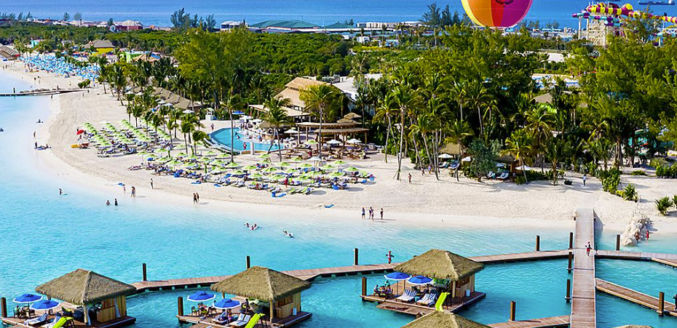 With so many activities and attractions, CocoCay looks more like an amusement park. Some activities and amenities include
waterpark with slides and a wave pool
private over-water cabanas
freshwater lagoon
1600-foot-long zipline
helium balloon ride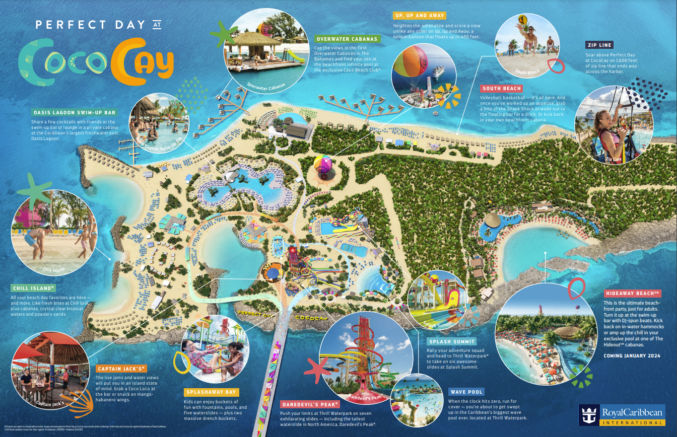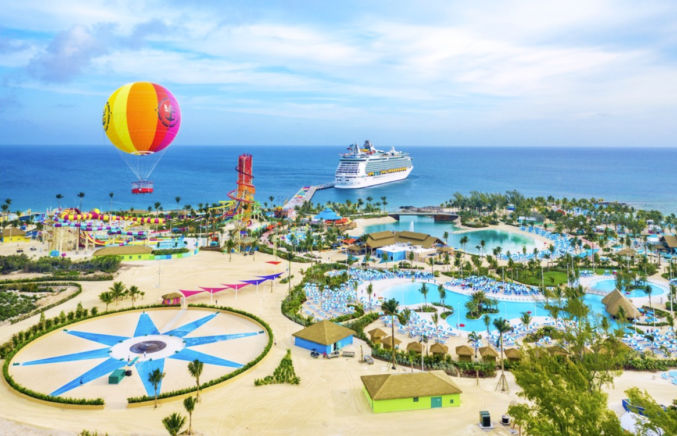 Castaway Cay, Bahamas: Disney Cruise Line
Castaway Cay is owned by Disney. Most of the island appears undeveloped. The water by the pier seems to be pretty turquoise.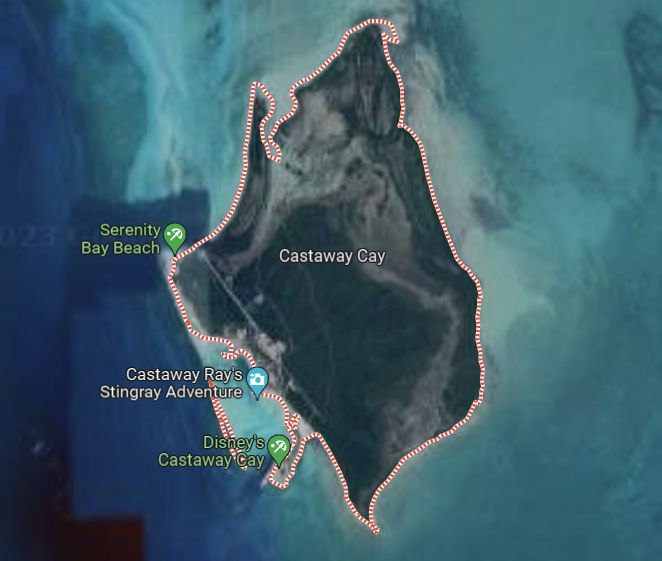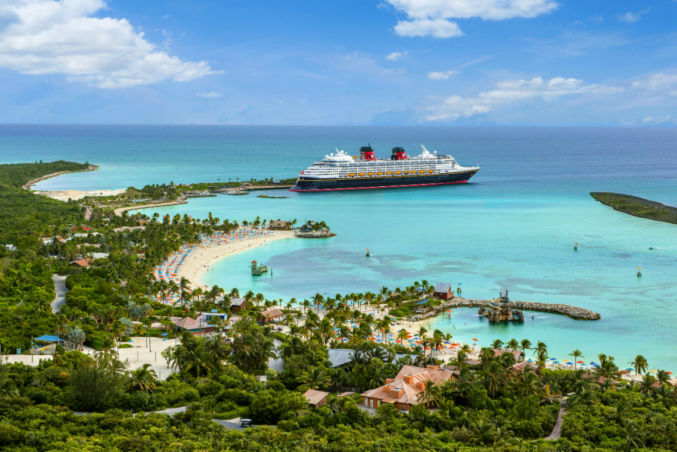 According to the Disney map, the only developed area is by the pier. It's nice how they have a breakwater barrier to keep the water calm and to block you from accidentally getting pulled out to sea.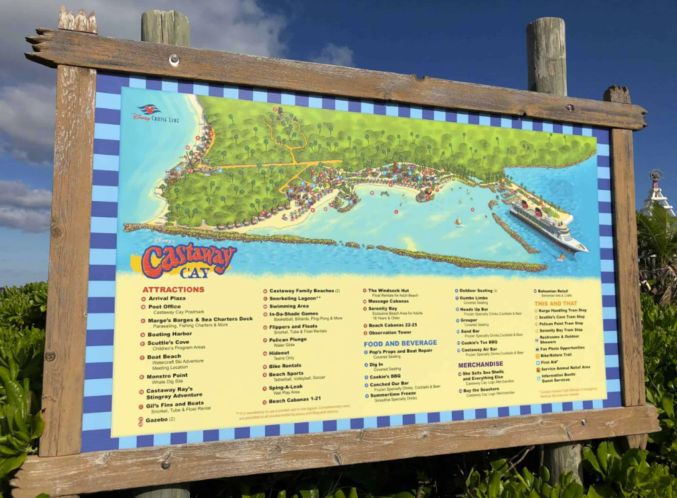 Half Moon Cay, Bahamas: Holland America Line
Below is a satellite view of Half Moon Cay, also called Little San Salvador. Only 3% of the island has been developed for cruise passengers. The color of the water looks pretty good. You will find a 2-mile-long powdery white sand beach and a rugged coastline beyond. There is a natural lagoon called Bone Fish Lagoon that is a breeding ground for sharks, turtles and bonefish.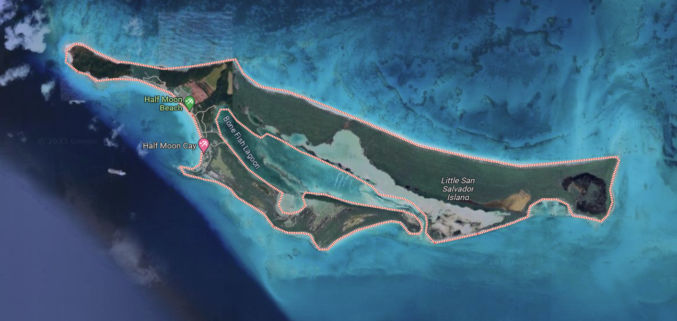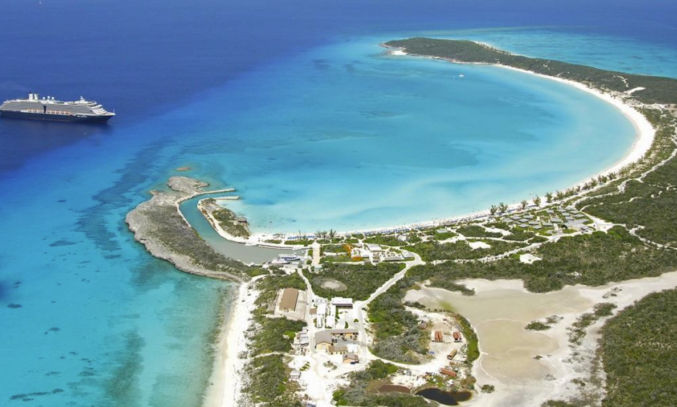 One interesting activity you can do there is ride a horse in the water.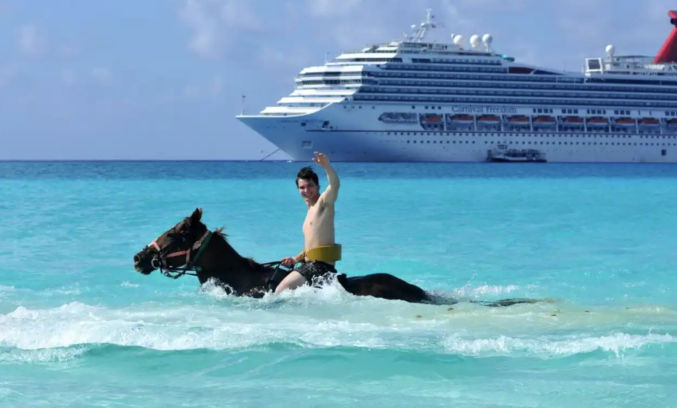 Great Stirrup Cay, Bahamas: Norwegian Cruise Line
Great Stirrup Cay is located next to Perfect Day CocoCay.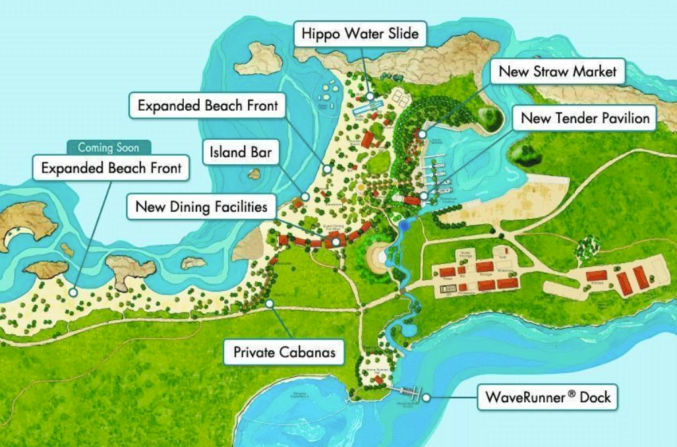 Labadee, Haiti: Royal Caribbean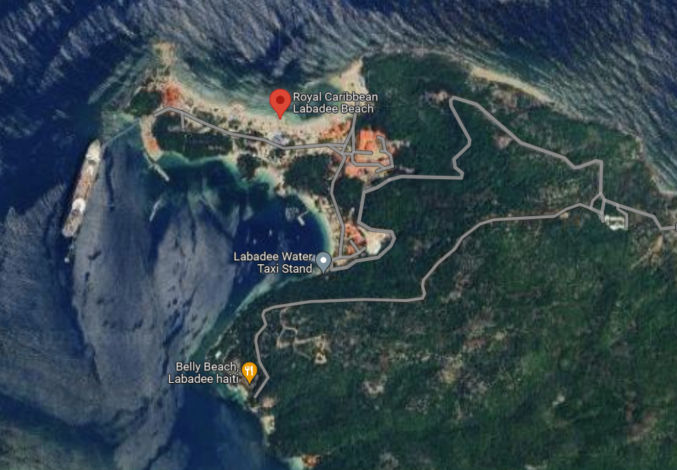 This destination offers some interesting activities. You can go to the mountaintop for a ride on the alpine Dragon's Tail Coaster. The thrilling descent begins with panoramic views of Labadee from 680 feet above the coastline atop Santa Maria's lookout mountain. On the way down you'll reach speeds of 30 miles per hour and zip through 360-degree twists and turns.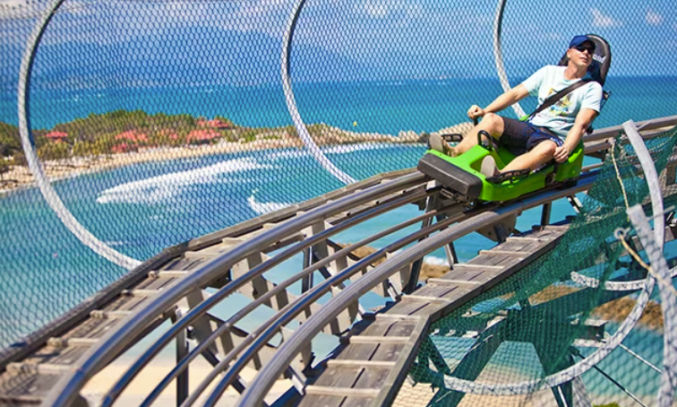 There is also a zip line and Superman-style flight line that both let you soar a half mile over the water.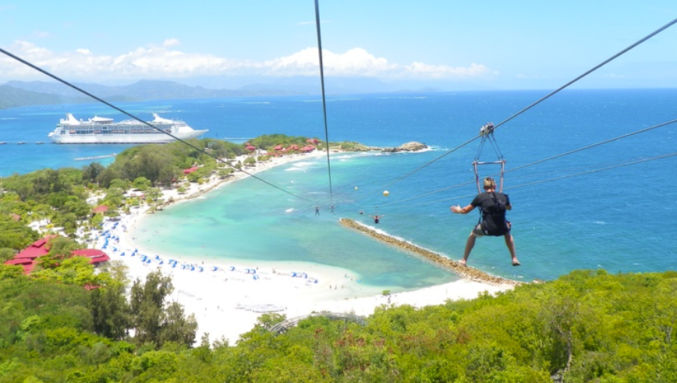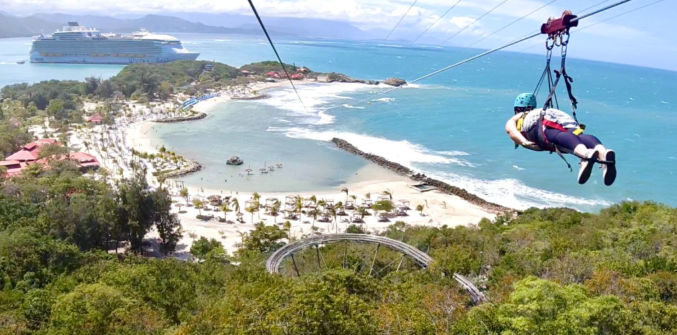 Activities
There are many activities you can do when visiting Caribbean islands, including
Snorkeling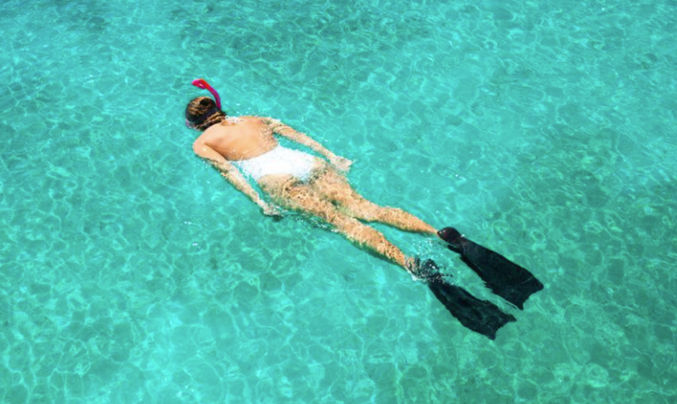 When snorkeling, it would seem better to wear a full-face snorkel mask and a snorkel vest. The mask will give you better visibility and you don't have to keep your mouth closed. The snorkel vest will easily keep you afloat while allowing your face to be submerged in the water. A life jacket, unlike a snorkel vest, will keep your head above the water, which is not what you want for snorkeling.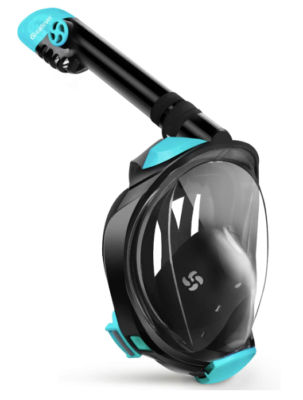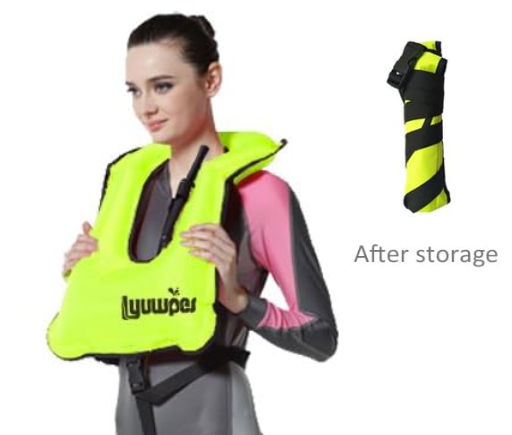 Power snorkeling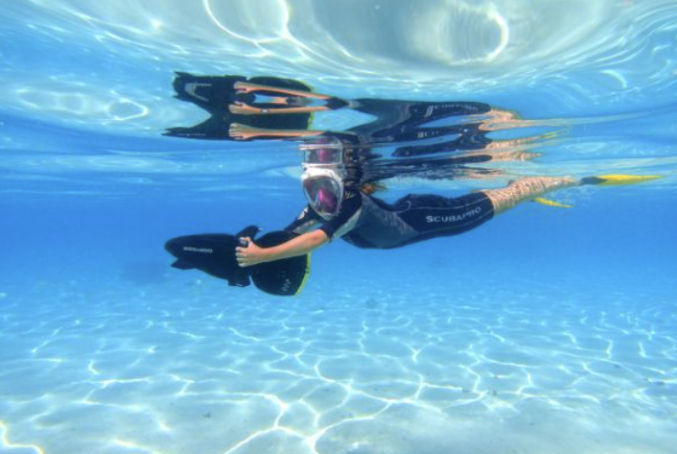 Lounging in the water
Whether in a swimming pool or at the beach, these inflatable hammocks are great as they keep your head above the water but your body in it.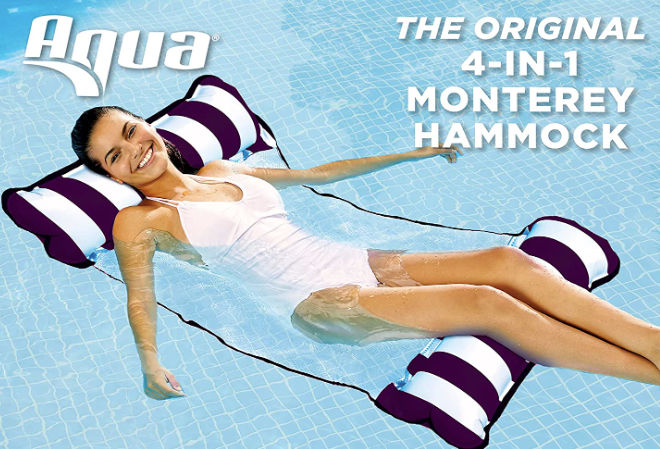 Jet ski tour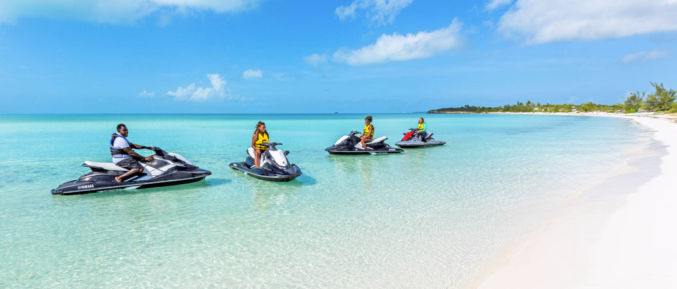 Explore the island by scooter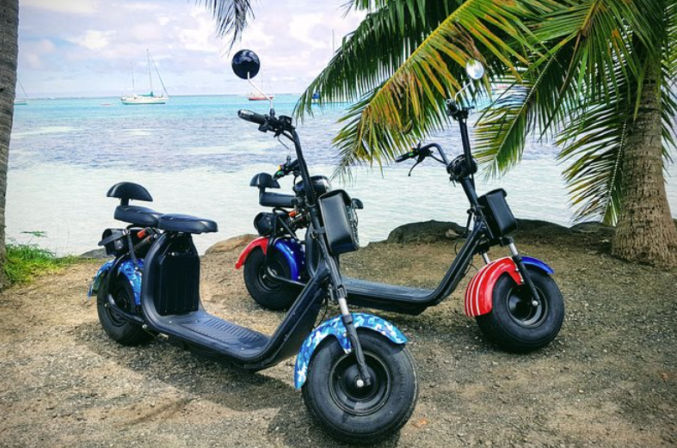 Catamaran tour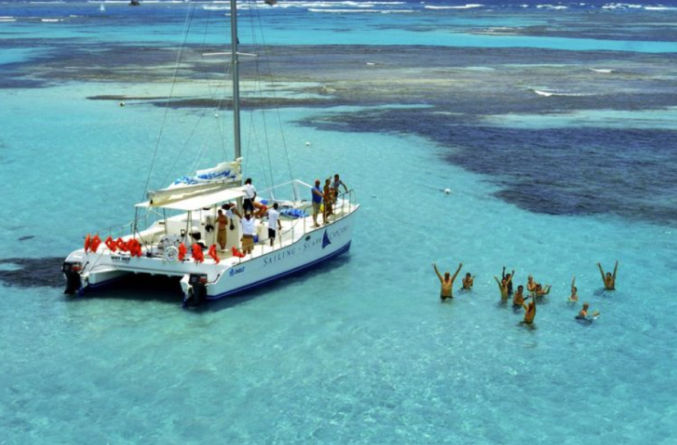 Parasailing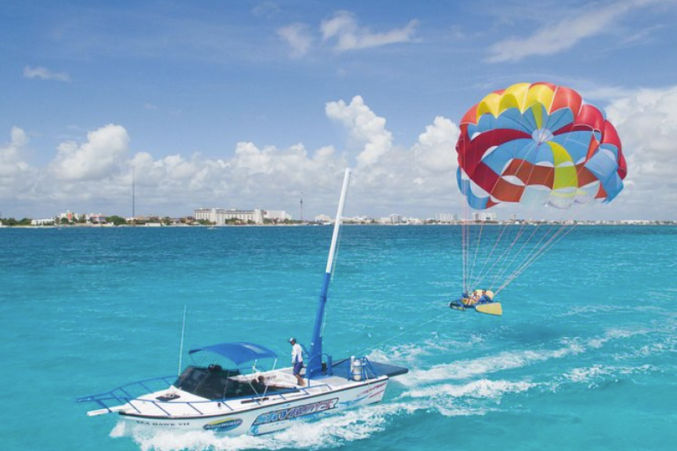 Ride a banana boat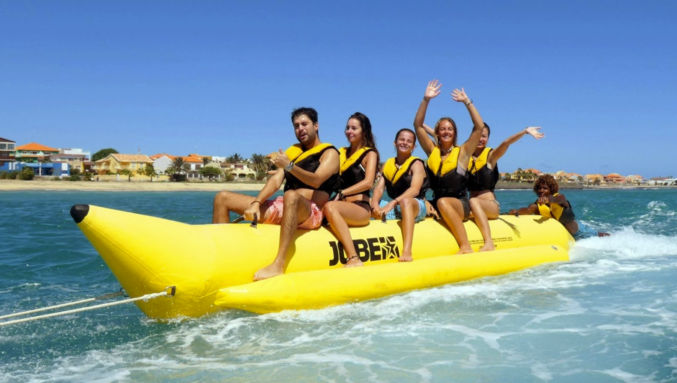 Cruise around in a seabob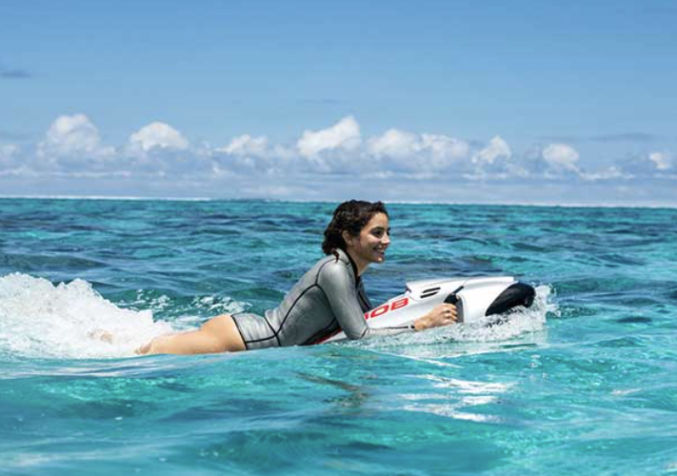 Mini Personal SUB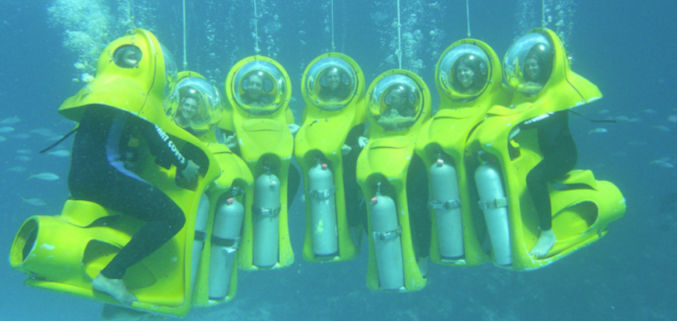 Other activities include
Snuba (with an "n") diving
Scuba diving
Fishing
Horseback riding in the water
Dune buggy tour
Swimming
Playing at a water park with slides and wave pool
Exploring the island by foot, bike, scooter
Ziplining
Kayaking
Sint Maarten/Saint Martin
This island of Sint Maarten/Saint Martin is shared by 2 nations. Sint Maarten is Dutch and Saint Martin is French. It is the smallest inhabited island in the world. The entire island is just 37 square miles.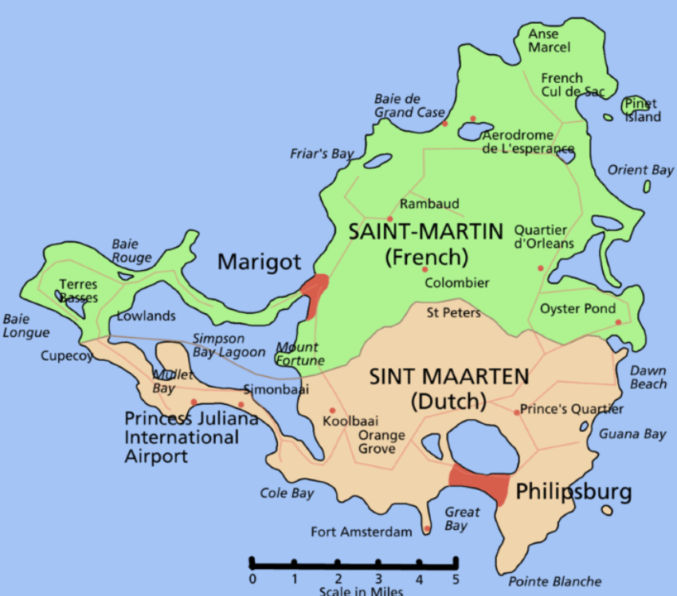 Some things to do there include
Planespotting
At Maho beach, you can watch commercial jet planes fly really low over your head as they come in for a landing.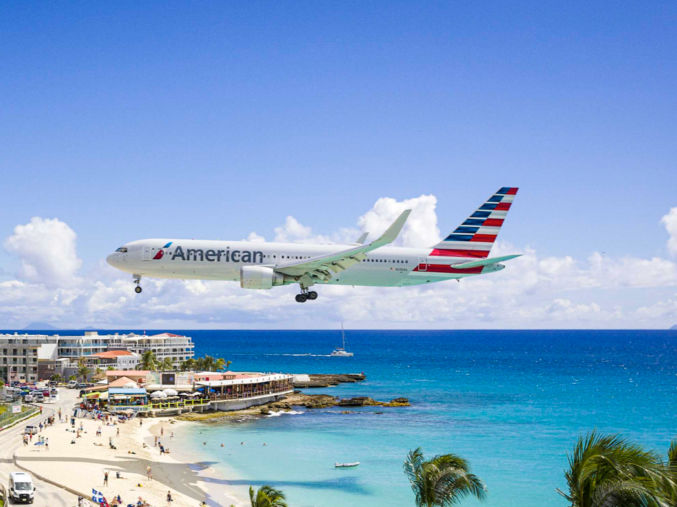 The Royal Islander Club Resort La Plage is located next to the airport landing strip and has access to the beach where planes directly fly over.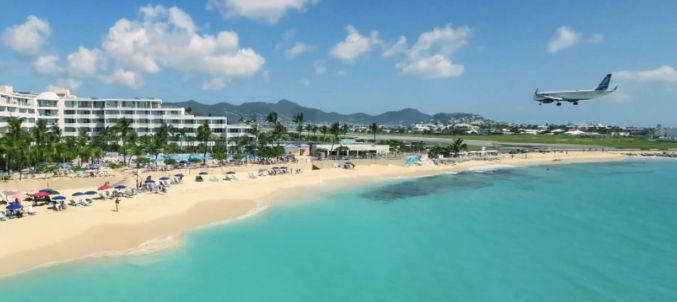 Soualiga Sky Explorer
The Sky Explorer is a chairlift attraction in St. Maarten. The ride is approximately 25 minutes long and takes riders to the top of Sentry Hill, the highest elevation in St. Maarten. The ride spans 2,997 feet and includes two lifts.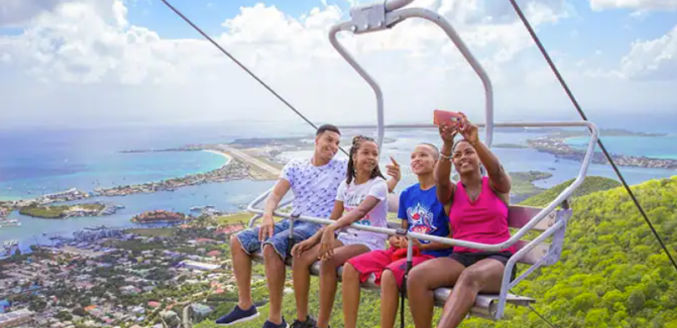 Flying Dutchman
The Flying Dutchman is the world's steepest zip line! You'll be attached to a flight line in a secure harnessed chair, launching you on the 1050-foot drop in elevation over 2800 feet to experience the ride of a lifetime.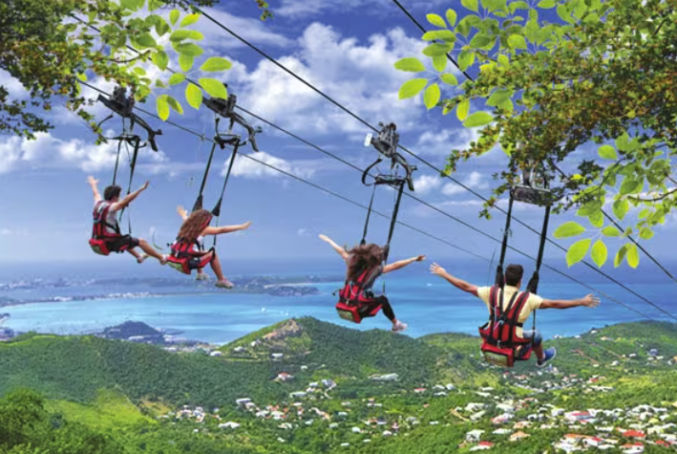 Sentry Hill Zip Line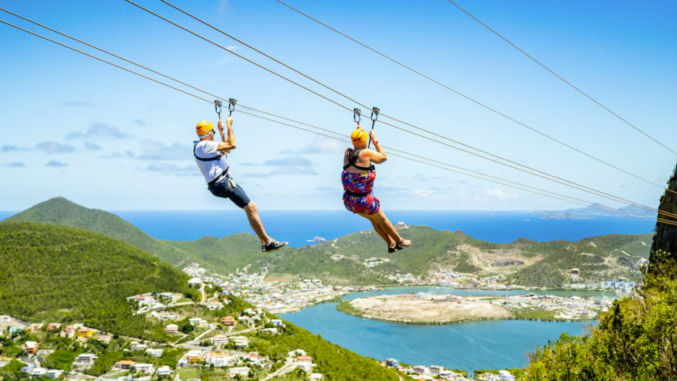 Schooner Ride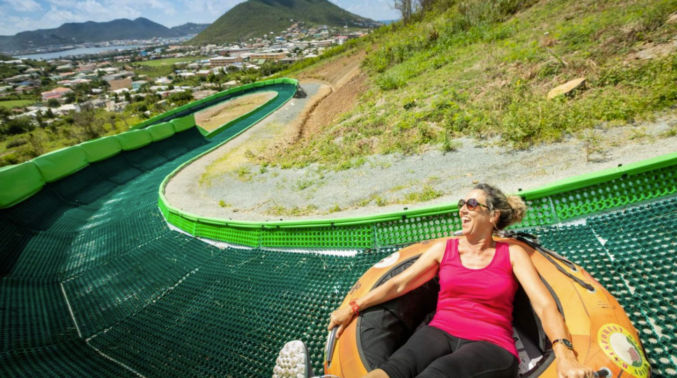 Melange Grill
This restaurant is similar to Brazilian BBQ and Korean BBQ.
Select your Appetizer
Choose your Salad
Enjoy a continuous flow of grilled meats and Seafood right at your table with an assortment of sauces and sides !!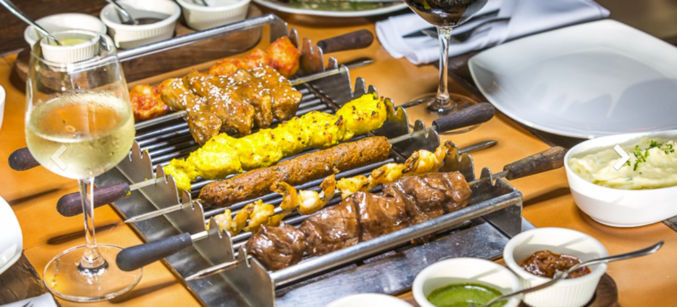 Horseback Riding (1-hour tour)
Lucky Stables at Seaside Nature Park offers a wide variety of tours and trail rides. Ride horses peacefully along one of the many trails that span this beautiful island. Or, ride into the sea with your horse and treat the animals to a cooling swim in the ocean!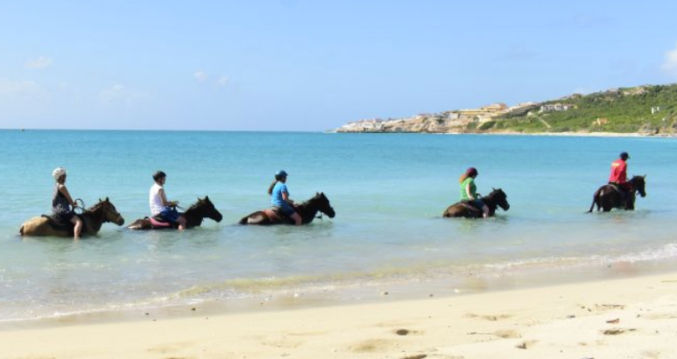 Hiking Tour
The many trails at Seaside Nature Park can be explored easily with some water and sturdy hiking shoes while sharing in the extensive knowledge of a professional guide about the flora, fauna and history of the park.
Price starting at $ 10 per person per hour.
https://seasidenaturepark.com/activities/hiking/
Guana Bay hiking tour: $39
https://www.trisportsxm.com/guana-bay-hiking-tour-tour-11.html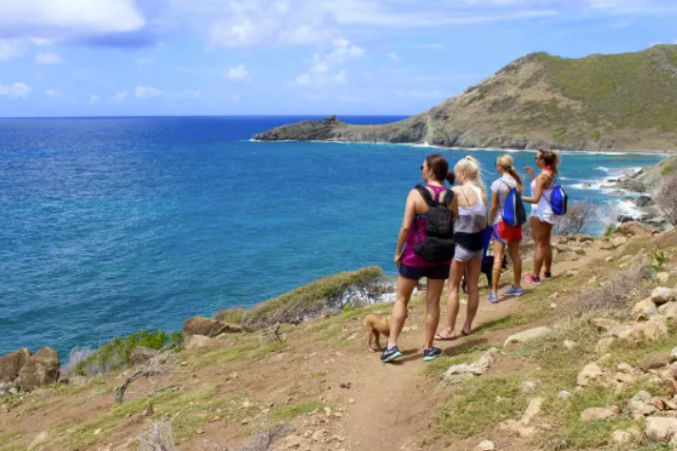 Explore the boardwalk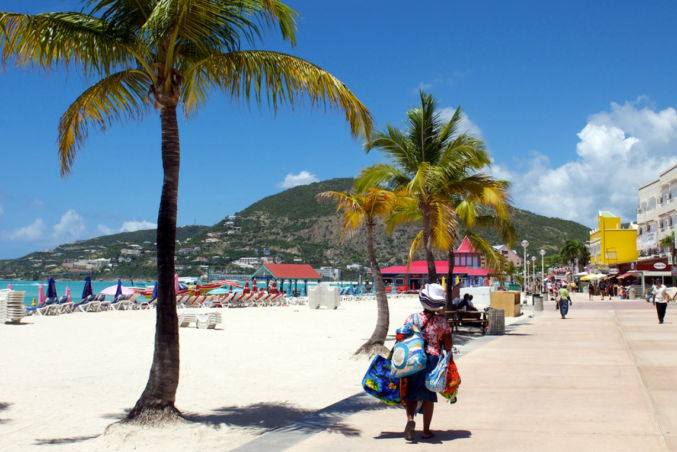 Segway Tour
Explore the boardwalk by segway. https://sxmcoolride.com/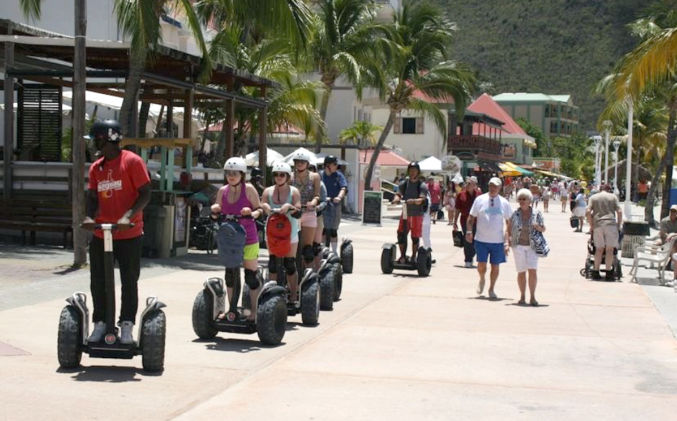 Jet Ski Tour
https://www.wearesxm.com/watersports/jet-extreme/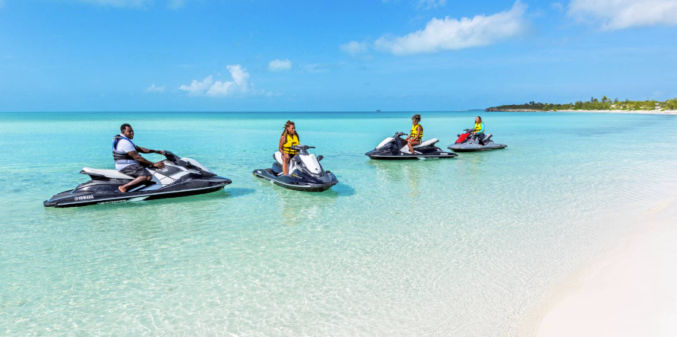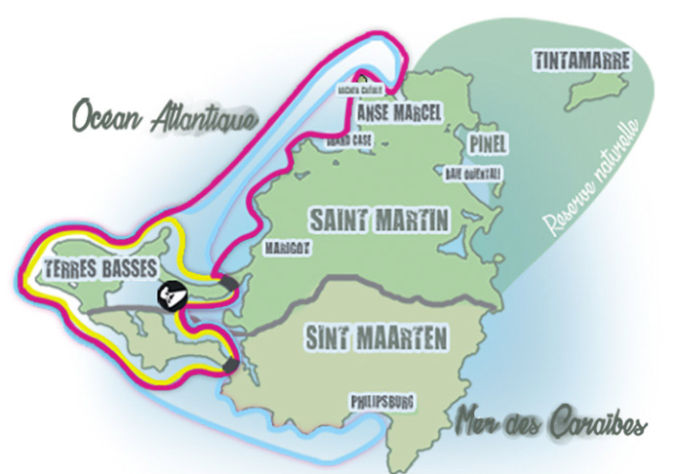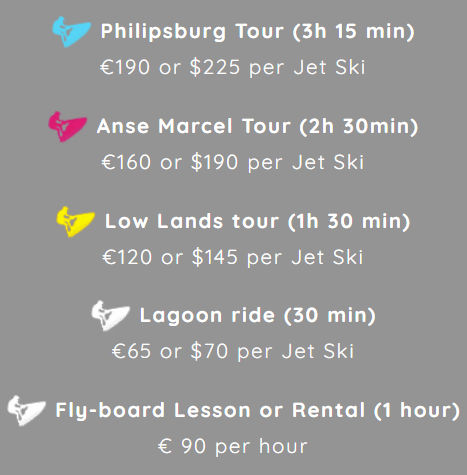 https://www.wearesxm.com/watersports/bigfoot-watersports/
Jet Ski 30 min = $60
Jet Ski 60 min = $120
Jet Ski Tour 2 hours = $200
E-bike Tour
https://www.trisportsxm.com/tours.html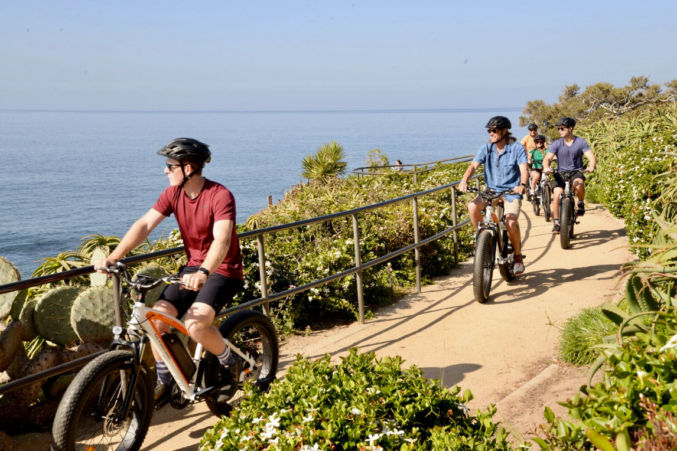 ATV Tour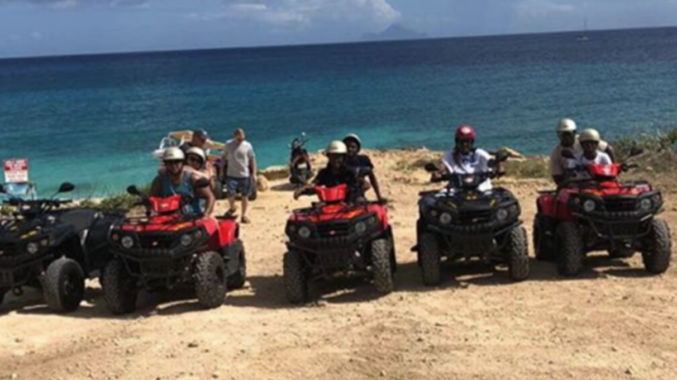 Itinerary for Maximum Activities
People have different preferences when it comes to vacation. Some may want to just be a beach bum. Others may want to just do casual sightseeing. For me, I want maximum activity options and clean, turquoise beaches with fine white sand. I also want to go on a cruise because that in and of itself is an experience full of on-board fun activities. Since it's not possible to cruise to the best beach in the world, Grace Bay Beach in Turks and Caicos, and since Perfect Day at CocoCay is the most developed cruise-owned island full of convenient vacation activities, I think my preferred itinerary would include Perfect Day at CocoCay. And since Nassau is nearby, is a common cruise port of call, and is a popular destination, it would also be on my itinerary. Sint Maarten is one particular island with a lot of fun activities as well, but it may not be possible to find a cruise that goes to all 3 locations. Plus, spending one day at Sint Maarten is likely not long enough. So, I think my preferred itinerary would be
Flight: Home > Miami (spend 0 to 3 nights)
Cruise:

Nassau (Atlantic AquaVenture, Cottage Beach, Downtown)
Perfect Day at CocoCay
Day at Sea
Miami

Flight: Miami > Sint Maarten (2 or 3 nights) > Miami
Flight: Miami > Home (spend 0 to 3 nights)
Here's one actual itinerary.
4 Night Bahamas & Perfect Day Cruise
Ship: Royal Caribbean Freedom of the Seas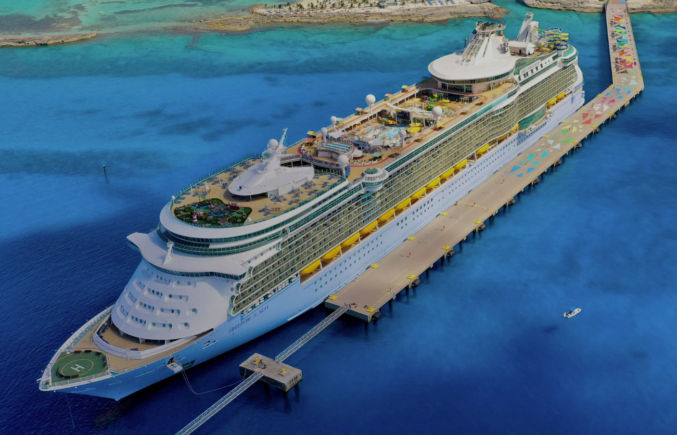 | Date | Port | Arrival | Departure |
| --- | --- | --- | --- |
| Mon, Feb 12, 2024 | Miami | — | 4:30 PM |
| Tue, Feb 13, 2024 | Perfect Day at CocoCay | 7:00 AM | 5:00 PM |
| Wed, Feb 14, 2024 | Cruising Day at Sea | | |
| Thu, Feb 15, 2024 | Nassau, Bahamas | 8:00 AM | 5:00 PM |
| Fri, Feb 16, 2024 | Miami | 6:00 AM | — |
Pricing by Room Category:
| | |
| --- | --- |
| Interior | $293 |
| Outside View | $422 |
| Balcony | $595 |
| Suite | $961 |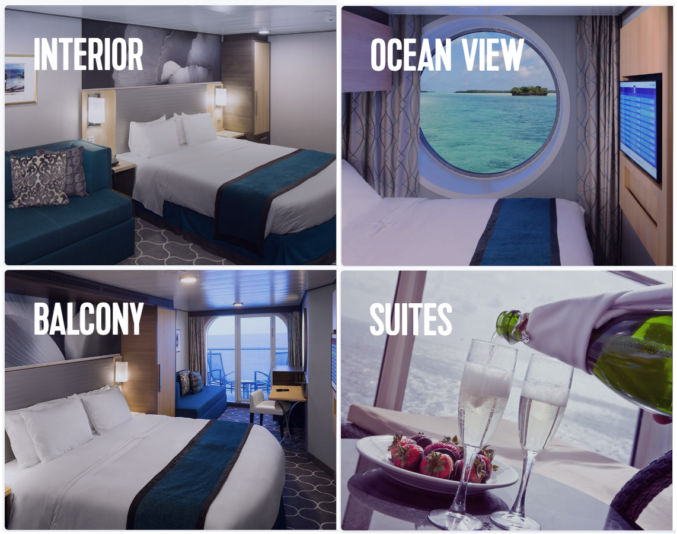 Note that the balcony is pretty small.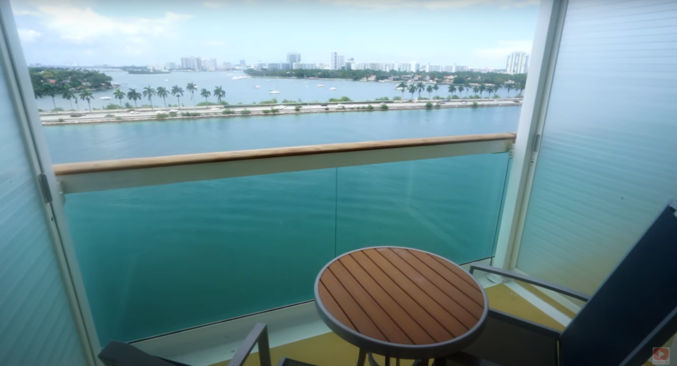 Atlantis Resort
Hotel room: Minimum 2-night stay: $270 – $359 / night.
Day Pass: $190 / person
There's a hack to get access to Atlantis without spending 2 nights and paying a high price. If you stay at the Comfort Suites on Paradise Island, Bahamas, you'll have full access to Atlantis, which is just a 3-minute drive away. As an example, the cheapest cost to stay at Atlantis on February 19. 2024 is $363 / night with a minimum 4-night stay. The cost to stay at Comfort Suites on the same dates is just $246 with no 4-night-minimum restriction.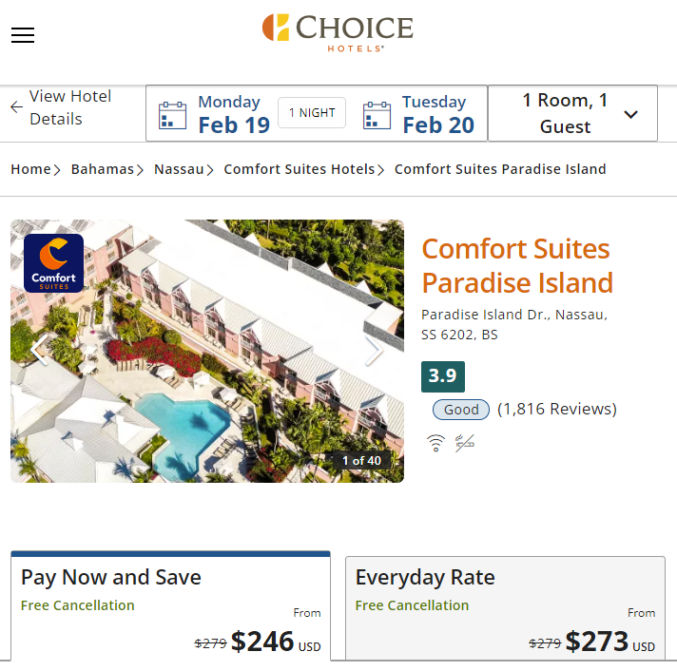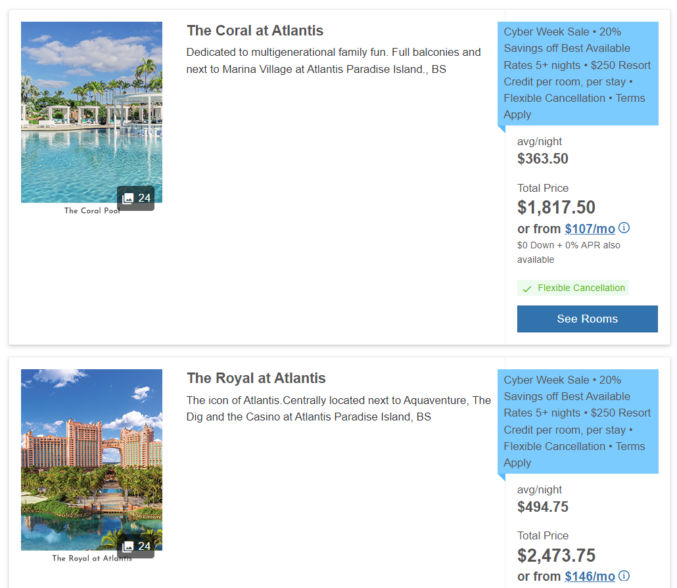 Cruise Ports
Some cruise ports can accommodate multiple ships at the same time. The more ships there are, the more crowded the place will be. Therefore, it's preferable to choose a trip with the fewest ships at your scheduled ports of call.
Nassau
As you can see, the port at Nassau can accommodate up to 5 ships.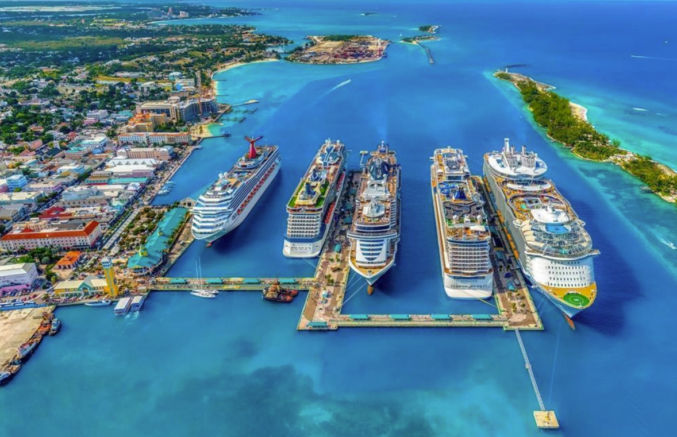 For the itinerary above, the ship "Freedom of the Seas" is scheduled to dock on Feb 14, 2024. The Nassau, Bahamas cruise terminal website shows the schedule by month. Here's the schedule for February 2024. Unfortunately, it looks like the terminal will be full of ships that day.
Perfect Day at CocoCay
Perfect Day at CocoCay is owned by Royal Caribbean, so only their ships can dock there. The port is smaller. It can accommodate a maximum of 2 ships. For the itinerary above, the ship "Freedom of the Seas" is scheduled to dock on February 13, 2024. According to CruiseMapper.com, there will be 2 ships that day.
Miami
Since many cruises depart from Miami and Miami itself is an interesting destination, it makes sense to spend some time there before or after going on a cruise.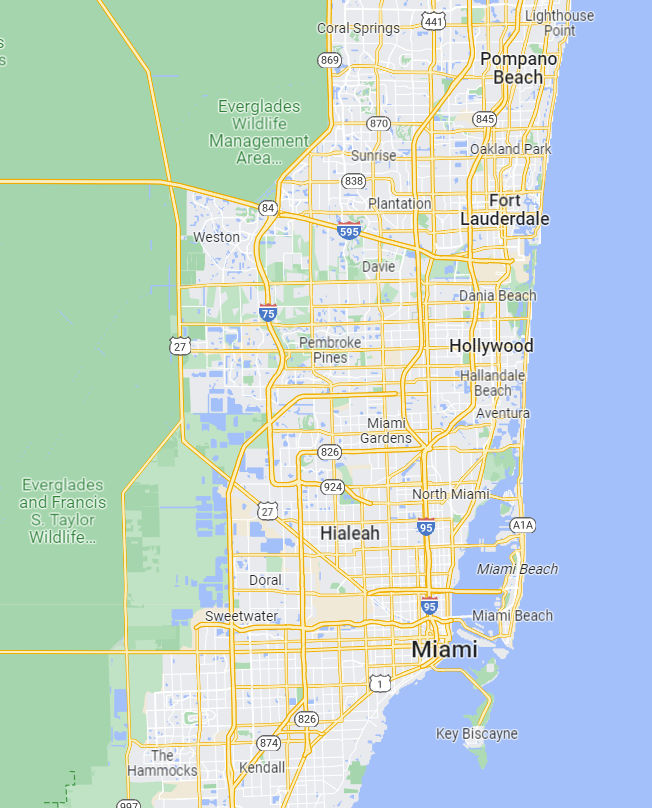 Following are some things to do when visiting Miami.
Miami Hop-On-Hop-Off Bus
Go on a double-decker, open-air hop-on-hop-off bus and be taken around many of the tourist spots. This is an easy way to see a lot and get a sense of the area. Afterwards, you can spend time at individual spots you are interested in. There are many tour bus operators. BigBus, shown below, is just one of them.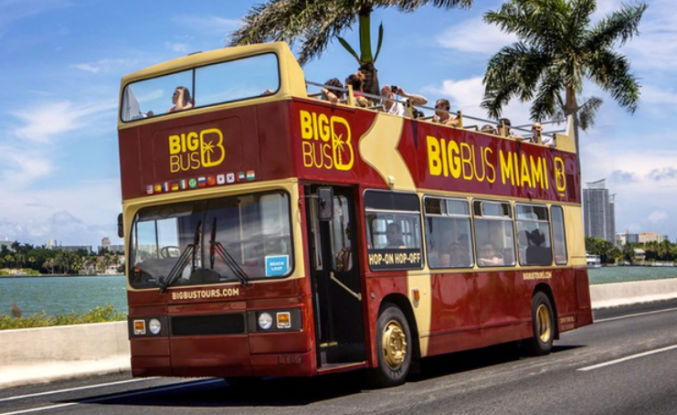 Day Tour (Red Loop): $43
https://www.bigbustours.com/en/miami/miami-routes-and-tour-maps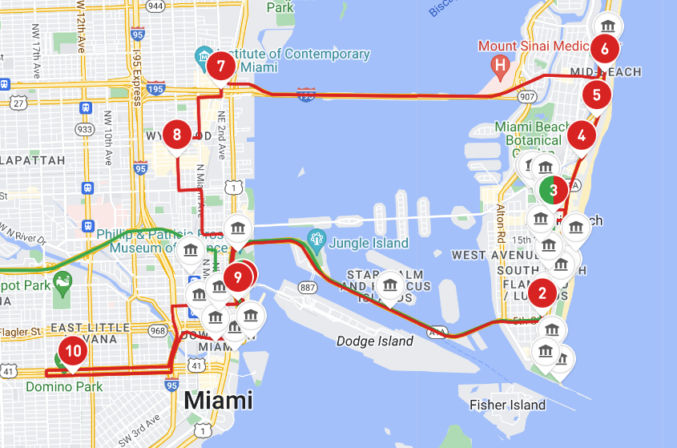 Stop #
Location
1
Bayside Marketplace
Island Queen Millionaire's Row Cruise
Skyviews Miami
Miami Beach Boardwalk
2
South Beach
Big Pink (restaurant)
ARTECHOUSE Miami
Miami Beach Boardwalk
3
Soundscape Park
Espanola Way
Museum Of Illusions
Miami Beach Boardwalk
4
Indian Creek
Miami Beach Boardwalk
5
Mid Beach / RIU Hotel
Miami Beach Boardwalk
6
North Beach / Fontainebleu & Lexington Hotels
Miami Beach Boardwalk
7
Design District / Midtown
8
Wynwood Walls
9
Downtown / Holiday Inn
Bayside Marketplace
Thriller Miami Speedboat Experience
10
Little Havana
Learn more
Wynwood Walls
Unique outdoor destination featuring huge, colorful street murals by artists from around the globe.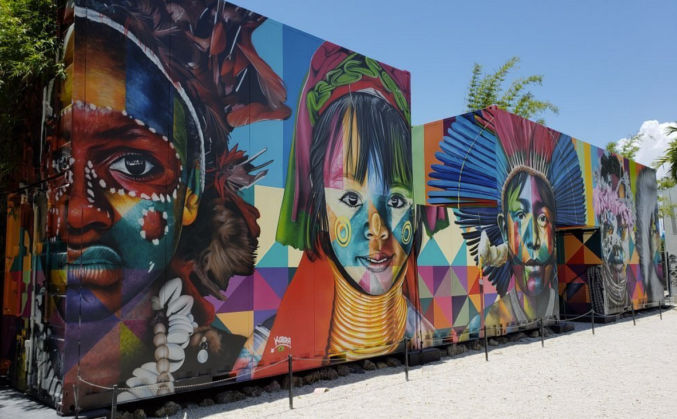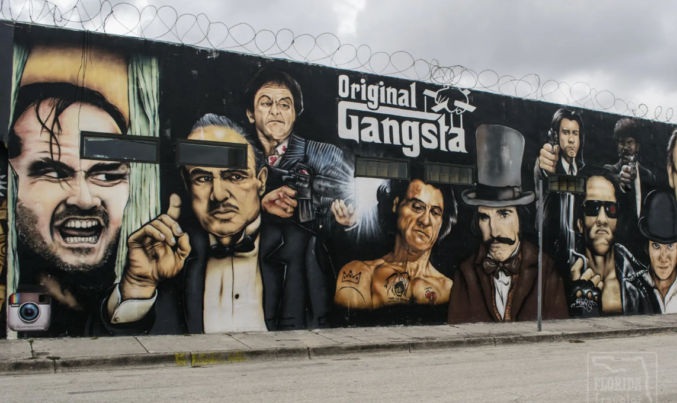 Bayside Marketplace
Enjoy a drink along the water (or on it), snagging a seat at one of Bayside Marketplace's big-name restaurants or setting off on a sunset cruise touring Biscayne Bay's islands.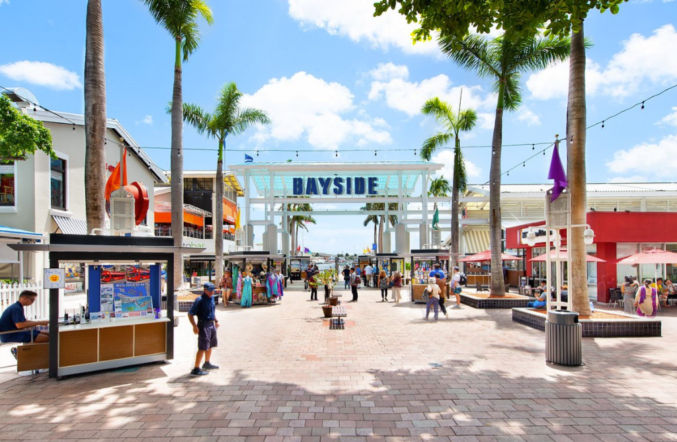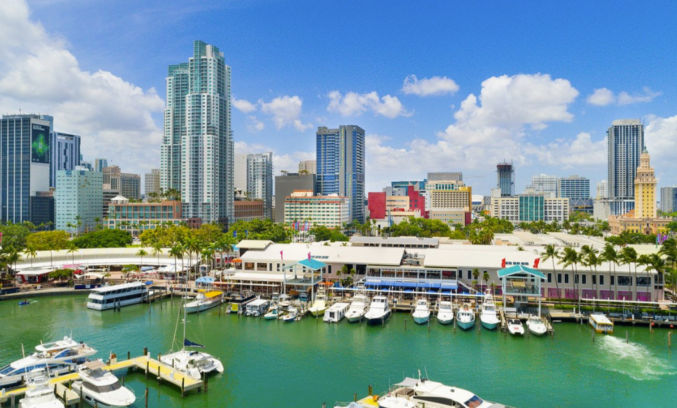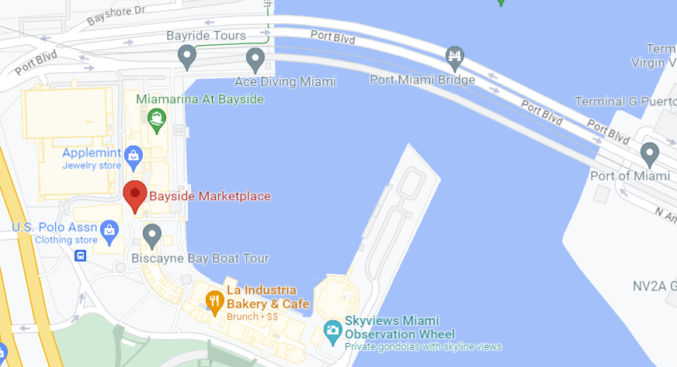 Lock & Load Museum
Look at all sorts of guns and practice shooting some.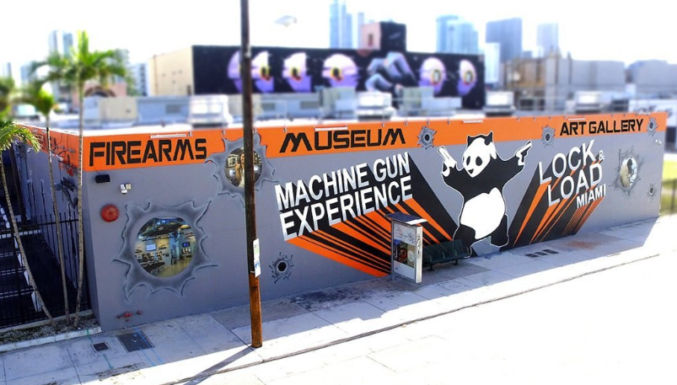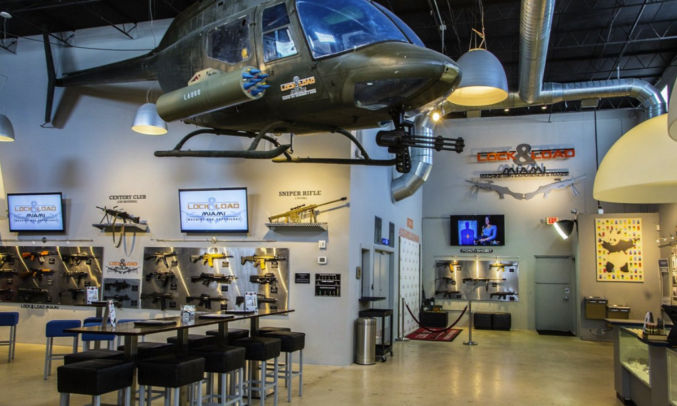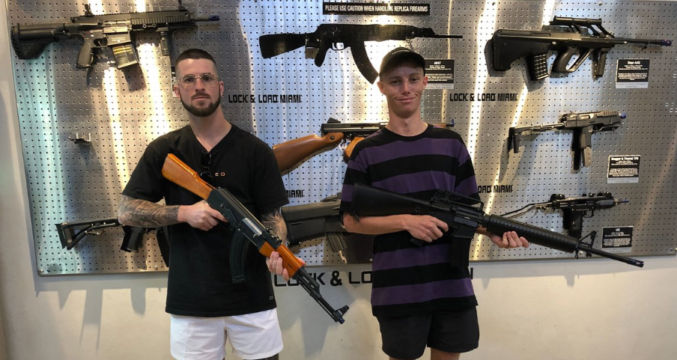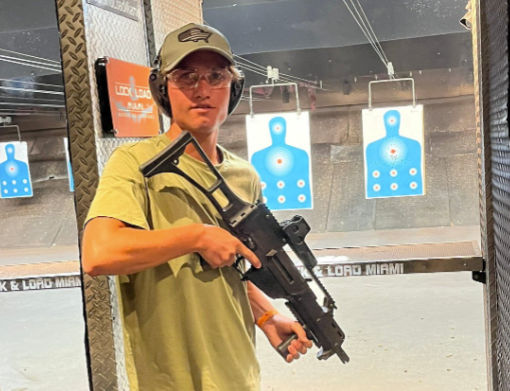 ARTECHOUSE MIAMI
Art + Technology Museum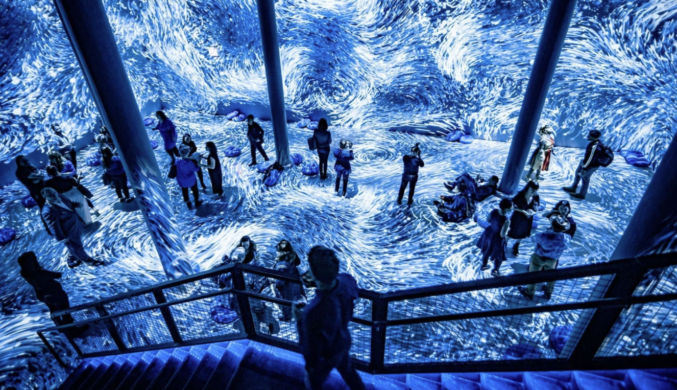 Superblue Miami Immersive Art Experience
Explore a mirrored labyrinth, see digital worlds immersed in seasonal flowers and waterfalls, and watch your own heartbeat as it glows with 3,000 lights.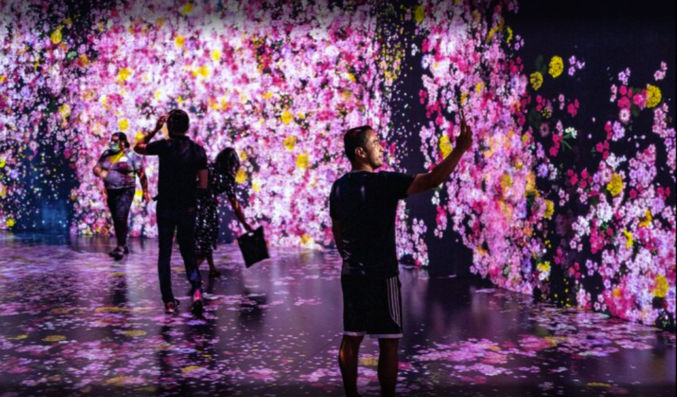 Airboat Everglades Tour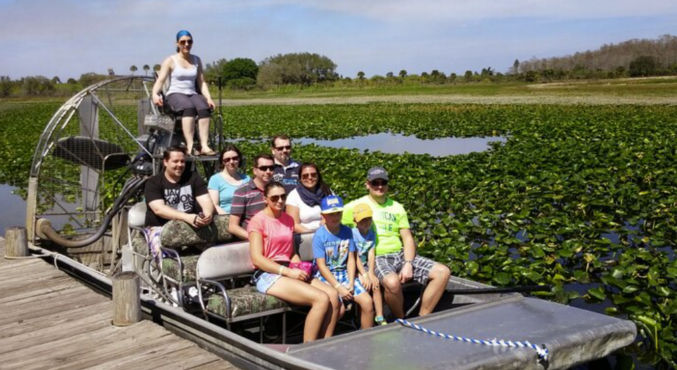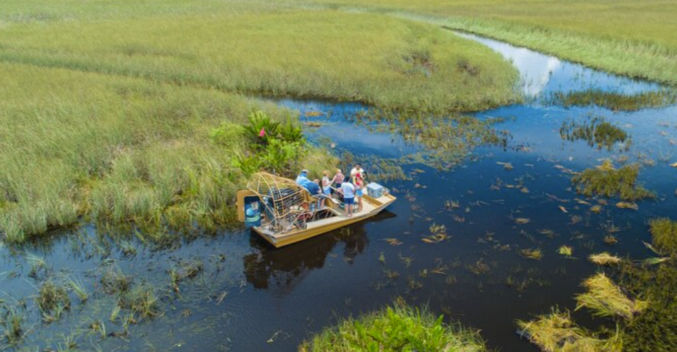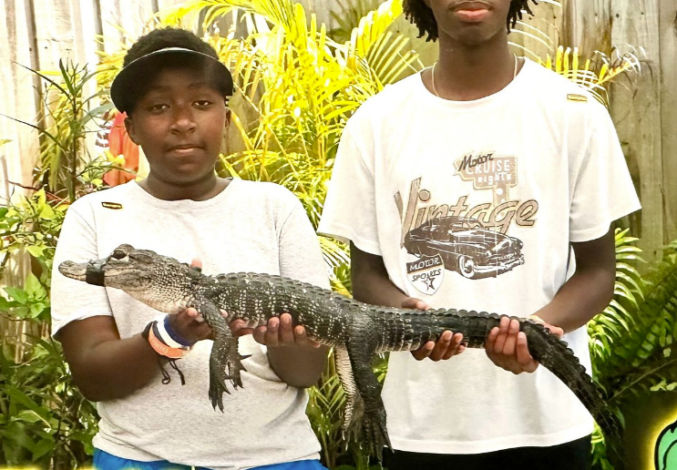 Thriller Miami Speedboat Experience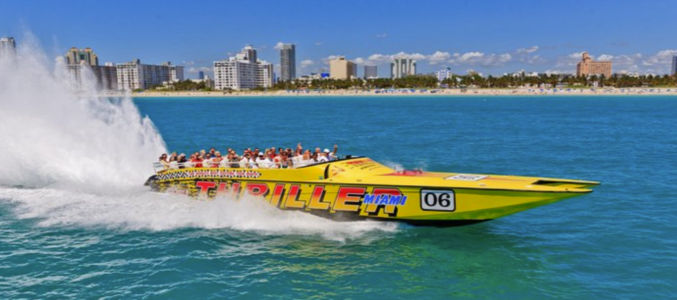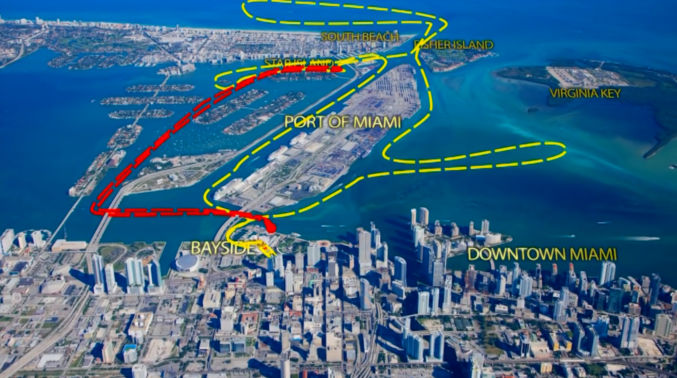 Jet Ski Tour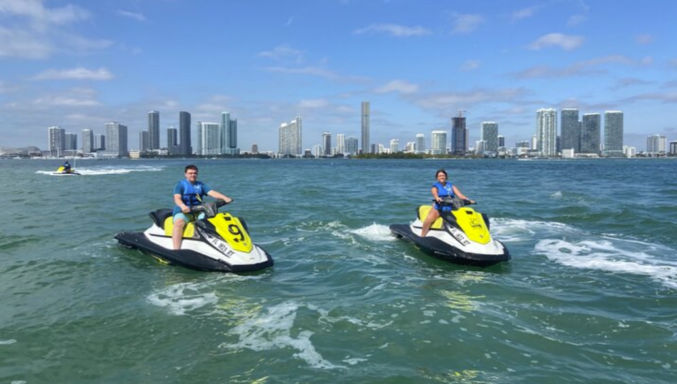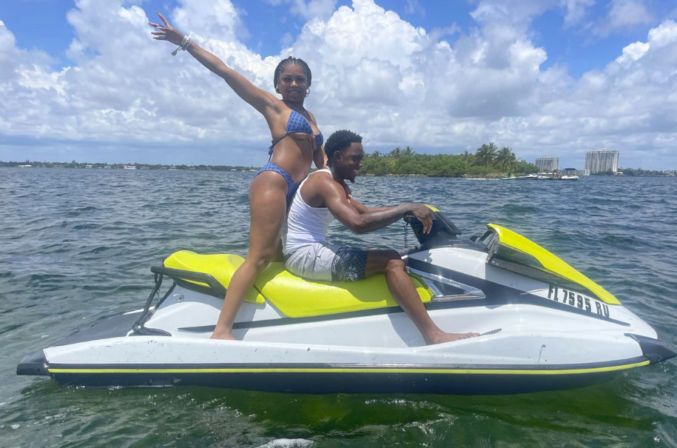 Wings Over Miami Air Museum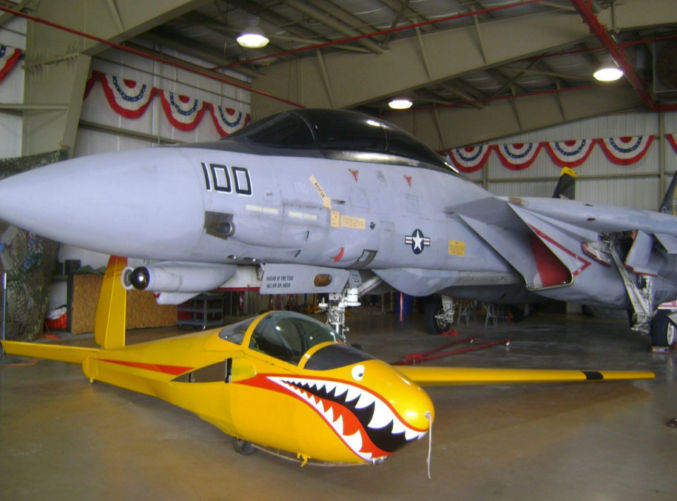 Skyviews Miami Observation Wheel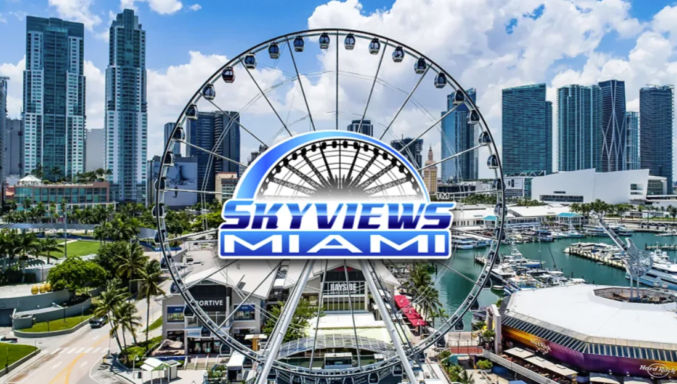 Miami Beach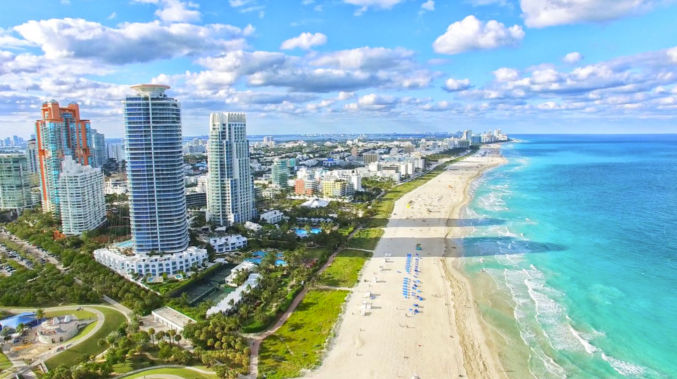 Explore Miami Beach / South Beach by E-Bike or Segway
Fat tire e-bikes can ride on sand.
E-bikes are prohibited on all sidewalks in Miami Beach, including along the Beachwalk. They are also prohibited on South Pointe Park and Pier, Marina Baywalk, and Lincoln Road Mall.
However, Florida state law allows e-bikes to be operated in the same locations as regular bicycles. This means they can be ridden on: Roads, Bike lanes, Bike paths, Multi-use paths, Sidewalks.
If your e-bike is class 1 (or maybe 2) and limited to 20mph, you should be legally allowed on the beach.
Florida allows all classes of e-bikes, including Class 3 e-bikes — provided they don't exceed speeds of 28 mph. The bike also can't have an electric motor power with a wattage exceeding 750.
Miami Beach also has 11 miles of green bicycle lanes.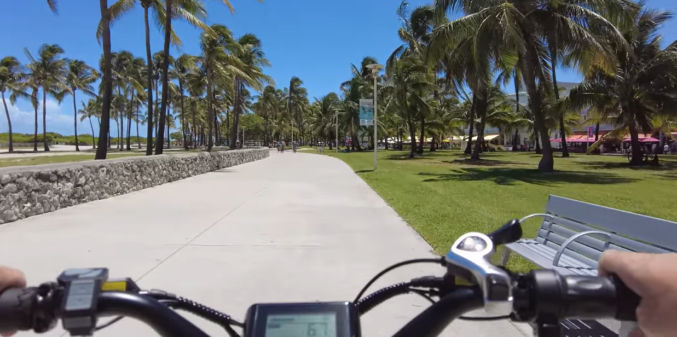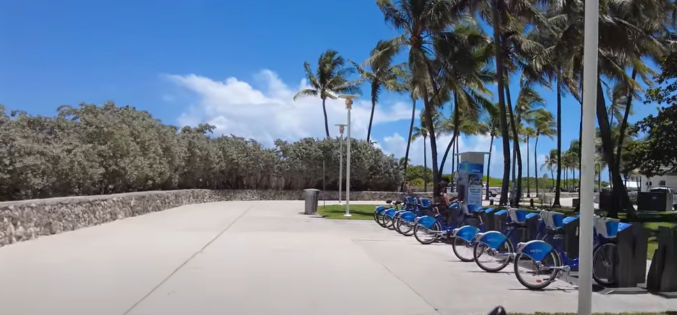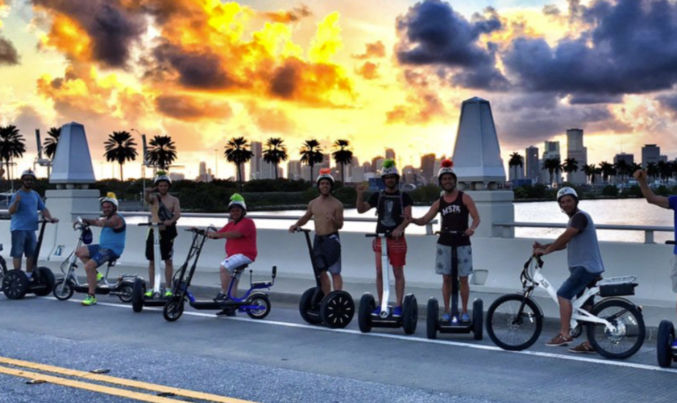 Free Miami Beach Trolley
From 8 a.m. to 11 p.m., 7 days a week at approximately 20-minute average service frequency along each route.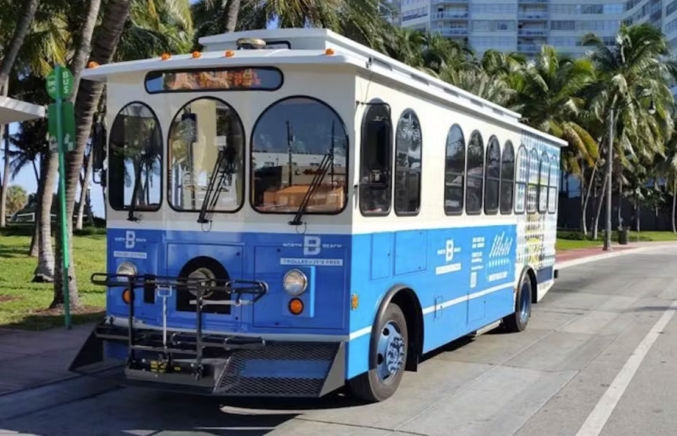 Lines:
North Beach Loop
Middle Beach Loop
South Beach Loop (A and B)
Collins Express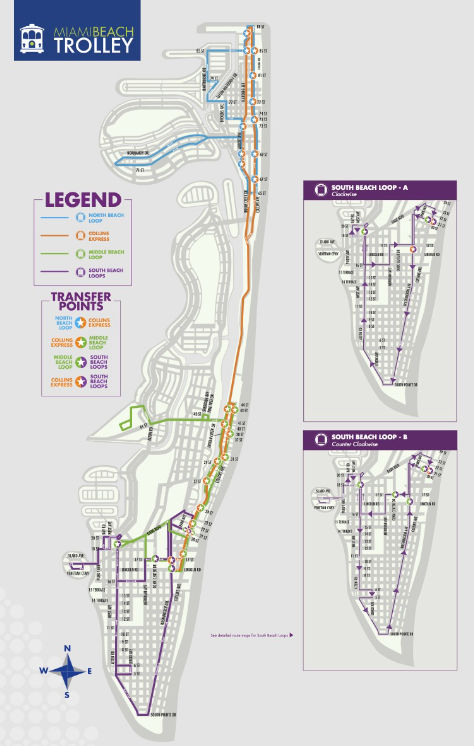 Millionaire's Row™ Cruise
Explore Miami aboard a fully-narrated bilingual sightseeing cruise along scenic Biscayne Bay – a top-rated thing to do in Miami! Cruise around Biscayne Bay and see the spectacular coastal sites including the beautiful downtown Miami skyline, the Port of Miami, Fisher Island, Miami Beach and "Millionaire's Row™" – the Homes of the Rich and Famous™.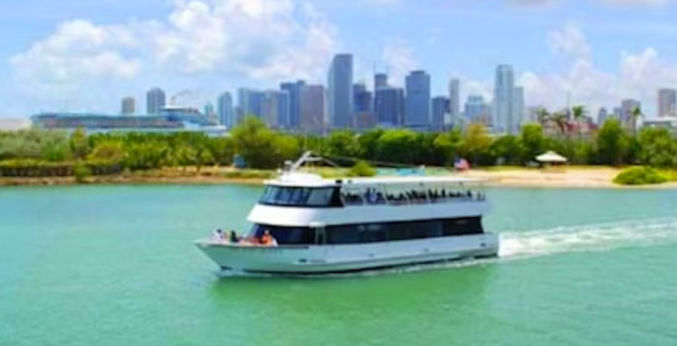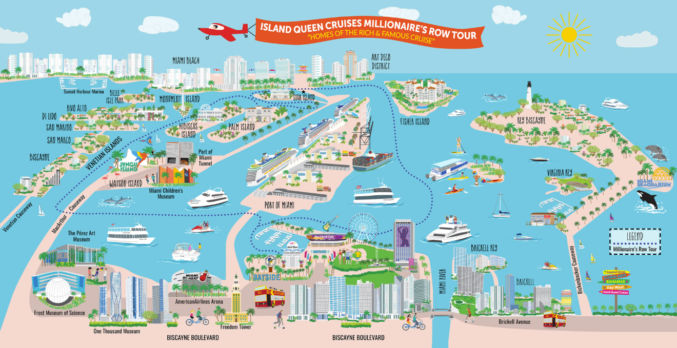 The Phillip & Patricia Frost Museum Of Science
This is a science museum, aquarium and planetarium. The cutting-edge 250-seat Frost Planetarium takes you on visual joyrides that both thrill and educate. Though it might seem like you're really hurtling through space or weaving through a coral reef or DNA strand, that ultra-real immersive experience is the result of a 16-million-color 8K visual system using six 3D-capable projectors and surround sound. The dome is tilted forward at 23.5 degrees, allowing its 67-foot span to fill your field of vision as if you're flying—imagery comes at you from above, below and the peripheral edges, creating a nearly 360-degree view of whatever world you're in.

Espanola Way
Española Way is a historic street in Miami Beach, Florida. It's located between 14th and 15th Streets, between Washington Avenue and Pennsylvania Avenue. It's a pedestrian-only street with shops, galleries, restaurants, and bars.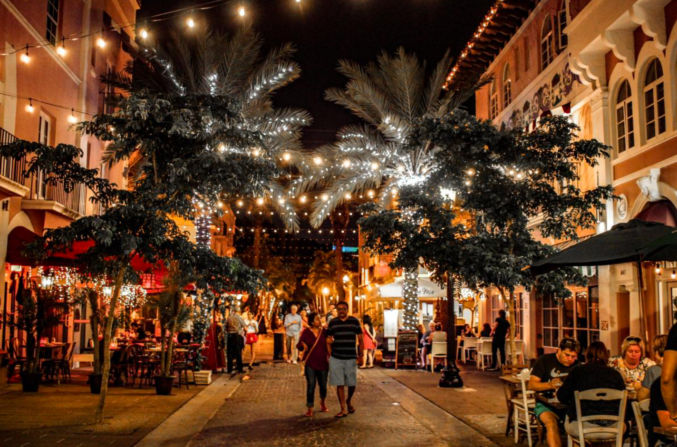 Museum Of Illusions
Experience stunning 3D illusions and art at the Museum of Illusions in Miami. Capture memorable, interactive photos and have fun with friends and family.
Lincoln Road Shopping District
Miami Beach's Lincoln Road is one of the most unique shopping districts in the world, full of stunning architecture, world-class culture and destination retail stores spanning 8 blocks.