Do a Google search and you'll find that many people have problems with the ice maker in their Samsung refrigerator. Of all the things Samsung can make, it's ridiculous that they can't even make an ice maker that just works without freezing up every 3 months. I have the 28 cu. ft. Food Showcase 4-Door Flex™ Refrigerator with FlexZone™ in Stainless Steel. I went with the counter-depth version. It's smaller than the full-depth version but more expensive for some reason.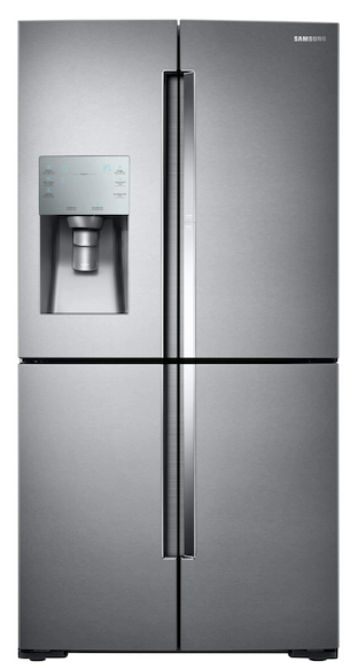 I have no problem with this fridge but as cool as it may look, the ice maker is a joke! I used up my extended warranty to have a "certified" technician come out 3 or 4 times to fix the ice maker (some of them are just clueless!). Anyway, in every situation, the ice maker stopped working because of ice buildup preventing the ice maker from working. One technician (a Samsung technician) said it was because I wasn't using the original Samsung (overpriced) water filter. So, I put in an overpriced Samsung original water filter and, unsurprisingly, the ice maker still stopped working after a while – again, because of ice buildup. And, of course, I'm past the extended warranty so I have to fix it myself. If your stupid Samsung ice maker stops working because of ice buildup, here's how you fix it (until it stops working again in 3-6 months).
Buy a steam cleaner
I bought this Bissel steam cleaner on Amazon. It's supposed to be used for cleaning but it works well for melting ice that jams your stupid Samsung ice maker.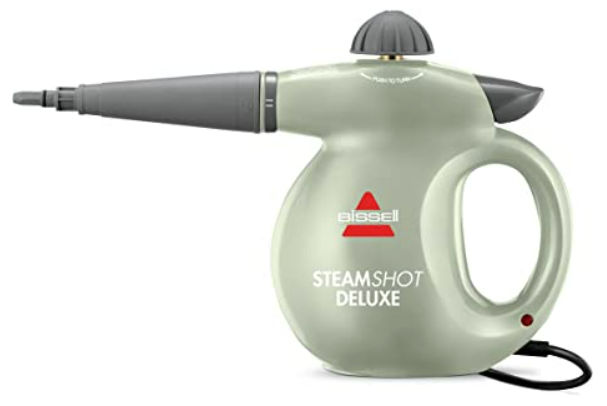 Melt the ice
Put some water in the steamer, wait till it's hot, then stick the nozzle up the ice maker opening and pull the trigger. Super hot steam will fill up the ice maker box and begin to melt any ice in there.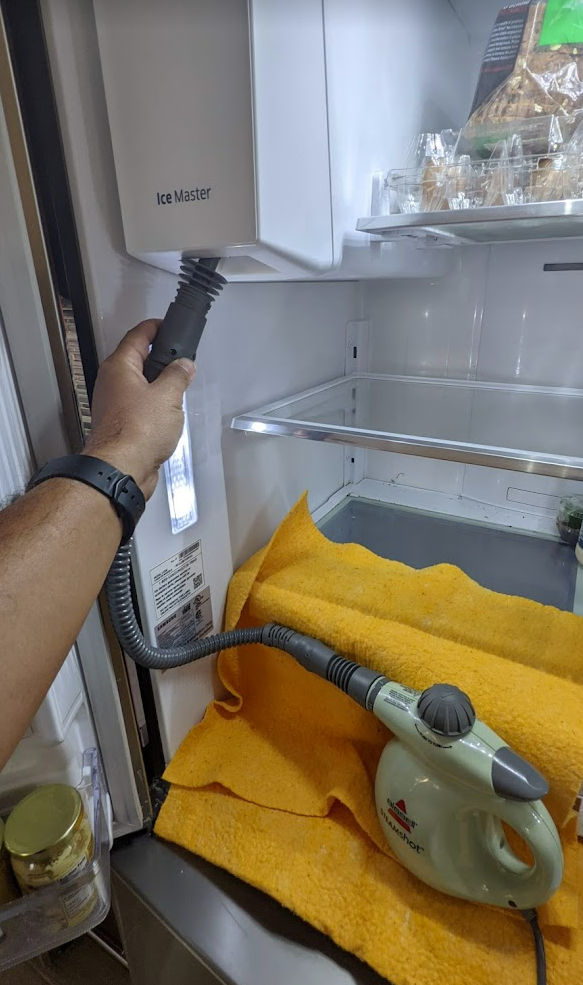 After a while, try to pull out the ice box. If it still doesn't come out, repeat until it does. Once it comes out, you'll see some ice buildup like in the picture below.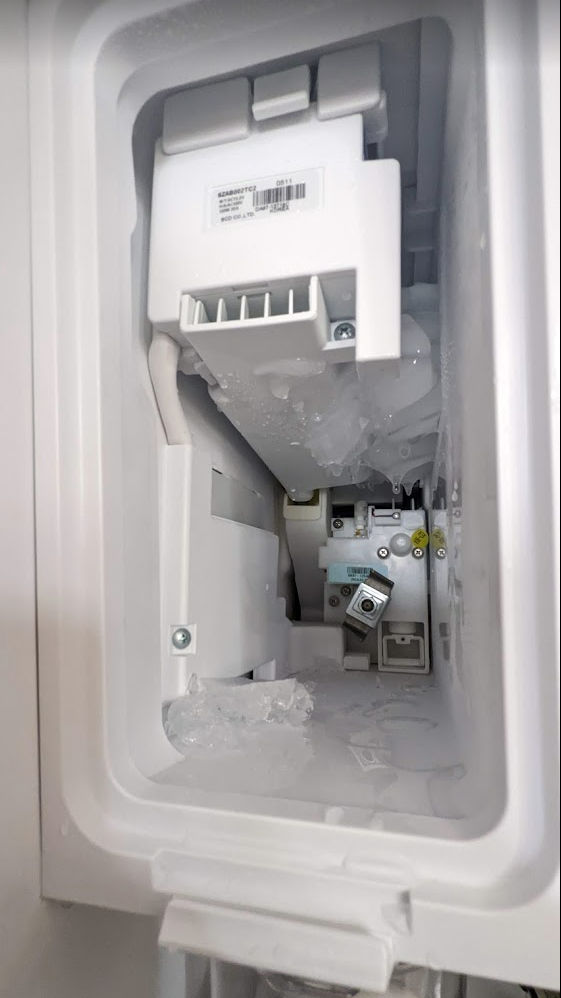 Use the steamer to target the ice buildup until you can remove all the ice.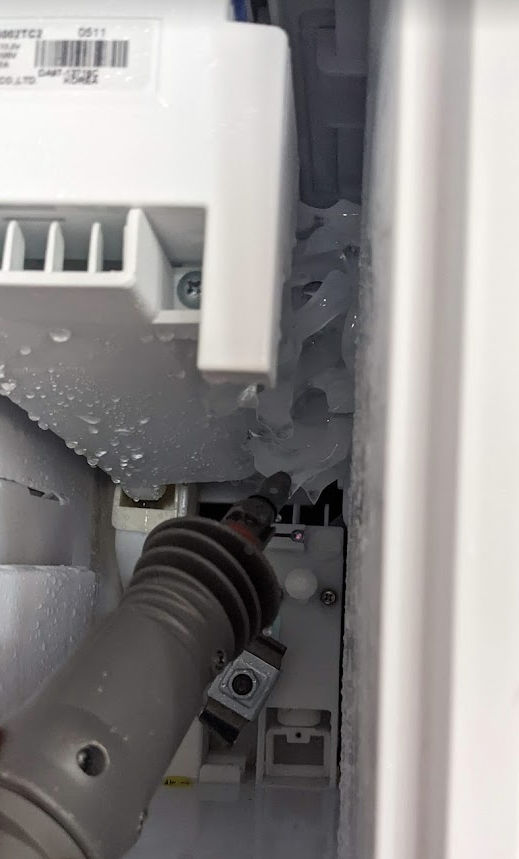 In the picture below, you can see that most of the ice is no longer stuck. Once you've removed all the ice, put the ice box back in and wait a day for new ice to be made.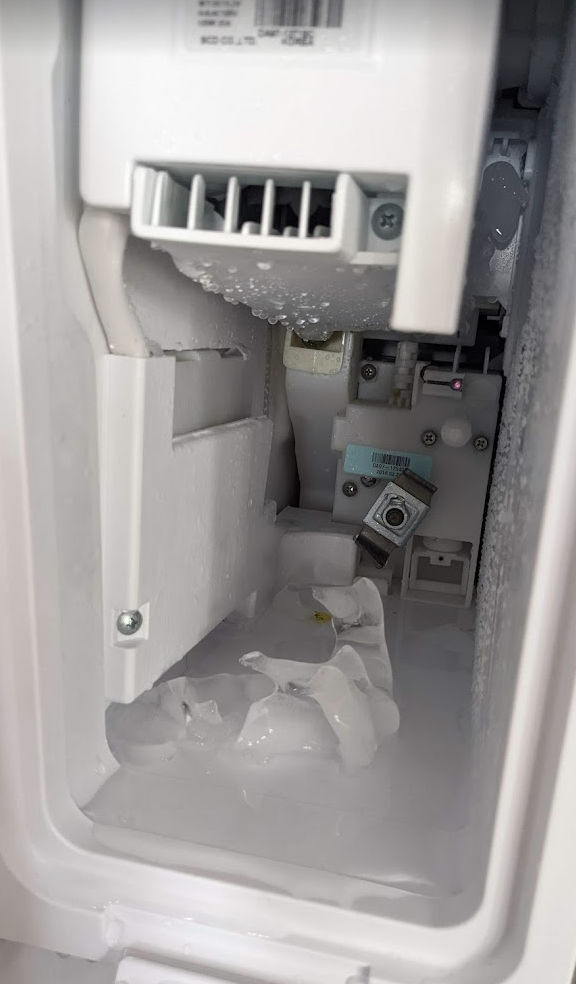 And that's how you temporarily fix your stupid Samsung ice maker.