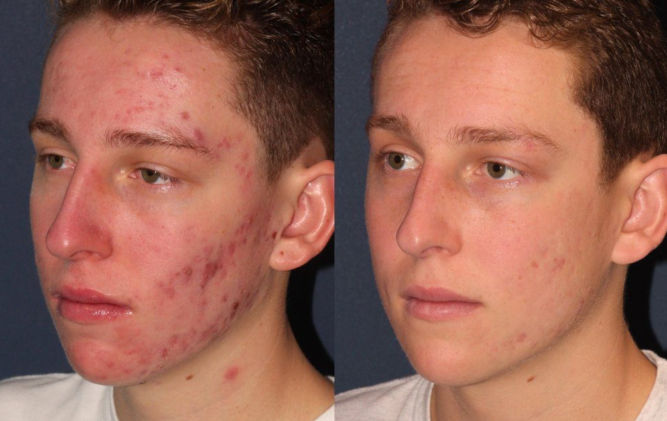 Do the following before going to sleep at night:
1. Salycilic Acid
Wash and clean your entire face using salycilic acid.
Clearasil Rapid Rescue Deep Treatment Wash 6.78oz – $6.00
2. Skin Moisturizer
Apply skin moisturizer to your entire face. This is necessary because the next step using benzoyl peroxide will make your skin red and very dry. The moisturizer will help prevent redness and dryness and will only slightly limit the effectiveness of the benzoyl peroxide.
Up&up Daily Moisturizing Lotion – $2.00

3. Benzoyl Peroxide (BP) 10%
Apply a thin layer of 10% benzoyl peroxide (BP) to entire face. Don't go out in the sun with BP without sunscreen as sunlight hitting the BP could darken your skin. Don't get BP on your eyes and hair. BP has a bleaching side effect and can cause dark fabric, e.g. towels and clothes, to appear bleached. BP is considered the best OTC (over the counter) acne medicine.
Max. Strength 10% Benzoyl Peroxide Gel Acne Medication – 1oz – Up&Up – $3.50
4. Sleep
Put a pillow cover, ideally one that is benzoyl peroxide resistant, over your pillow.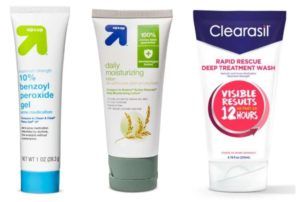 If the above steps don't work, you can try Differin Acne Treatment Gel 45 g. – $29, which has the active ingredient Adapalene 0.1%. It was previously only available with a prescription. The primary active ingredient in the Proactiv acne treatment solution is Adapalene 0.1%.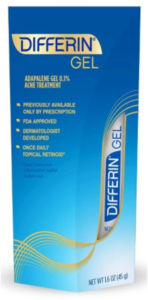 And if that doesn't work, you can see a dermatologist who can prescribe Accutane (isotretinoin antibiotic pill) for you. This is only necessary for extremely severe acne.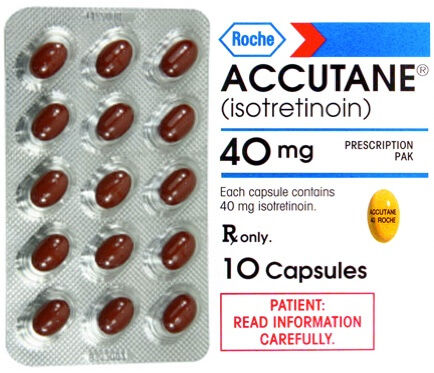 Explanation of active ingredients
Salicylic acid
On the skin, salicylic acid helps to correct the abnormal shedding of cells. For milder acne, salicylic acid helps unclog pores to resolve and prevent lesions. It does not have any effect on sebum production and does not kill bacteria. It must be used continuously, just like benzoyl peroxide, because its effects stop when you stop using it — pores clog up again and the acne returns. Salicylic acid is available in many acne products, including lotions, creams, and pads.
Benzoyl peroxide
For mild acne, you may try, or your doctor may recommend, treatment with a nonprescription drug that contains benzoyl peroxide. It's believed that this compound works by destroying the bacteria associated with acne. It usually takes at least four weeks to work and it must be used continuously to keep acne at bay. Like many over-the-counter and prescription products, it does not affect sebum production or the way the skin follicle cells are shed, and when you stop using it, the acne comes back. It is available in many forms: creams, lotions, washes, foams,cleansing pads and gels. Benzoyl peroxide can cause dry skin and can bleach fabrics, so take care when applying it. Consider wearing an old T-shirt to bed if you are applying it to your back or chest overnight.
Topical retinol gel
Retinol works to keep pimples from being able to form. It affects the growth of cells, causing increased cell turnover to unblock pores.. Your acne may appear to get worse before it gets better because it will work on the pimples that have already started forming beneath your skin. It must be used continuously and may take 8-12 weeks to get results. Retinol used to be available in only a prescription strength. Differin Gel is the only topical retinoid approved as an over-the-counter treatment for acne.
Doxycycline, Minocycline, and Tetracycline (Prescription required)
These are oral antibiotics and can be used to treat most cases of acne which can't be cured using lighter solutions above.
Isotretinoin (Prescription required)
For severe cystic acne, isotretinoin is the most effective therapy. This drug is the only drug that intervenes in all of the causes of acne. It can often even clear severe acne that hasn't responded to other treatments. However, the product can have side effects. It can cause severe birth defects and must must NEVER be taken by a woman who is pregnant or who is not using contraception. In addition, it shouldn't be taken by a woman who is nursing. Some studies suggest its use has been associated with an increased risk of depression, suicide, and inflammatory bowel disease. Talk to your doctor about the potential risks of this drug. Accutane is a brand of isotretinoin.
For more information, visit https://www.webmd.com/skin-problems-and-treatments/acne/understanding-acne-treatment#5