So, I just got the Ninja Foodi Smart Indoor Grill which doubles as an air fryer and mini oven. I have another cheaper indoor grill but tends to produce smoke and always trigger my smoke sensor. So far, though the Ninja grill is larger, it hasn't emitted any smoke nor trigger my smoke sensor and produces better grill results.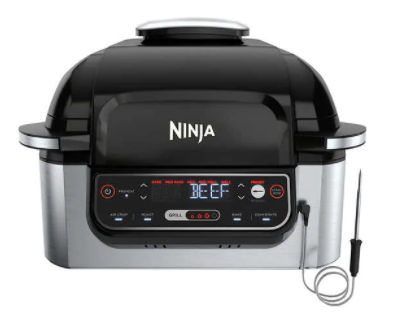 Here's how to make steak using it.
Ingredients for Marinade
2 tbsp Worcestershire sauce
2 tbsp soy sauce
2 tbsp olive oil
1 tbsp lemon juice
1 tbsp minced garlic (wet or dry)
1 tsp garlic powder
1 tsp coarse salt
1 tsp pepper
1 tbsp dried basil
1 tbsp dried parsley flakes
Preparation
Get your steak (minimum 1″ thick and preferably from Costco). Mix all the marinade ingredients together and pour into a large ziploc bag. Put steak in bag, turn a few times and let marinate for 1 to 8 hours.
Cooking Instructions
Insert thermometer into middle of side of steak such that the tip is at the center of the thickest part.
Turn on Ninja grill by pushing the grill button.
Click the left up/down arrows to choose a doneness level. I like medium rare.
Push the thermometer / preset button to start preheat phase
When preheating is done, it will beep and tell you do insert the steak. Do so.
Some time later, it will beep and tell you to flip the steak. Do so, preferably using silicone-tipped tongs.
Some time later, it will be and tell you to get the steak out. Do so and wait 5 minutes before enjoying.
Grill Vegetables (optional)
To complement the steak, you can grill some vegetables in the Ninja grill also. Here are the veggies that grill well.
Asparagus
Zucchini
Tomatoes
Onions
Bell pepper
Jalapeno peppers
Tomatillo peppers
Corn
Instructions
Cut vegetable in half or in slices.
Remove spicy seeds from peppers.
Slather with / baste in oil.
Sprinkle coarse salt and pepper.
Turn on Ninja grill
Push grill button
Push right up/down to set the time to 6 minutes
Push thermometer / preset button twice to skip preheating
Put veggies in grill
The grill will beep when done.