Avoid Lead Paint
Lead-based paint and lead-contaminated dust are the most hazardous sources of lead for U.S. children. Lead-based paints were banned for use in housing in 1978. All houses built before 1978 are likely to contain some lead-based paint. However, it is the deterioration of this paint that causes a problem.
If possible, buy a house built after 1978 to avoid lead paint.
Avoid Asbestos
Unless you perform detailed testing to rule out the presence of asbestos, every pre-1981 building must be treated as if it contains asbestos.
Avoid Plaster Walls
Plaster walls were used to finish interior houses up until the 1950s at which time it was replaced with drywall. Plaster walls are like stucco. Since they are hard, cutting and drilling a hole for, say, hanging a picture is difficult.
If possible, buy a house after the 1950s to avoid having to deal with plaster walls.
Avoid Old Wiring Systems
Old homes used knob and tube wiring till around 1920. After that, flexible cables were used till the 1940s. After that, cables were run through metal conduit till around 1965. Around 1965, homes began using modern NM cable commonly called Romex.
If possible, buy a house after 1965 to avoid having to deal with old wiring systems.
Roofs
Roofs are one of the most expensive parts of a house. Replacing the shingles on a roof can cost around $10,000. Shingle roofs commonly have a lifespan of 25 years.
If possible, find out when the roof was installed to determine whether the roof will need replacing soon or not. Concrete tile roofs are very long lasting so it would be good to get a house with that.
Transfer Tax and Title Fees
Don't assume that your agent will draft an agreement correctly that is in your best interest. Certain things such as title and escrow fees and city and county transfer taxes are either paid by the seller, buyer or both, depending on which county the property is in. For California, you can reference this table.
Avoid Flood Zone
If the property is in a flood zone and you need a loan to buy the house, the lender will require you to pay for flood insurance. That is yet another expense you should avoid having to pay. To determine if a property is in a flood zone, enter the address at FEMA Flood Map Service Center.
If the property is in a Special Flood Hazard Area (SFHA), then you will be required to buy flood insurance. For example, the property at 2421 Country Club Boulevard 28
Stockton, CA 95204 is in a special flood hazard area as shown in the map below.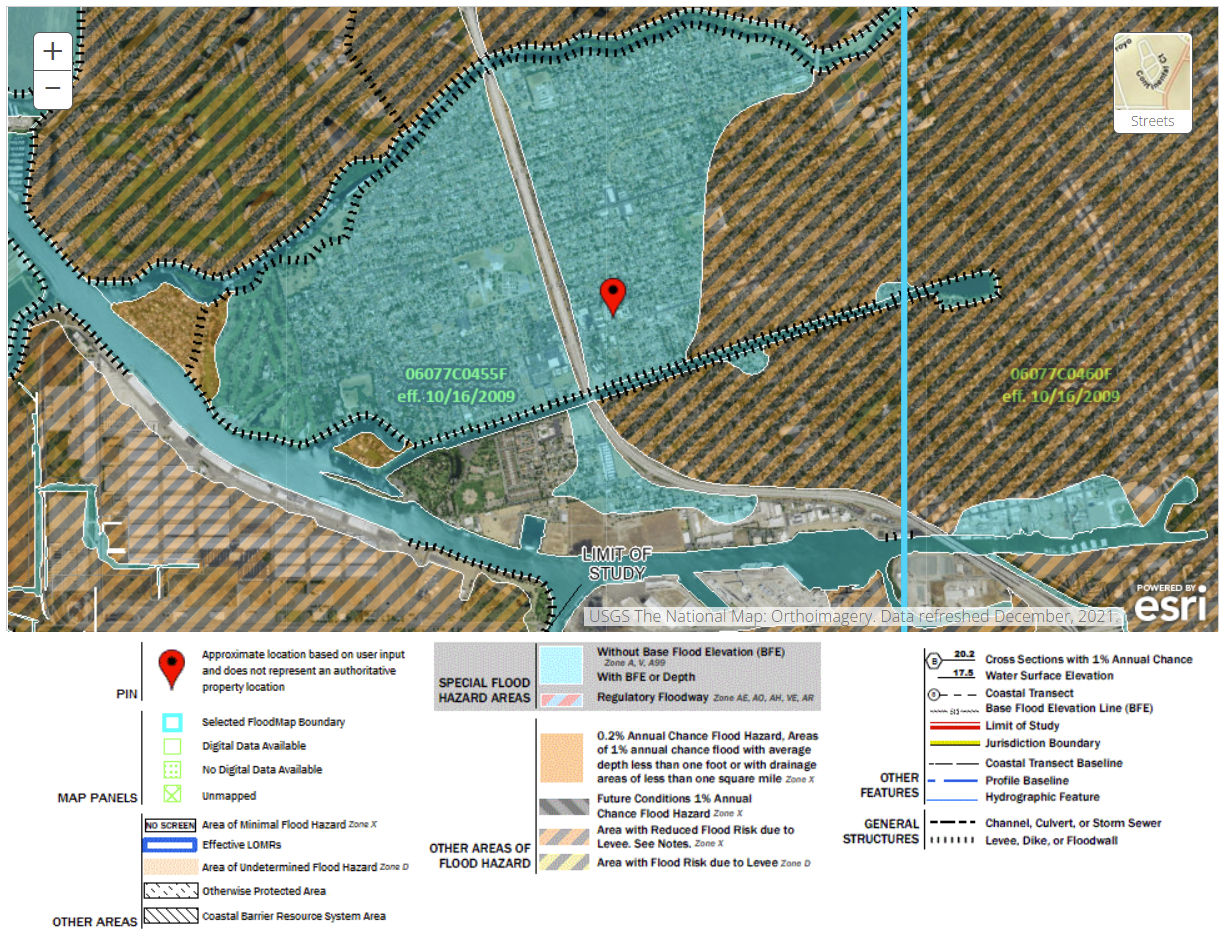 HOA
Some properties may appear much cheaper than others for the same square footage. Beware, however, that these properties can be just as expensive or even more expensive because they may be part of an association and require a monthly HOA fee which can range from $25 to over $500 per month.
Homeowner's Insurance
Shop around for homeowner's insurance. State Farm is the largest insurer with 17% of the market. They also provide an instant online quote and replacement cost estimator and their premiums are usually cheaper than other big-name insurers.
When choosing insurance coverage, one of the biggest issues is the cost to completely rebuild your house. One way to determine this is by using DwellingCost.com. Some appraisers use this.
Homeowner's insurance costs can vary wildly. You should get a quote from an insurance broker and compare costs.
Mortgage Shopping
When shopping for a mortgage, you can probably get a better rate from a non-bank lender. Here are some rate comparison sites:
Some low-cost lenders I've used in the past are
Also, consider getting a mortgage from a credit union. Unlike banks, credit unions are not for profit so they can offer lower rates. For example, if you live in Alameda County in the San Francisco Bay Area, you can become a member of 1st United Credit Union and get competitive rates for personal and rental property home loans. See their rates.