Posted on Sep 27, 2018
Cutting curves in ceramic tile, plywood, and plexiglass / acrylic
Cutting straight lines in ceramic tile is easy with a tile saw. But cutting curves, e.g. for toilet drains, can be tricky. Diamond hole saws are expensive. Instead, use a rotary tool (e.g. Dremel) with either a tile cutting bit or a tile cutting wheel.  Or, use a jig saw with a carbide grit blade. You can also cut wood and plexiglass using the appropriate bits as well.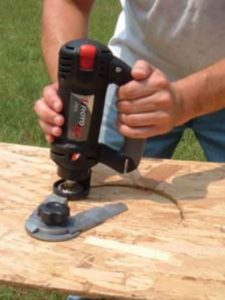 Drilling a hole in ceramic tile
Drilling a hole in ceramic or porcelain tile can't be done with a regular twist drill bit. Use a diamond or carbide-tipped masonry bit. To keep the bit from slipping off the glossy surface, put masking tape on the surface.
Cutting drywall
Cutting drywall can be done manually with a drywall saw but you can also use a power tool. Though oscillating tools and reciprocating saws can do the job, they won't give a fine cut. Instead, use a rotary tool with a drywall bit.
Trimming drywall
If you cut drywall that is slightly too large to fit an opening, instead of trying to trim it with a utility knife or saw, use a rasp plane.
Measuring long distances by yourself
Put a nail into one end of the distance you want to measure. Put the end of the measuring tape into that nail to keep the measuring tape end in place. Pull the measuring tape end into the nail and pull.
Drawing circles
Put a nail into the material at the center of your desired circle. Hook the end of a tape measure into the nail. Hold a pencil against the tape measure at a distance equal to the radius of your desired circle. Rotate the measuring tape to draw a circle.