I've tried a couple of diets and also just tried to count calories. But, it seems that the key to losing weight is more complicated than just a daily calorie deficit. After researching the Ketogenic diet, I have a feeling this particular diet may actually work, even though it calls for consuming more fat when the whole point of the diet is to lose fat. Here's a summary of the Ketogenic diet.
Carbs vs Protein vs Fat
Carbohydrates, proteins, and fats supply 90% of the dry weight of a diet and 100% of its energy. All three provide energy (measured in calories), but the amount of energy in 1 gram (1/28 ounce) differs. There are
4 calories in a gram of carbohydrate or protein
9 calories in a gram of fat
Carbohydrates, proteins, and fats are digested in the intestine, where they are broken down into their basic units:
Carbohydrates into sugars
Proteins into amino acids
Fats into fatty acids and glycerol
These nutrients also differ in how quickly they supply energy. Carbohydrates are the quickest, and fats are the slowest.
Carbohydrates
According to the American Heart Association (AHA), the body does not need any added sugar to function healthily. Therefore, the body doesn't really need carbs since carbs just get converted into sugar.
Protein
Proteins consist of units called amino acids. There are 20 amino acids. The body synthesizes some of them from components within the body, but it cannot synthesize 9 of the amino acids—called essential amino acids. They must be consumed in the diet.
Fat
Fats are complex molecules composed of fatty acids and glycerol. When the body needs fatty acids, it can make (synthesize) certain ones. Others, called essential fatty acids, cannot be synthesized and must be consumed in the diet.
Energy source priorities
Your body gets energy first from sugar (carbohydrates are converted into sugar in the body) and only when the sugar energy has depleted will your body turn to getting energy from fat.
In order to lose weight (fat), your body needs to enter a metabolic state called "Ketosis". When this happens, your body becomes incredibly efficient at burning fat for energy. It's like it becomes a fat-burning machine. If you consume too many carbs (bread, pasta, rice, sugar, etc), your body will never enter Ketosis mode because your body will always get more than enough energy from carbs (sugar). It's no wonder why sugar is the real health enemy and one of the main causes of health issues like diabetes.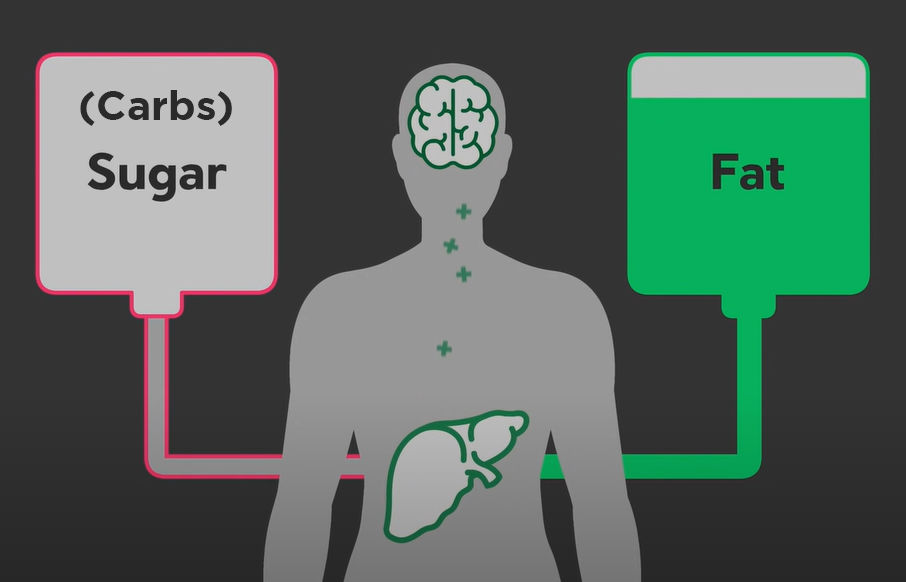 The Keto diet
The keto diet is a low carb, high fat diet. As such, your body will have very little energy from carbs (sugar) and quickly resort to getting energy by burning fat. Specifically, you should consume macronutrients with the following proportions:
70% fat
20% protein
10% carbs
Now, if you are bodybuilding and want to build muscle, you need more protein. So, a slight variation of the standard keto diet calls for the following proportions:
60% fat
35% protein
5% carbs
Protein should be moderate, as a very high intake can spike insulin levels and lower ketones. Around 35% of the total calorie intake of protein is probably the upper limit.
Generally, achieving Ketosis involves limiting carb consumption to around 20 to 50 grams per day and filling up on fats, such as those from meat, fish, eggs, nuts, and healthy oils.
Foods to avoid
Any food that's high in carbs should be limited.
sugary foods: soda, fruit juice, smoothies, cake, ice cream, candy, etc.
grains or starches: wheat-based products, rice, pasta, cereal, etc.
fruit: all fruit, except small portions of berries like strawberries
beans or legumes: peas, kidney beans, lentils, chickpeas, etc.
root vegetables and tubers: potatoes, sweet potatoes, carrots, parsnips, etc.
low fat or diet products: low fat mayonnaise, salad dressings, and condiments
some condiments or sauces: barbecue sauce, honey mustard, teriyaki sauce, ketchup, etc.
unhealthy fats: processed vegetable oils, mayonnaise, etc.
alcohol: beer, wine, liquor, mixed drinks
sugar-free diet foods: sugar-free candies, syrups, puddings, sweeteners, desserts, etc.
Foods to eat
meat: red meat, steak, ham, sausage, bacon, chicken, and turkey
fatty fish: salmon, trout, tuna, and mackerel
butter and cream: grass-fed butter and heavy cream
cheese: unprocessed cheeses like cheddar, goat, cream, blue, or mozzarella
nuts and seeds: almonds, walnuts, flaxseeds, pumpkin seeds, chia seeds, etc.
healthy oils: extra virgin olive oil, and avocado oil
avocados: whole avocados or freshly made guacamole
low carb veggies: green veggies, tomatoes, onions, peppers, etc.
condiments: salt, pepper, herbs, and spices
43 Healthy Low-Carb Foods That Taste Incredible
Carbs from fiber
On Nutrition Facts food labels, the grams of dietary fiber are already included in the total carbohydrate count. But because fiber is a type of carbohydrate that your body can't digest, it does not affect your blood sugar levels. You should subtract the grams of fiber from the total carbohydrate.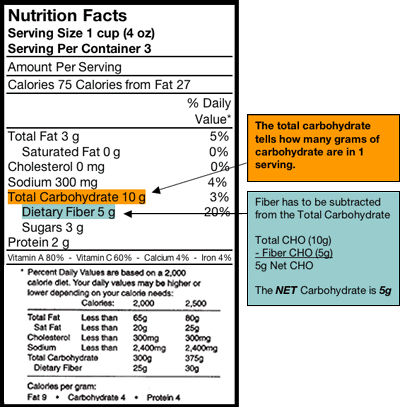 In the example nutrition label above, we see that the total carbohydrate count is 10 grams and the dietary fiber is 5 grams. Therefore, the net carbohydrate amount is 5 grams.
Carbs from Erythritol
If you see a nutrition label that shows Erythritol under the Total Carbs section, you can subtract it from the total carbs. Unlike other sugar alcohols where half gets digested in the body, Erythritol does not get digested. Instead, it gets excreted through urine and feces like carbs from dietary fiber. There are 3 types of sugar substitutes that contain zero carbs and are safe to eat: Erythritol, Monk Fruit, Stevia.
Learn more about sugar substitutes
Example calorie calculation
Looking at the nutrition label above, we see the number of fat, carbs and protein in grams. One serving of the food item contains 10 grams of carbs. But, 5 grams of those 10 grams can be ignored since they are dietary fiber which the body can't digest and so it gets passed.
The nutrition label shows grams and % daily value, but it doesn't show percentage for each of the 3 macronutrients. To determine that, we can perform these calculations.
| | Macronutrient | Grams (A) | Calories per gram (B) | AxB (C) | C / (C1 + C2 + C3) x 100% |
| --- | --- | --- | --- | --- | --- |
| 1 | fat | 3 | 9 | 27 | 27 / (27 + 20 + 8) x 100% = 49% |
| 2 | carbs | 5 (don't include fiber carbs) | 4 | 20 | 20 / (27 + 20 + 8) x 100% = 36% |
| 3 | protein | 2 | 4 | 8 | 8 / (27 + 20 + 8) x 100% = 15% |
So, the food for the nutrition label above has the following macronutrient proportions:
fat: 49%
carbs: 36%
protein: 15%
If that food was the only thing you ate all day, then it would not satisfy the goal of the ketogenic diet.
If you are targeting 1500 calories per day for weight loss and a maximum of 5% from carbs, then 5% of 1500 is 75 calories. And since 1 gram of carbs is 4 calories, you can consume a maximum of 75/4 = 18.75 grams of non-fiber carbs. Hmm…. that's very low. If your target is 10% of carbs per day, then you can consume a max of about 40 grams of non-fiber carbs per day. According to Healthline, consuming less than 50 grams of non-fiber carbs per day will get you into Ketosis.
Ketosis Test
If you want to know whether your body is in a state of Ketosis (burning fat), there are tests available. This is great because you can actually measure and know whether your body is currently burning fat or not. Technically, you could test yourself before you go to sleep at night. If you test positive for being in a state of Ketosis, then you would literally be burning fat while you sleep!
Urine test using urine test strip
Blood test using blood test strips
Breath test using a breath analyzer