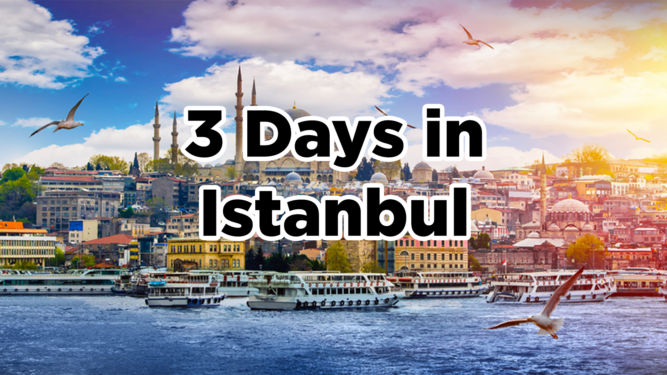 After visiting Istanbul (aka Kebab Heaven) for 8 days, I think I've come up with an itinerary for anyone who only has 3 days there.
Note: check open / close times as not everything is open every day 24 hours a day.
Recommended Hotel
Mercure Istanbul Sirkeci
Hobyar, Muhzirbaşı Sk. No6, 34112 Fatih/İstanbul, Turkey
Google Map
This hotel is in the perfect location as it's in the middle of most places you'll want to visit and there are a ton of restaurants and tourist services nearby.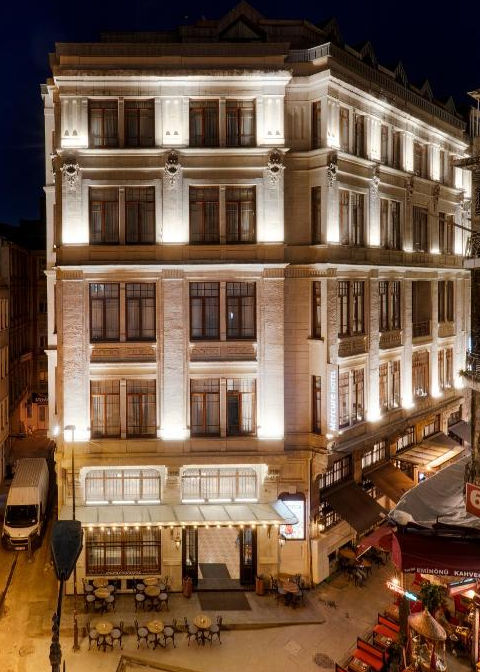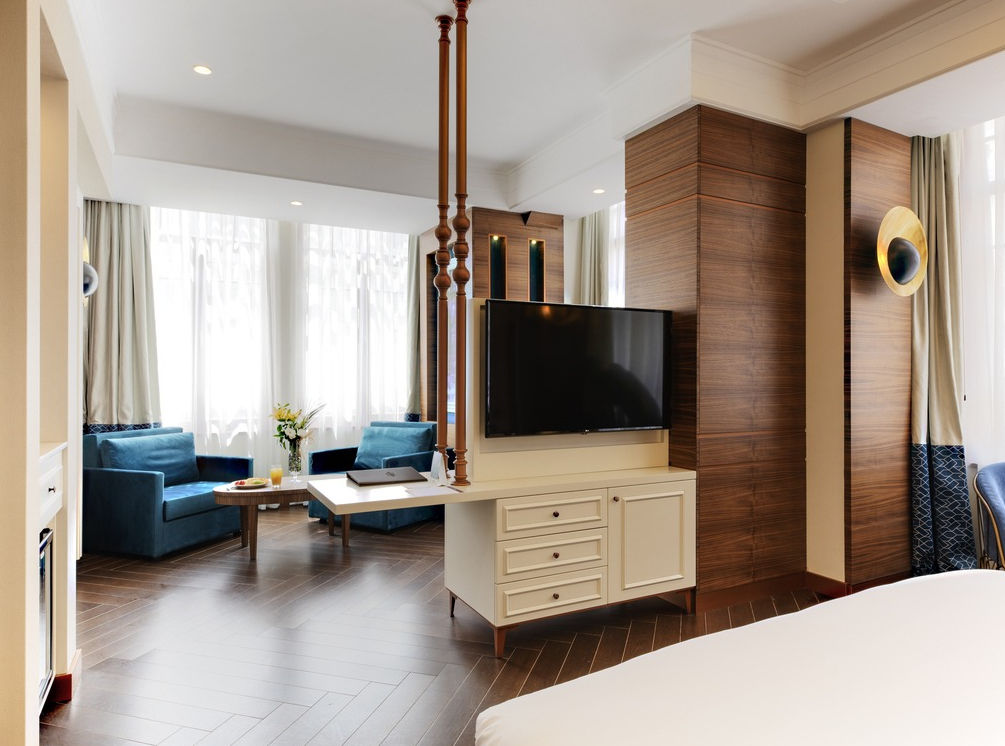 Day 1
9:00 AM – Breakfast
Have breakfast at the hotel and/or eat at one of the many nearby restaurants. My favorite breakfast which most people would like is Menemen (Turkish scrambled eggs) which you eat with bread.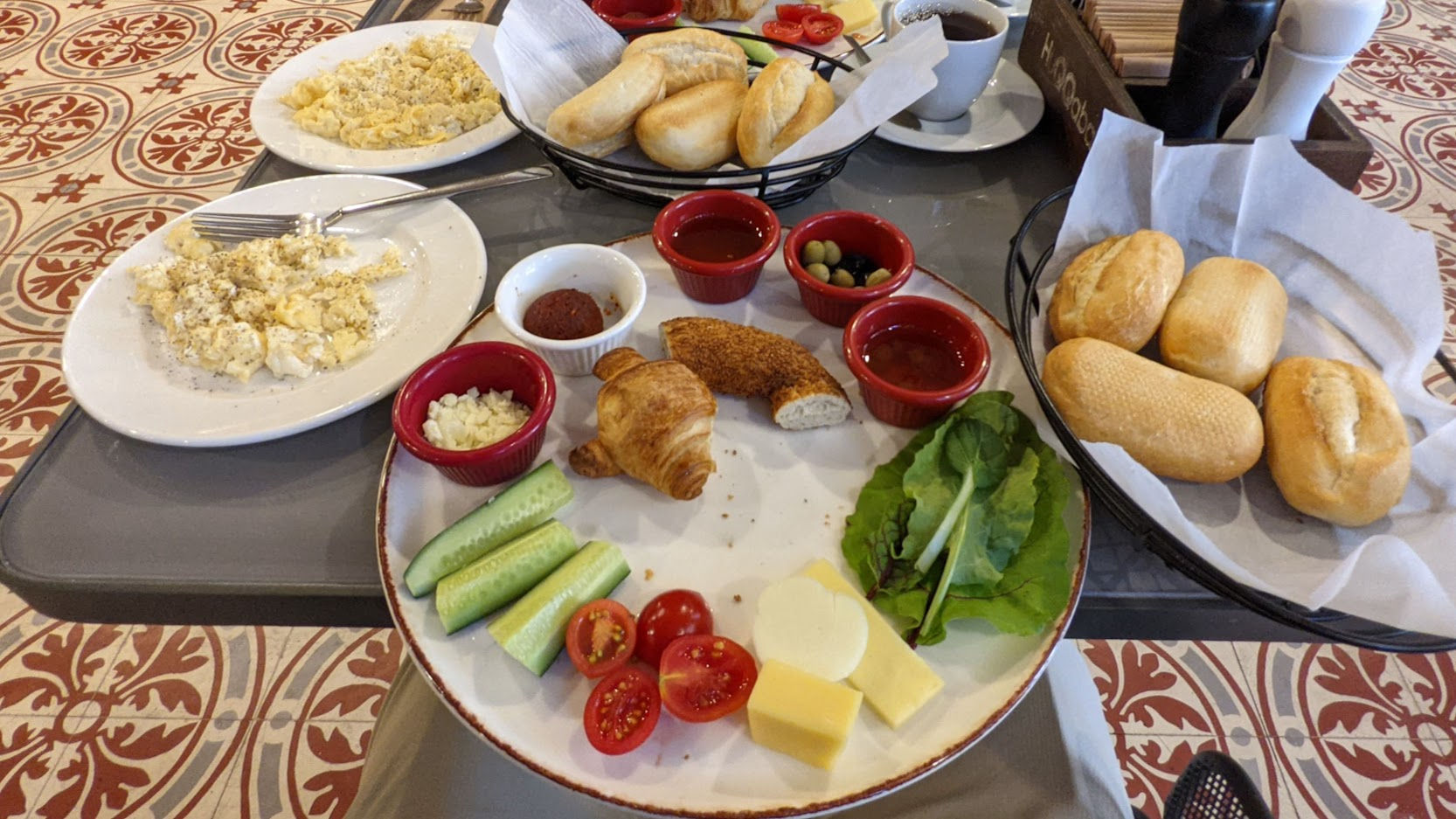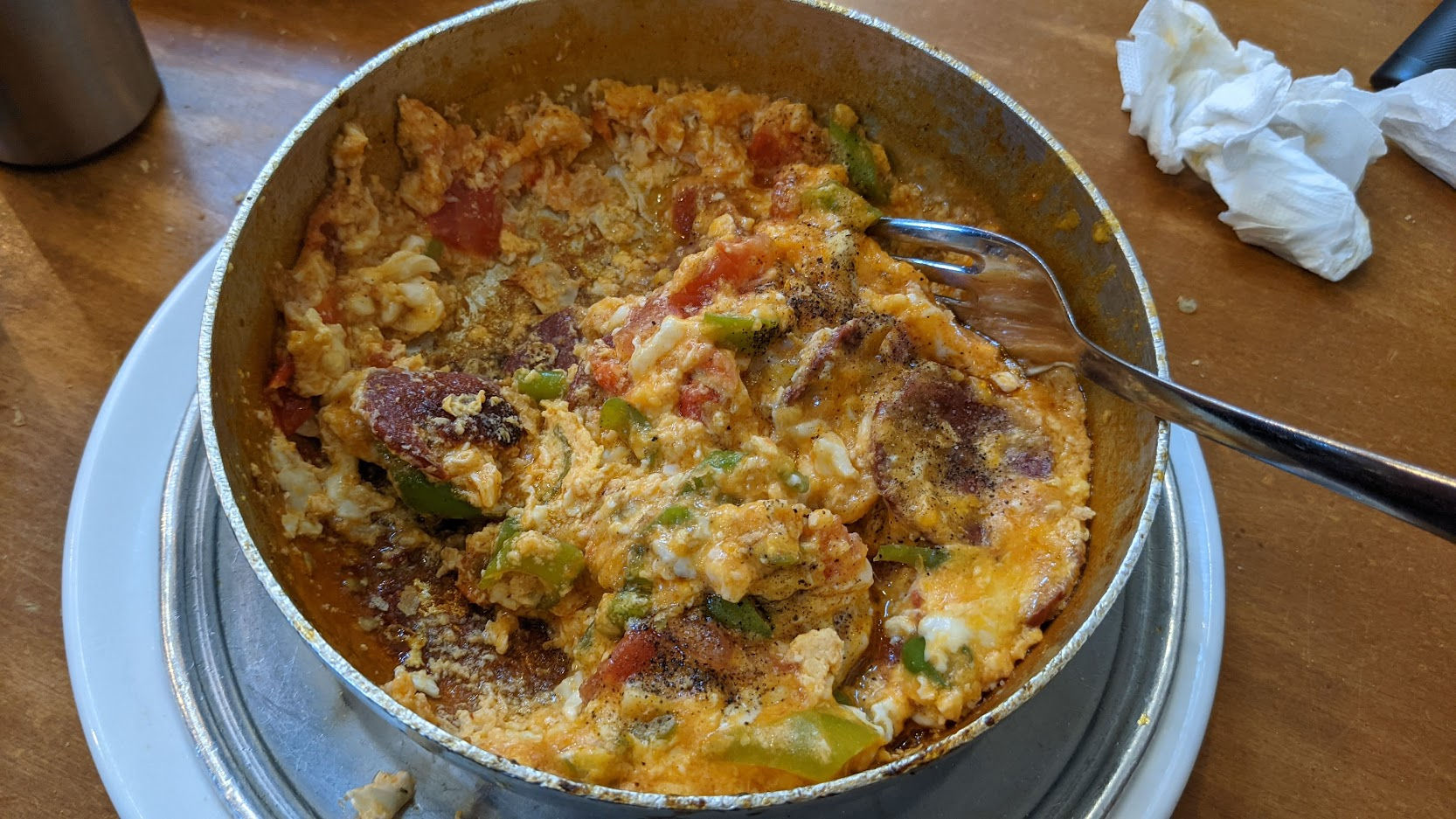 10:00 AM – Baklava
If you have time, stop by and get some Baklava. One famous place which you'll find all over Istanbul is Hafiz Mustafa just around the corner from the hotel.
Hafiz Mustafa
Hoca Paşa, Muradiye Cd. No:51, 34080 Fatih/İstanbul, Turkey
Open 24 hours
http://www.hafizmustafa.com/
Google Map
WARNING: this place gets packed full of people.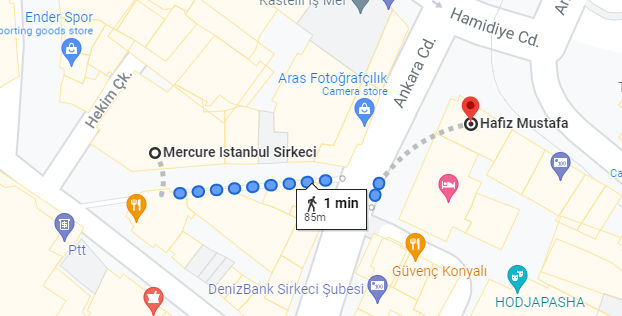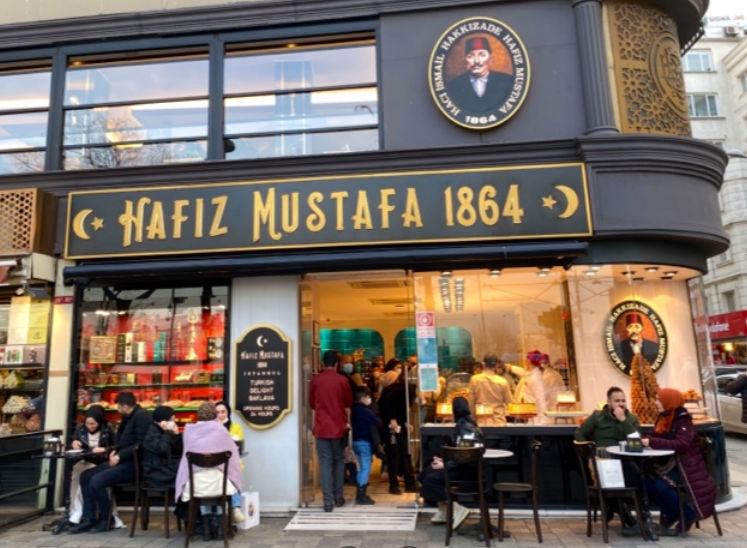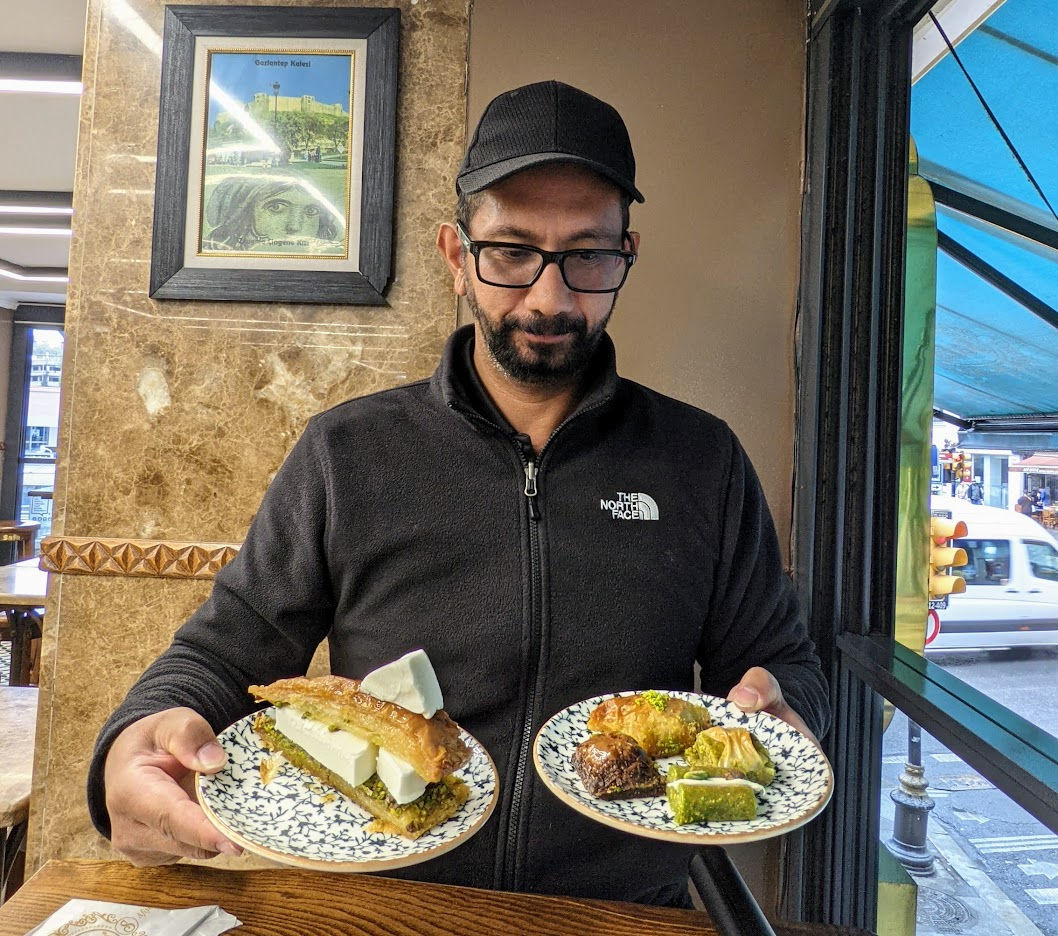 11:00 AM – BIG BUS Tour
Since you'll be new in Istanbul, it's helpful to go on a quick tour to get an idea of where everything is and what the city is like. The BIG BUS will also cross the bridge connecting Europe to Asia. If you're staying at the Mercure hotel, then catch the bus at 11:00 AM at Eminonu which is just 10 minutes away by foot.
Note: in the screenshot below, Google Maps says you need to walk across the bridge and back and that the walk would take 27 minutes. That's incorrect. You don't need to cross the bridge and the walking time is more like 10 minutes.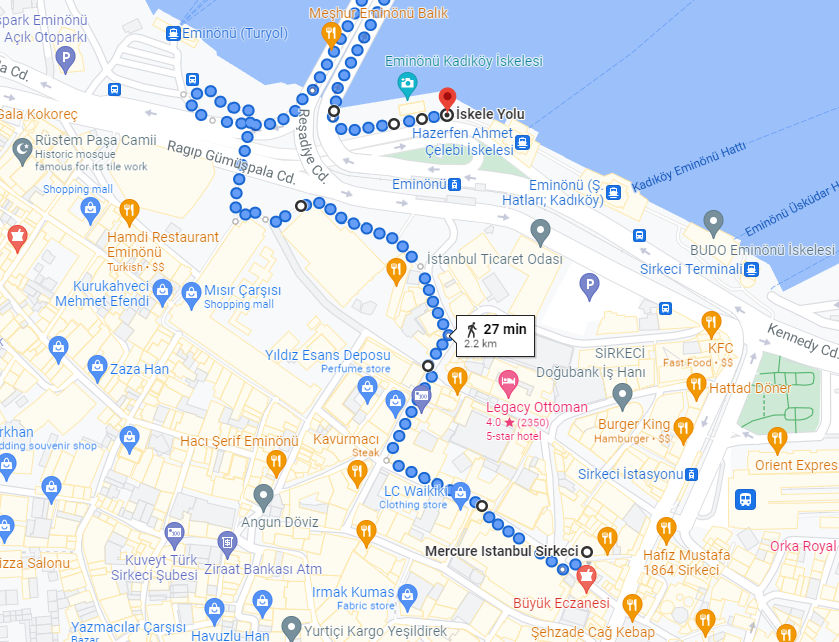 Note: The first stop is at Sultanahmet Square and the 2nd stop is at Eminonu (near the hotel). Most people will get on at Sultanahmet Square and sit on the upper deck. By the time the bus gets to stop #2 (Eminonu), most likely the upper deck will be full. You can wait until someone goes down (usually at Dolmabahce Palace) and then move to the upper deck. Or, get on the bus at the starting point (Sultanahmet Square).
https://www.bigbustours.com/en/istanbul/classic-istanbul-tour-ticket
1 Day: $56 per person
2 Days: $67 per person
3 Days: $75 per person
Red Route:
First Tour: 11:00 from Stop #20: Sultanahmet Square
Last Tour: 17:00 from Stop #20: Sultanahmet Square
Full Circuit Time: 2 hours (approx.)
Bus Frequency: every 60 minutes (approx.)
Bus Stops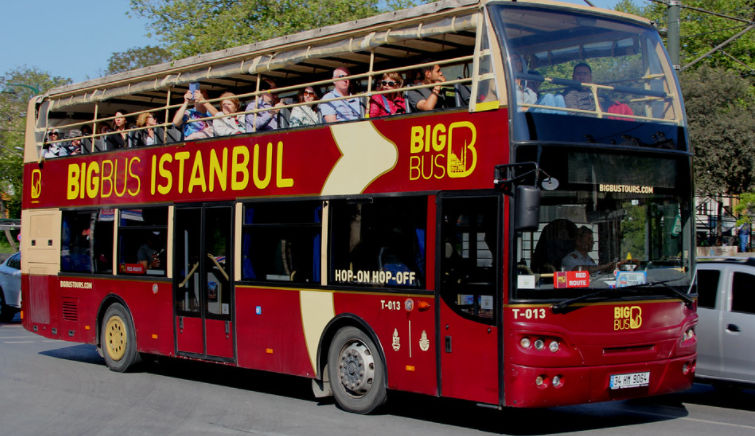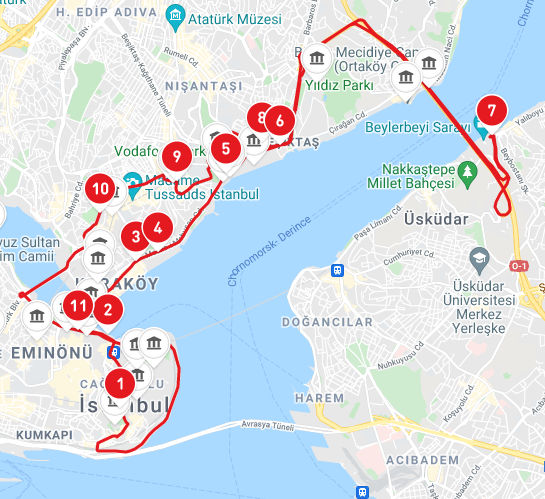 1:00 PM – Get Off at Sultanahmet Square
Sultanahmet Square is between the Blue Mosque and the Aya Sophia. The Aya Sophia is next to the Topkapi Palace. Get off the bus here so you can visit all 3 places at once.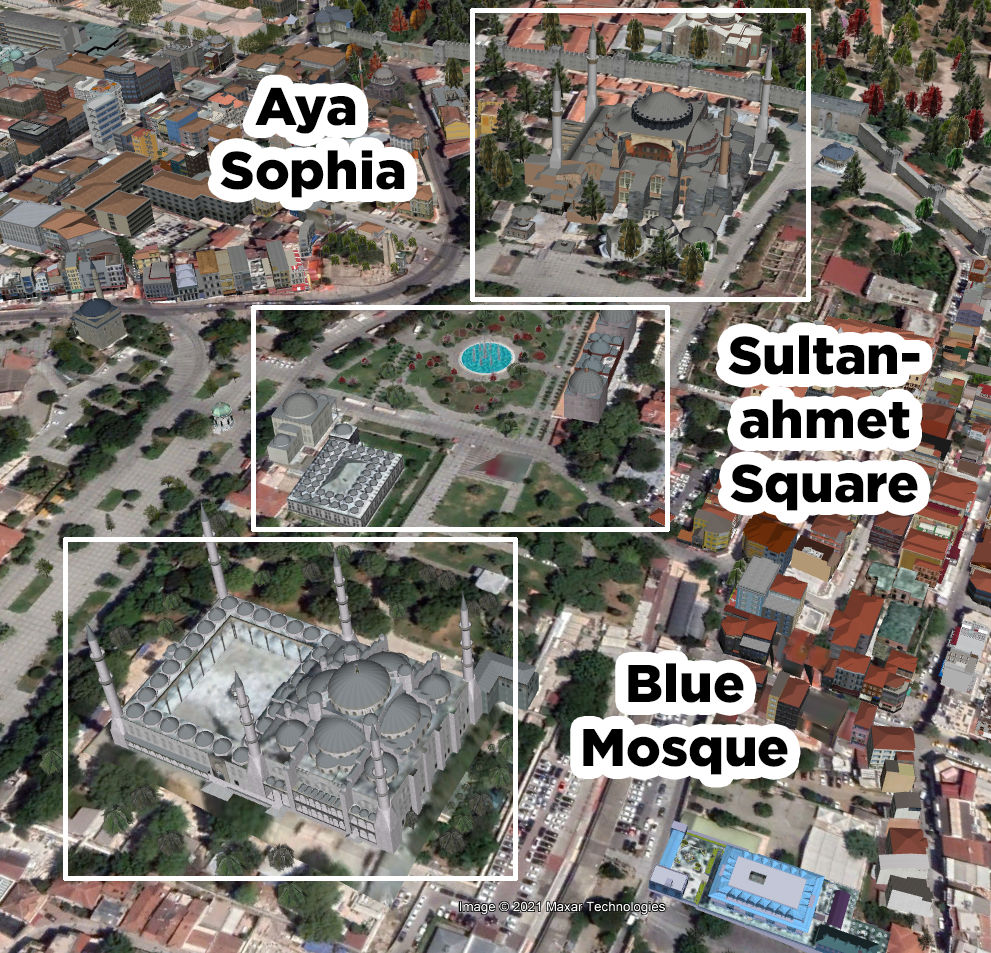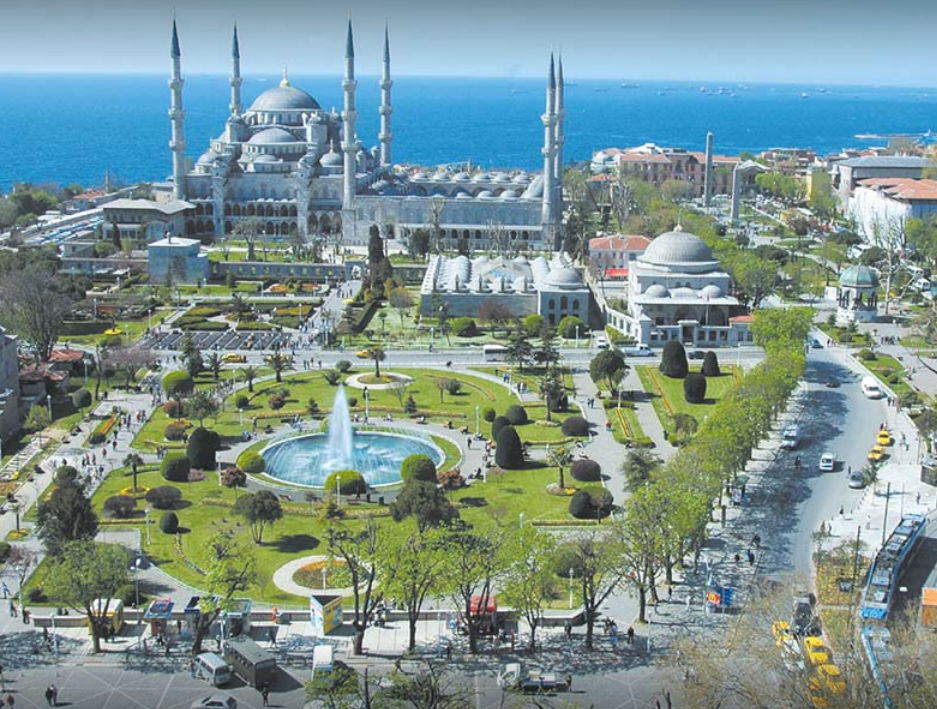 1:15 PM – Grilled Corn on the Cob
The Blue Mosque is closed to visitors during prayer times. Whether that's the case or not, pick up some grilled corn and have a snack at Sultanahmet Square.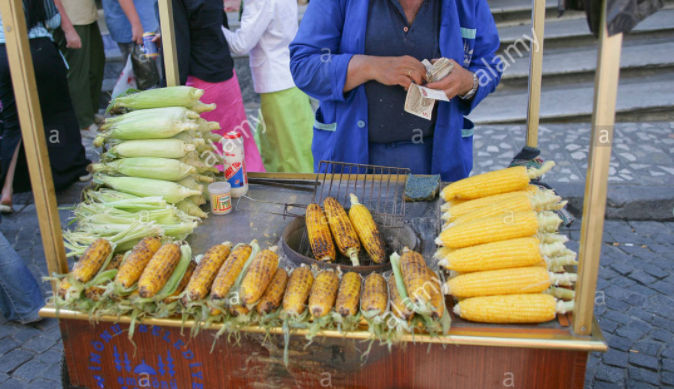 1:30 PM – The Blue Mosque
Walk over to the Blue Mosque and check out this building which was built in 1616.
Note: there is often construction going on so some or all parts may be inaccessible.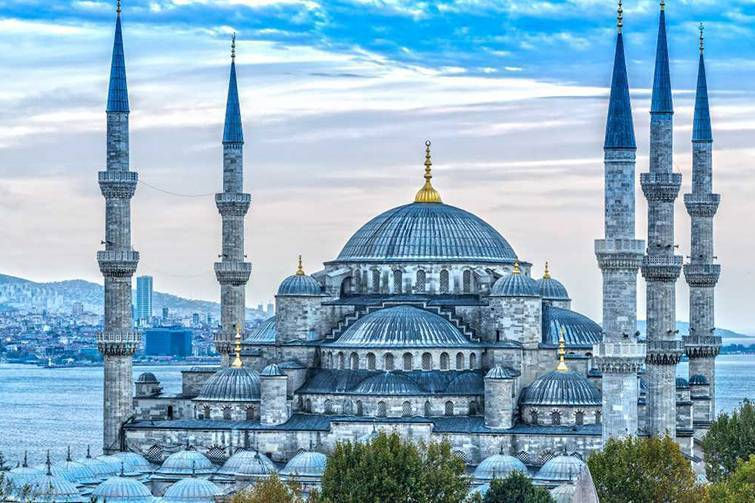 2:30 PM – Aya Sophia
Check out this building which was built in 537 as a church. It later became at mosque and then a museum and then a mosque again in 2020.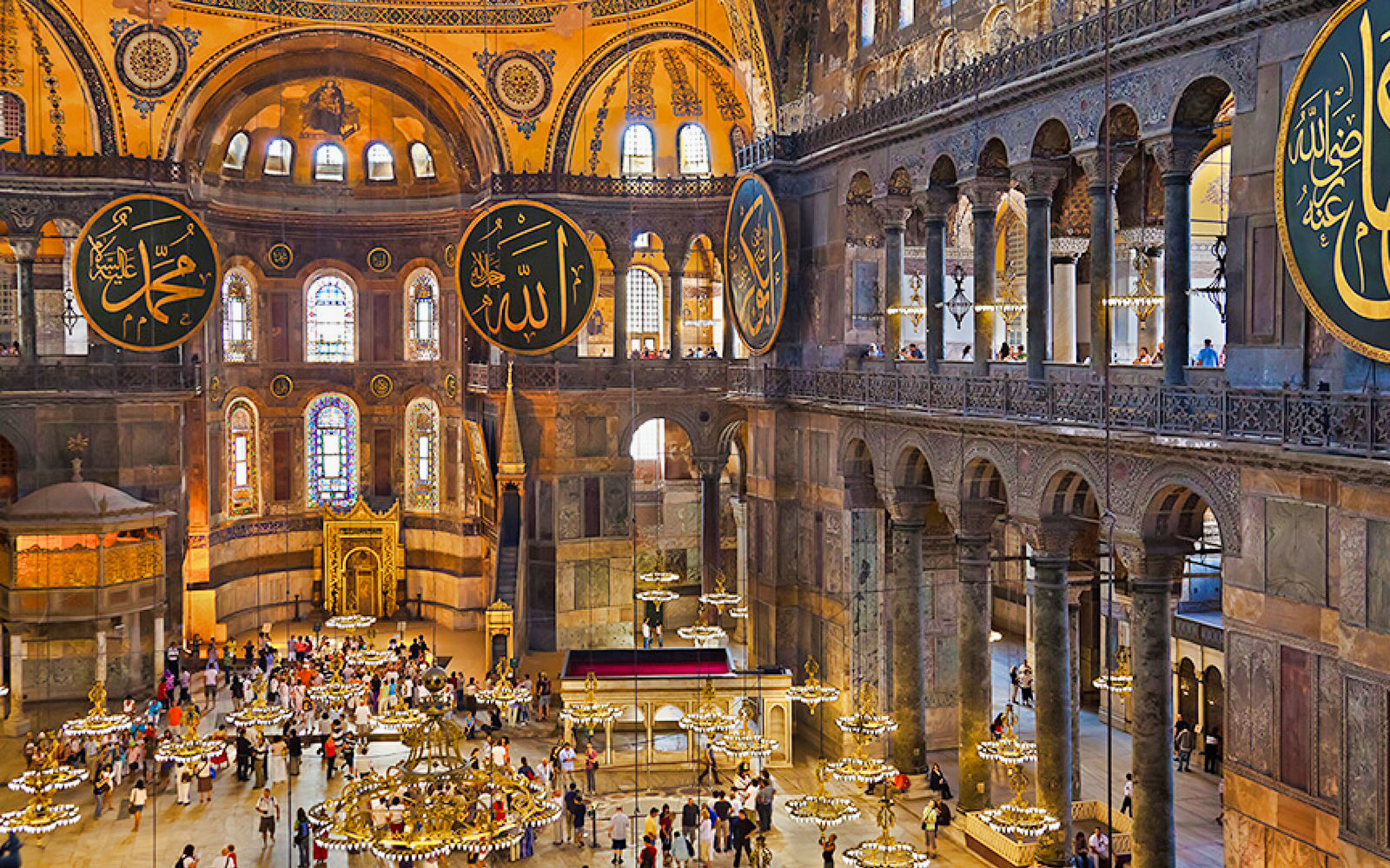 3:30 PM – Topkapi Palace
This is a palace. Personally, I didn't care for it much but for the sake of completeness, we checked it out anyway. Some of the rooms were interestingly decorated as were some of the ancient items on display.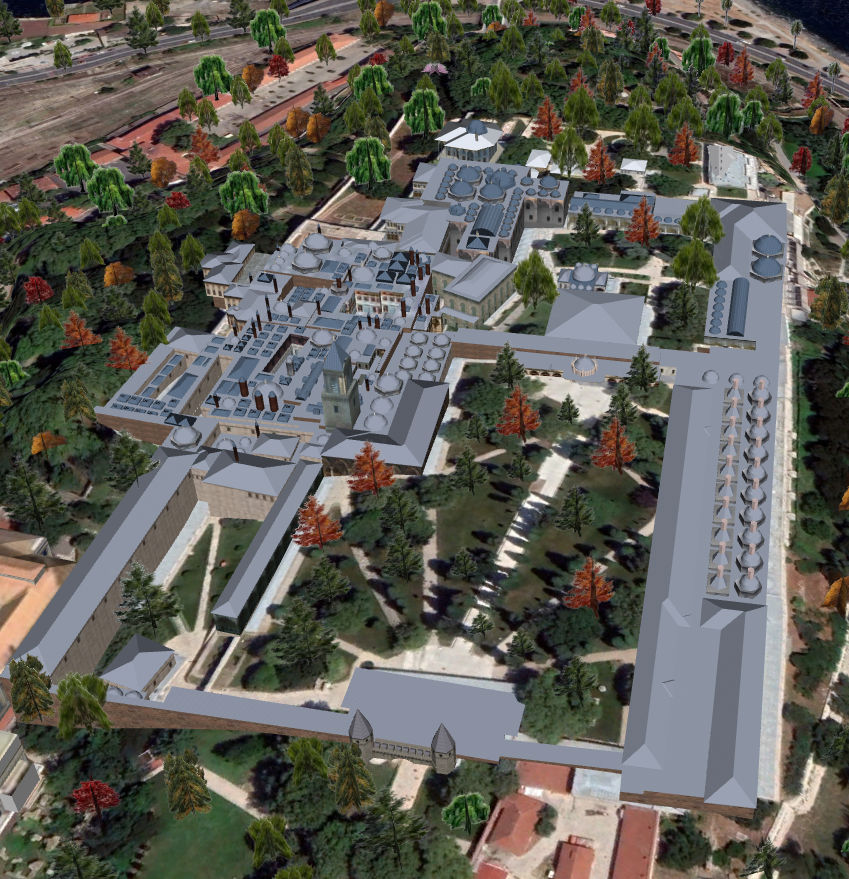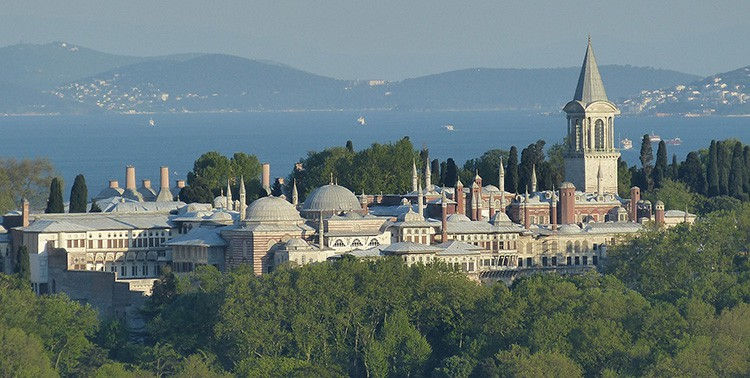 5:30 PM – Dinner
When you leave Topkapi Palace, there is a nearby restaurant you can have dinner at. I haven't eaten there yet but the food looks good and the place looks exotic.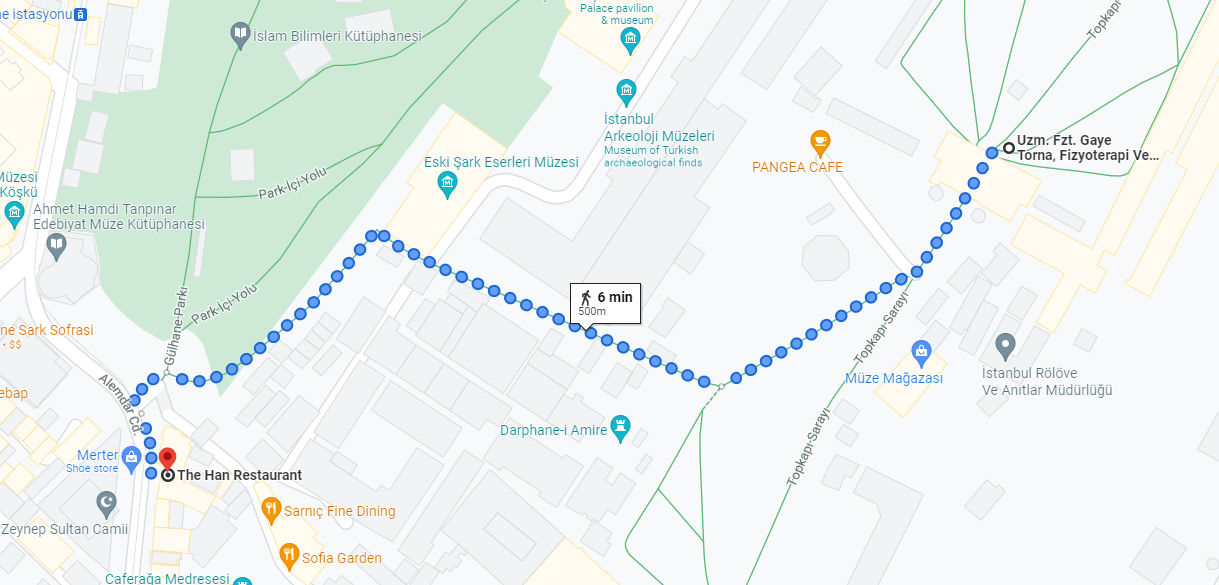 The Han Restaurant
Cankurtaran, Alemdar Cd. No:20, 34122 Fatih/İstanbul, Turkey
Google Map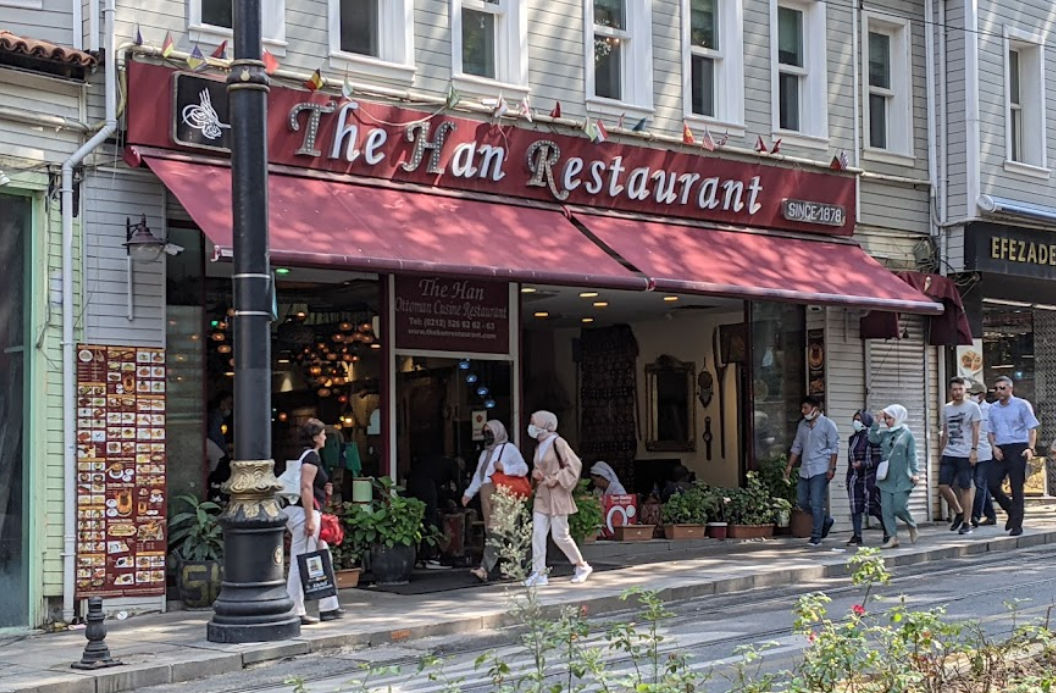 Try the Testi Kebap which is made in a clay pot or the Meter-long Kebap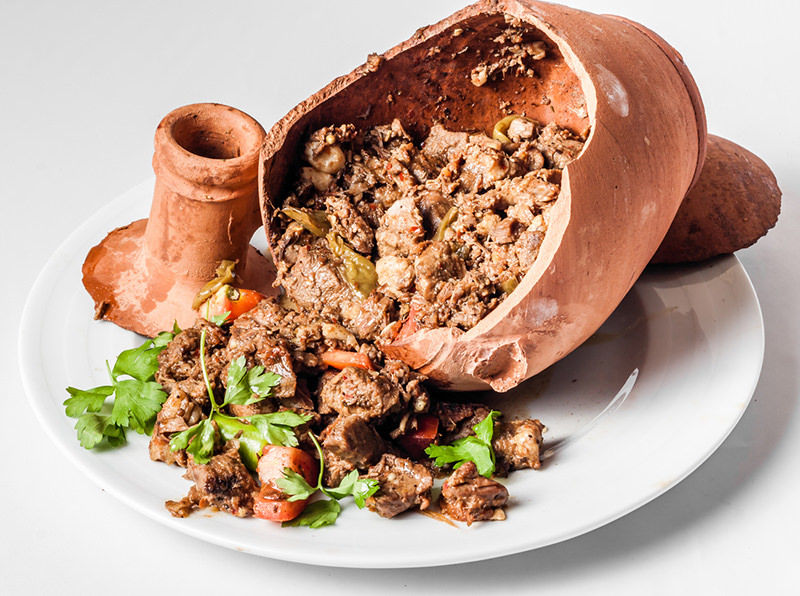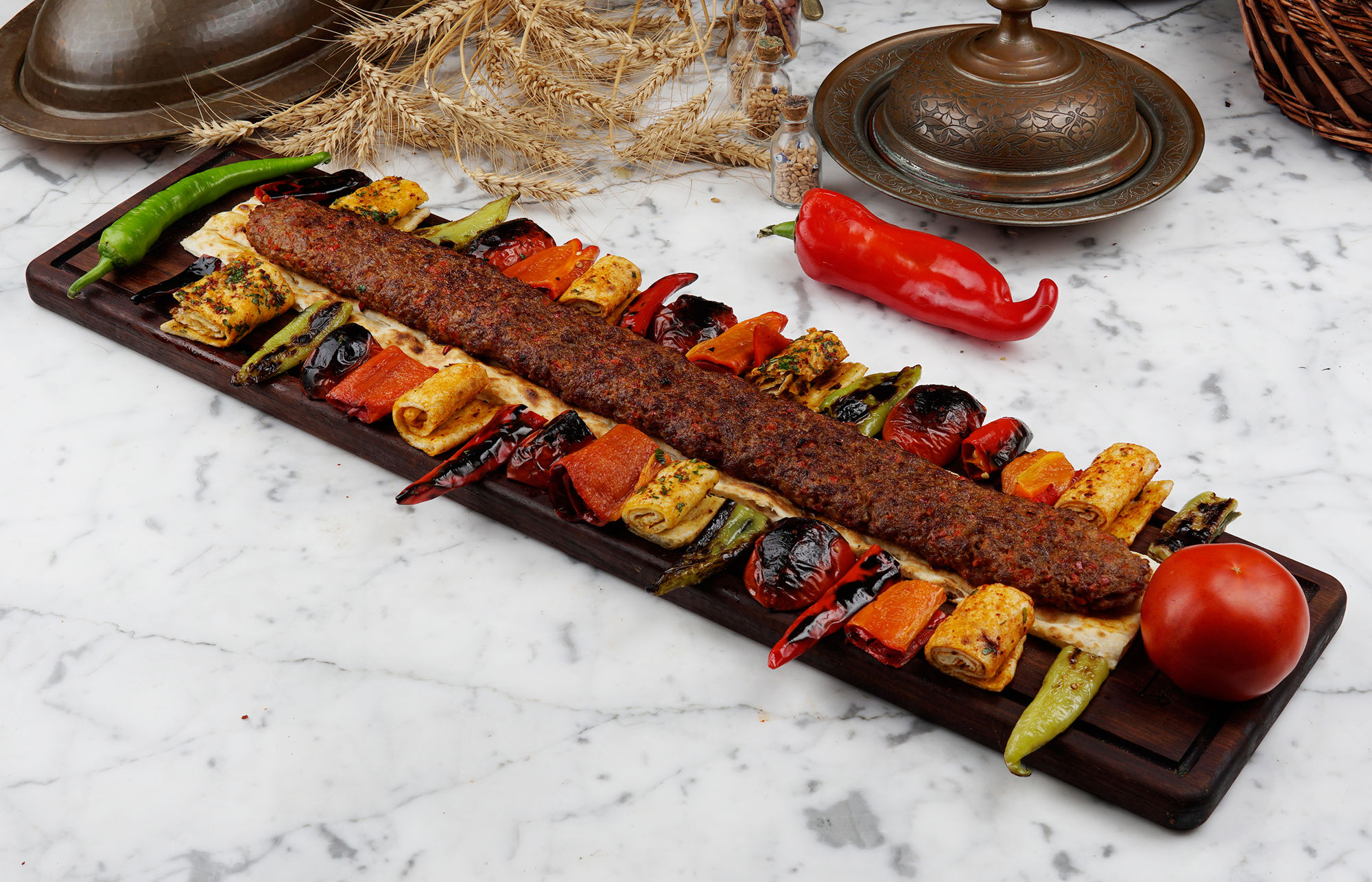 8:00 PM – Shisha and Sahlep
Right in front of the Mercure hotel is a cafe. Stop by for shisha and sahlep before calling it a day.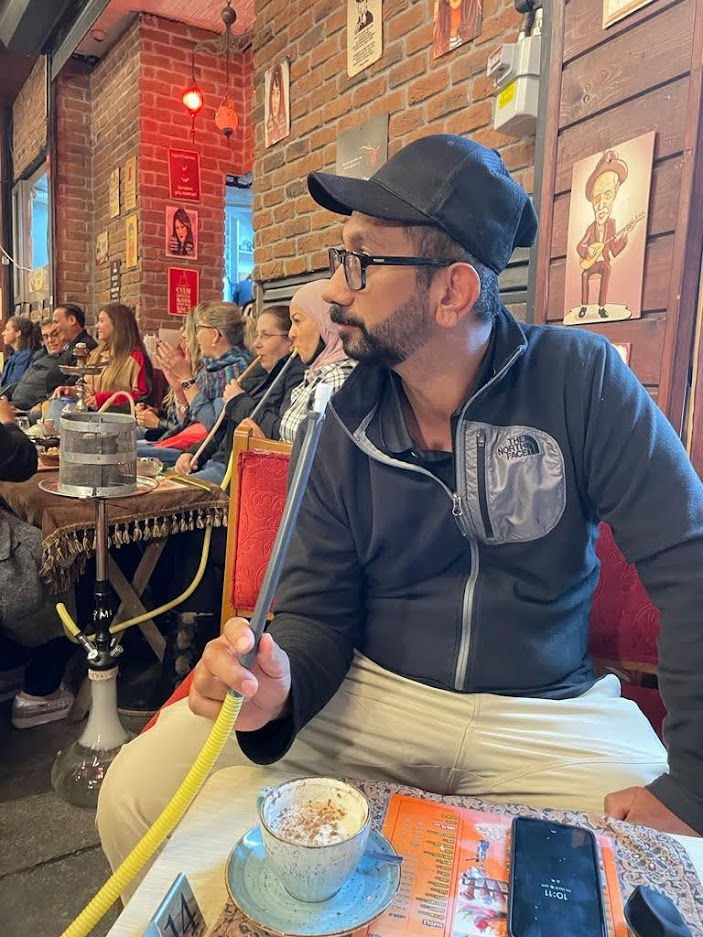 Day 2
9:00 AM – Breakfast
If you can, try to find a place that has Katmer, a pistachio pastry. It's really good but hard to find.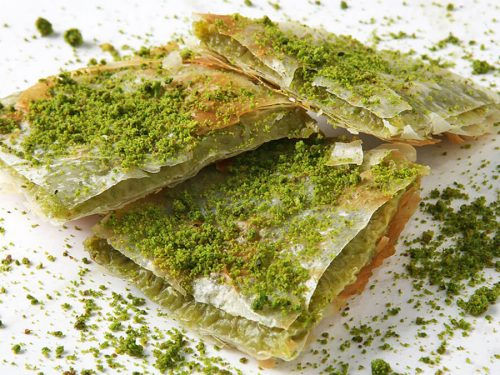 11:00 AM – Egyptian Spice Bazaar (Mısır Çarşısı)
Walk 10 minutes to the Egyptian Spice Bazaar. It's a very photogenic place.
Mısır Çarşısı
Rüstem Paşa, Erzak Ambarı Sok. No:92, 34116 Fatih/İstanbul, Turkey
https://www.misircarsisi.org.tr/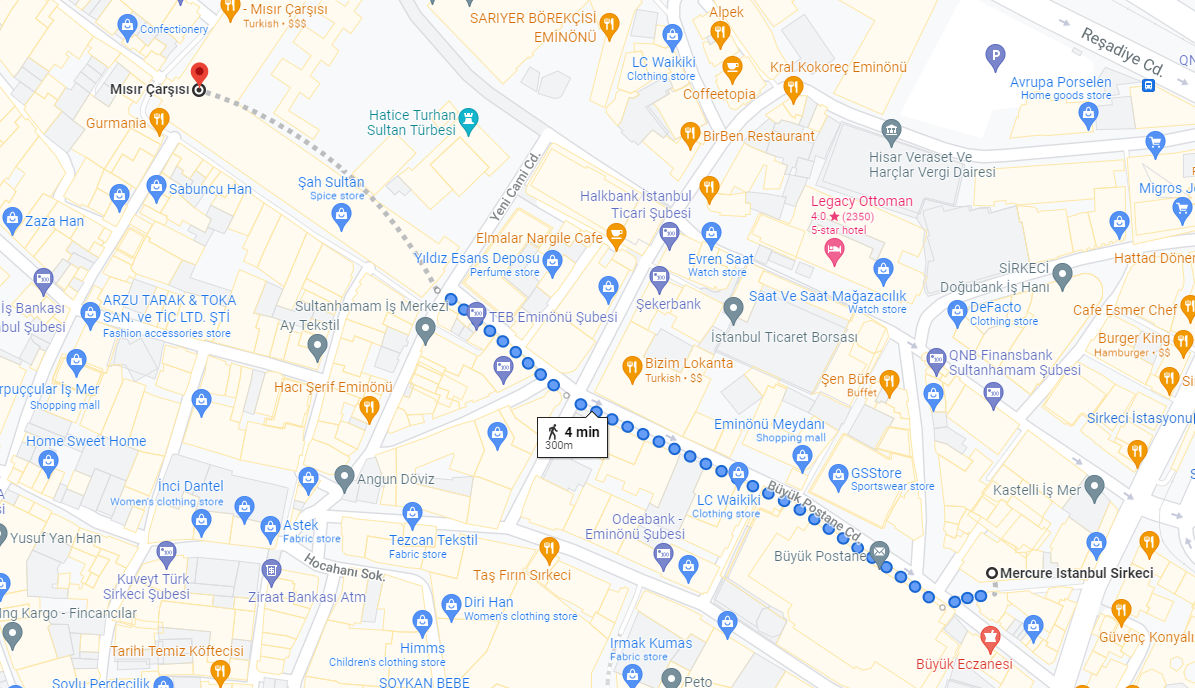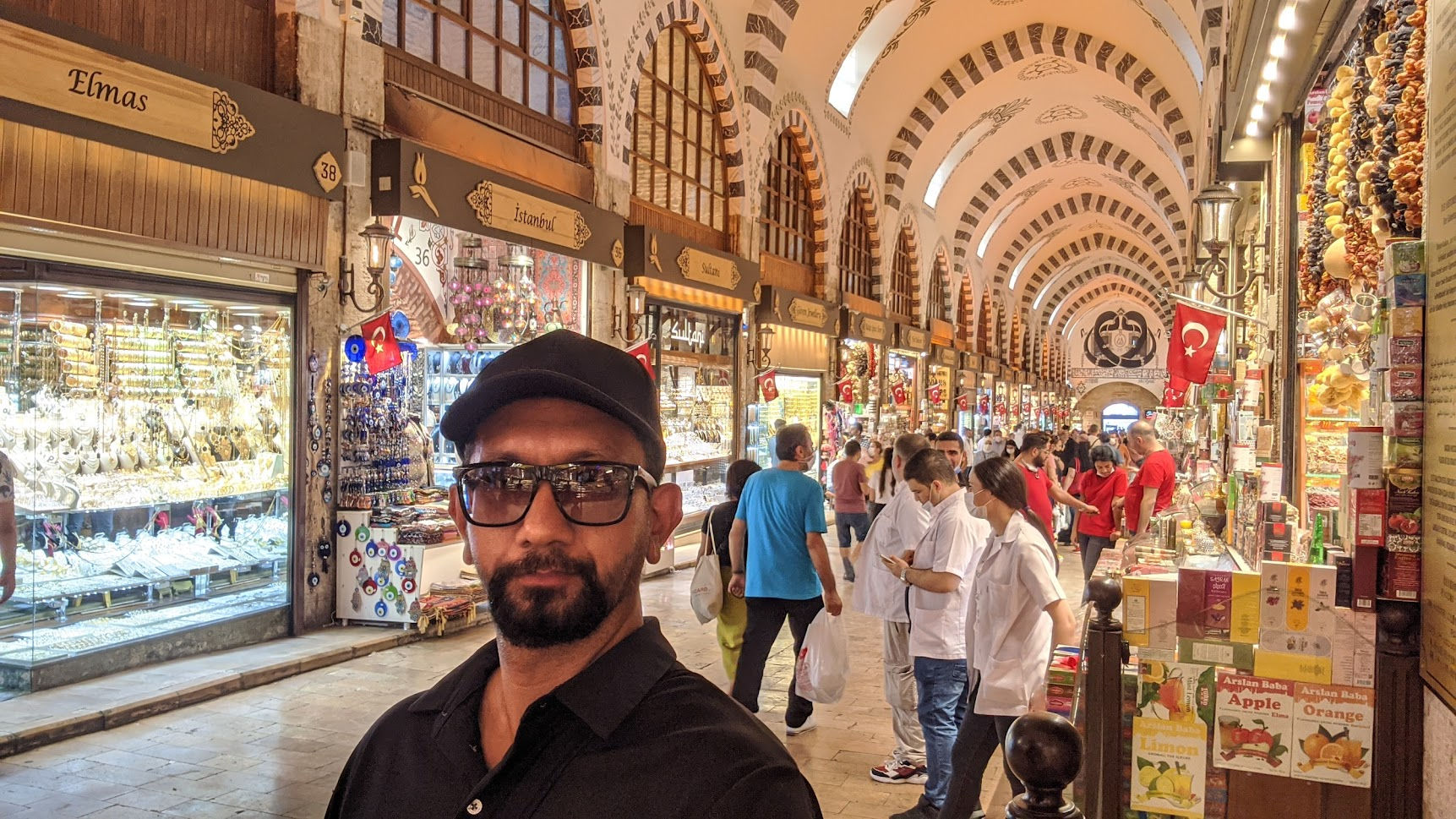 If you are still hungry, try Tantuni (chicken or beef sandwich or roll) located just outside the bazaar.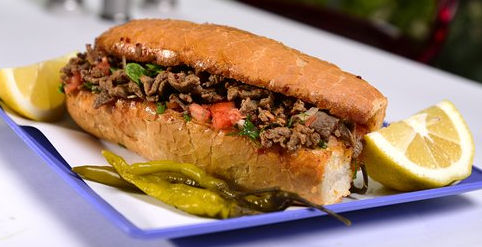 or, try Pide with eggs nearby.
Mavi Halic Pidecisi
Sarıdemir, Kutucular Cd. No:28, 34134 Fatih/İstanbul, Turkey
Open everyday: 8 AM to 6:30 PM
Google Map
Order kıymalı yumurtalı pide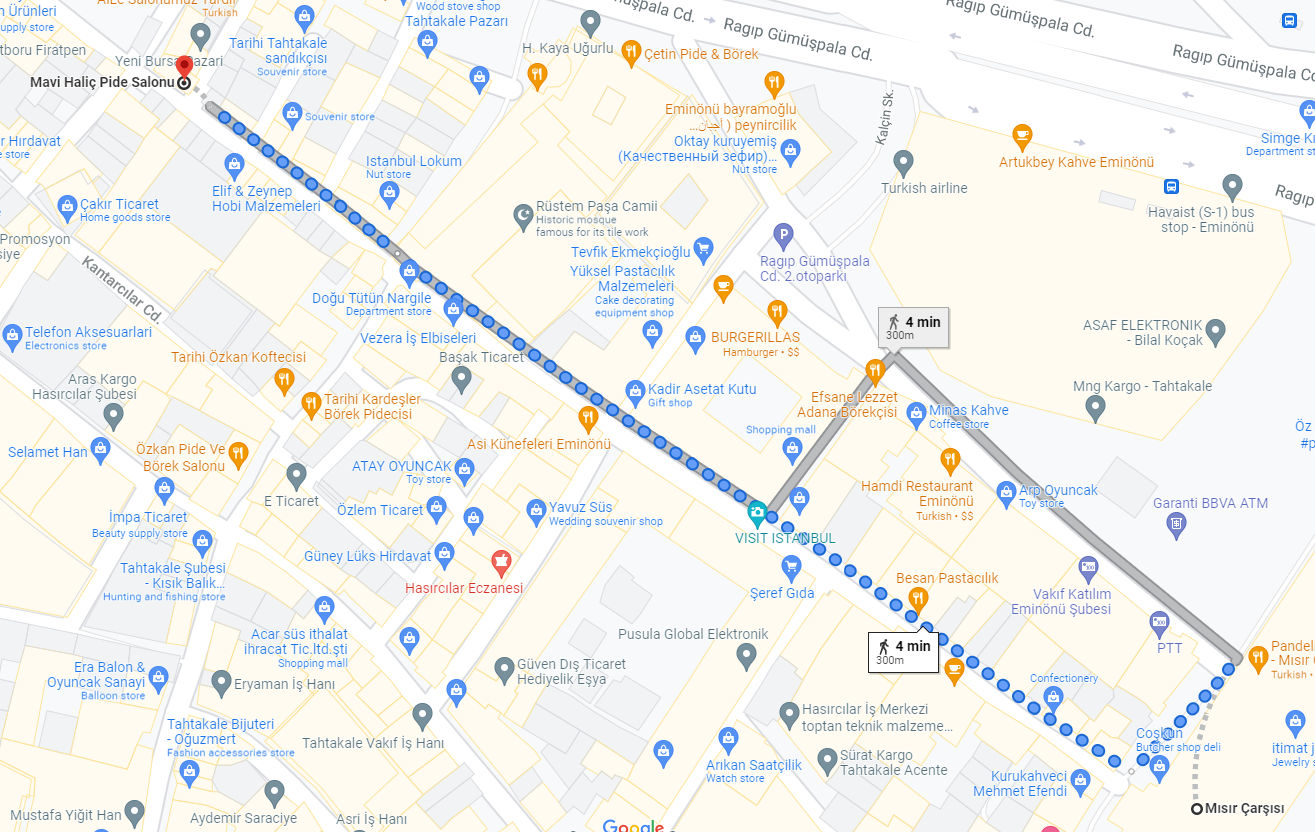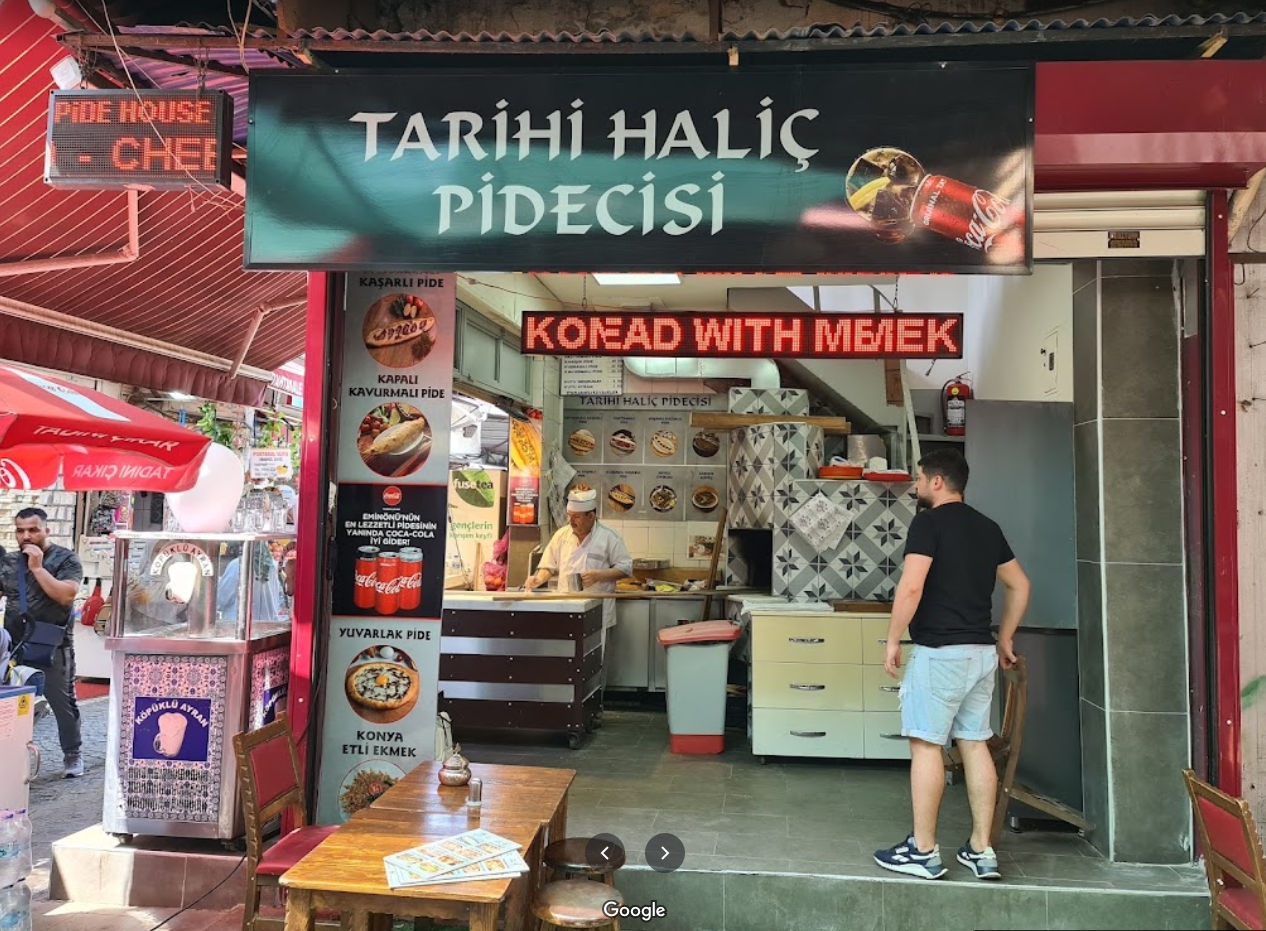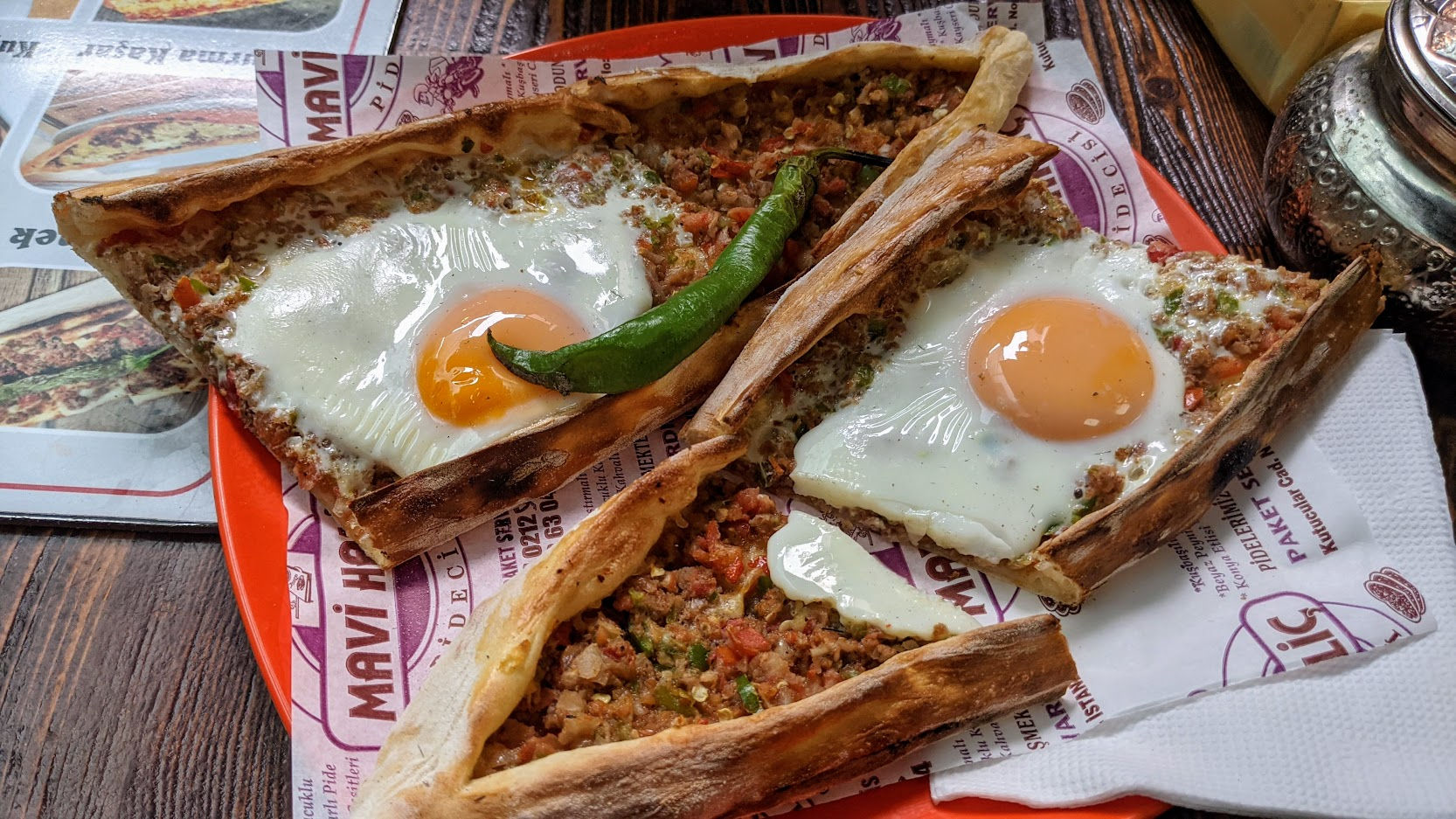 12:30 PM – Go to Sulemaniye Mosque
You can take a taxi but traffic may be so bad that you end up walking part of the way. If you walk from the Egyptian market to the Sulemaniye Mosque, you'll be walking through an ancient market for part of the way but you'll also be walking uphill which can be tiring.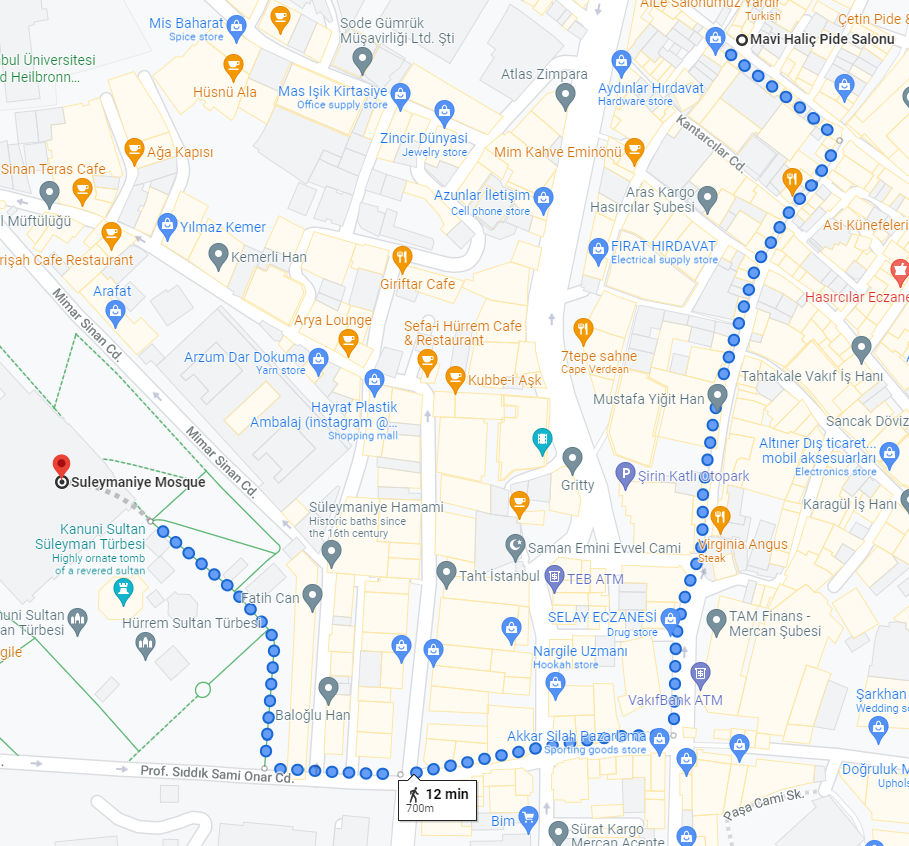 1:30 PM – Visit Sulemaniye Mosque
Check out this building which was built in 1558.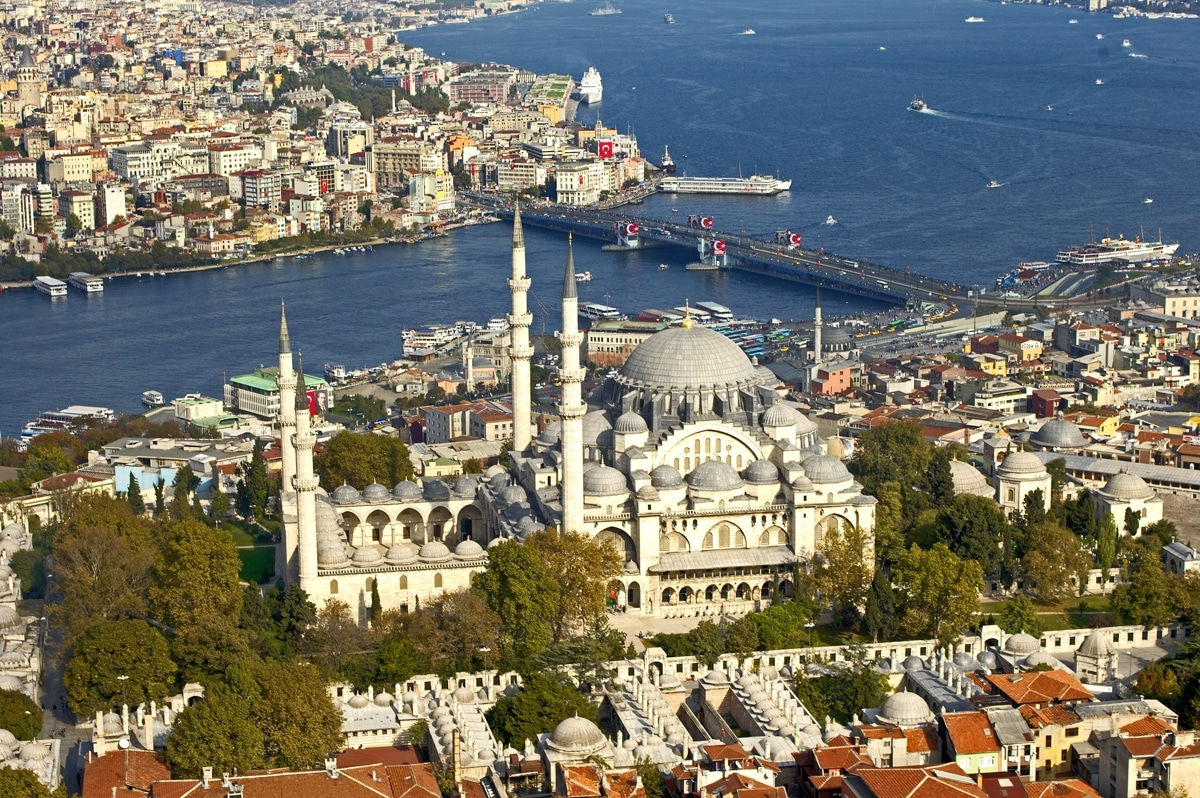 2:30 PM – Walk to the Grand Bazaar
From the Sulemaniye Mosque, you can just walk to the Grand Bazaar as the walk is either on level ground or downhill. For half the way, you'll be again walking through a VERY busy, ancient-looking market.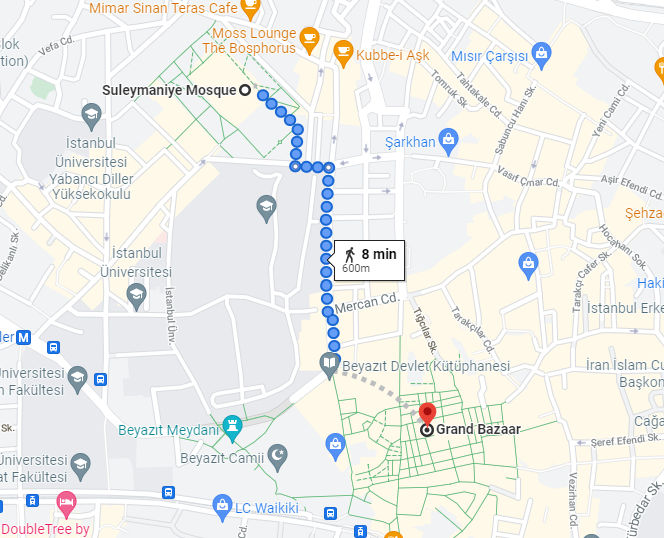 3:00 PM – The Grand Bazaar
Check out this labyrinth of colorful covered markets built in 1481.
Grand Bazaar
Kapalı Çarşı
Beyazıt, Kalpakçılar Cd. No:22, 34126 Fatih/İstanbul, Turkey
https://www.kapalicarsi.com.tr/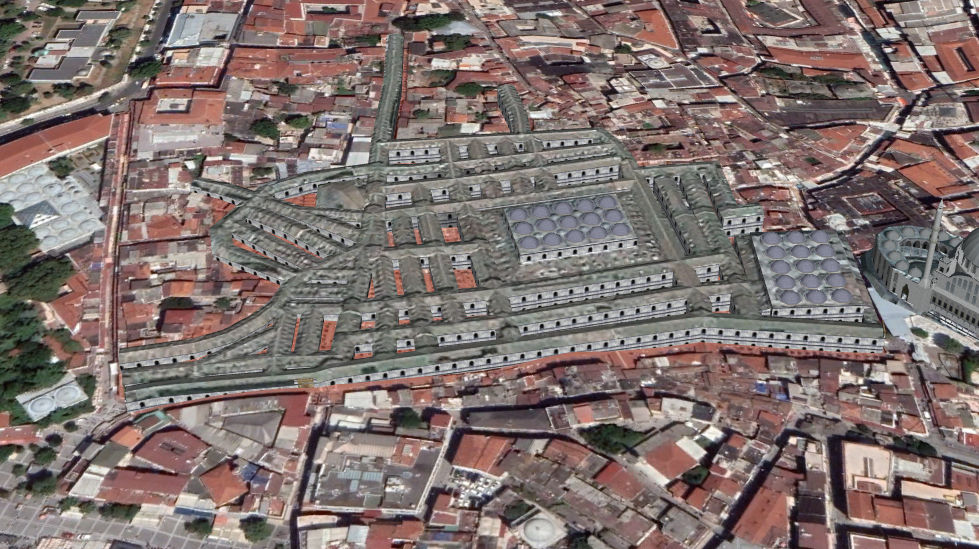 Since you'll have walked a bit, take a break in the bazaar for some Turkish coffee.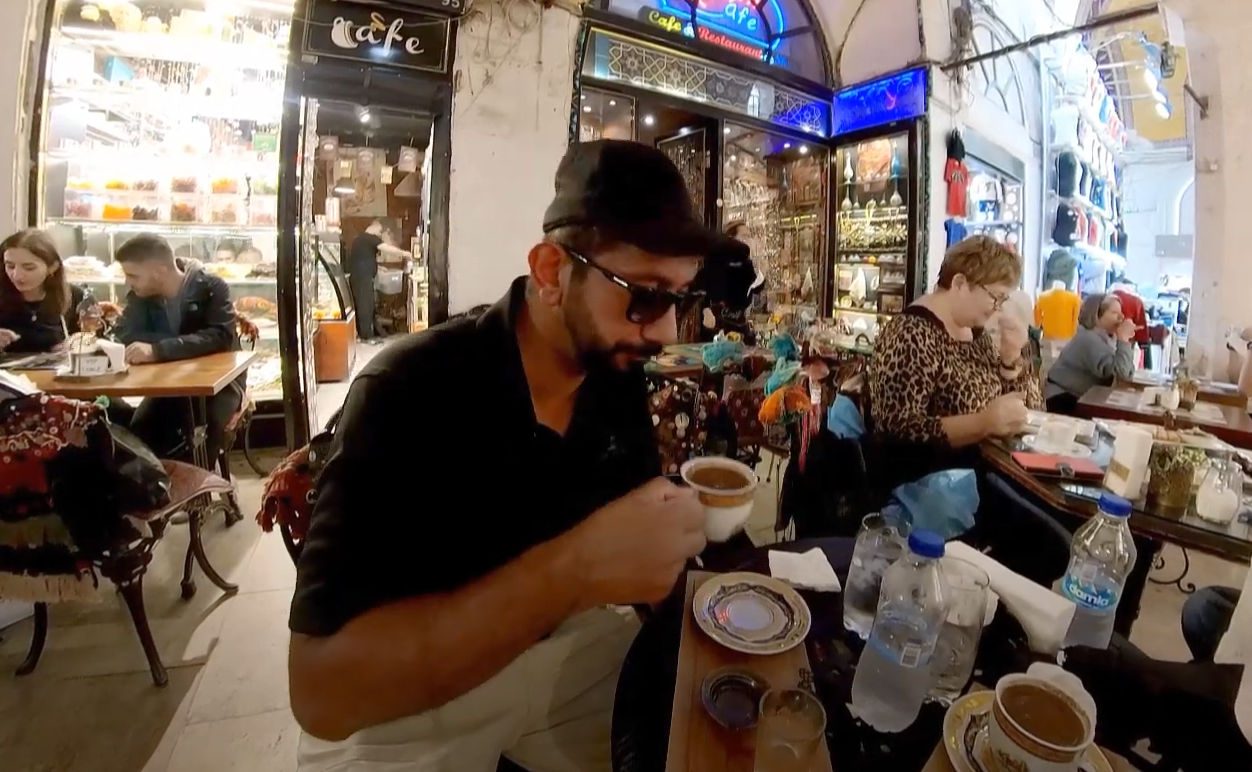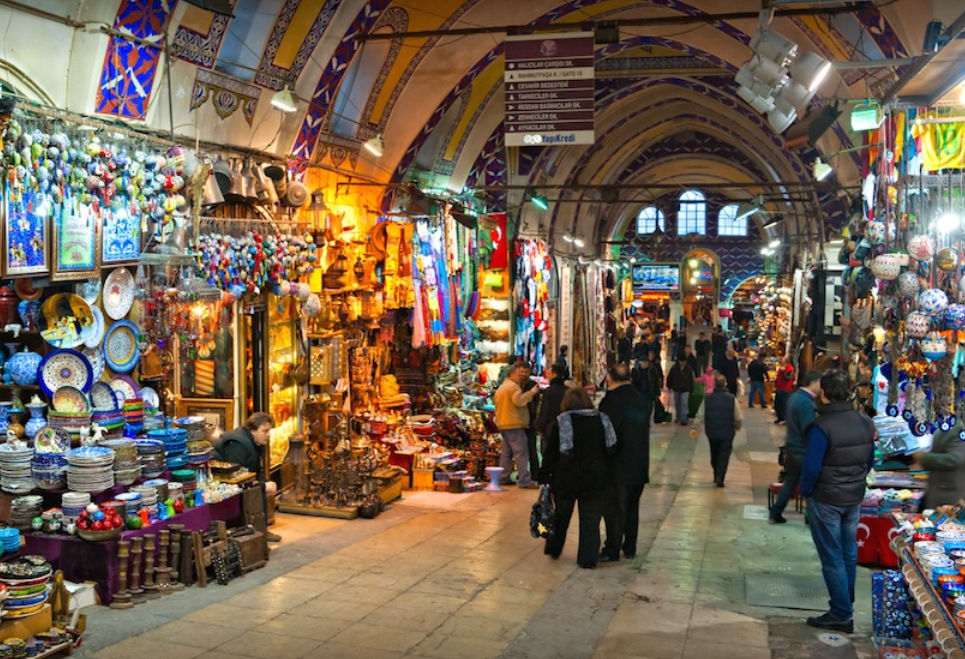 7:00 PM – Whirling Dervishes Show
The Hodjapasha Cultural Center is located near the Mercure hotel (5 minute walk). If you're curious, you can watch a whirling dervishes show where Sufi Muslims spin around without getting dizzy.
Note: I watched this because I was curious but I was also bored and fell asleep. Watch at your own risk.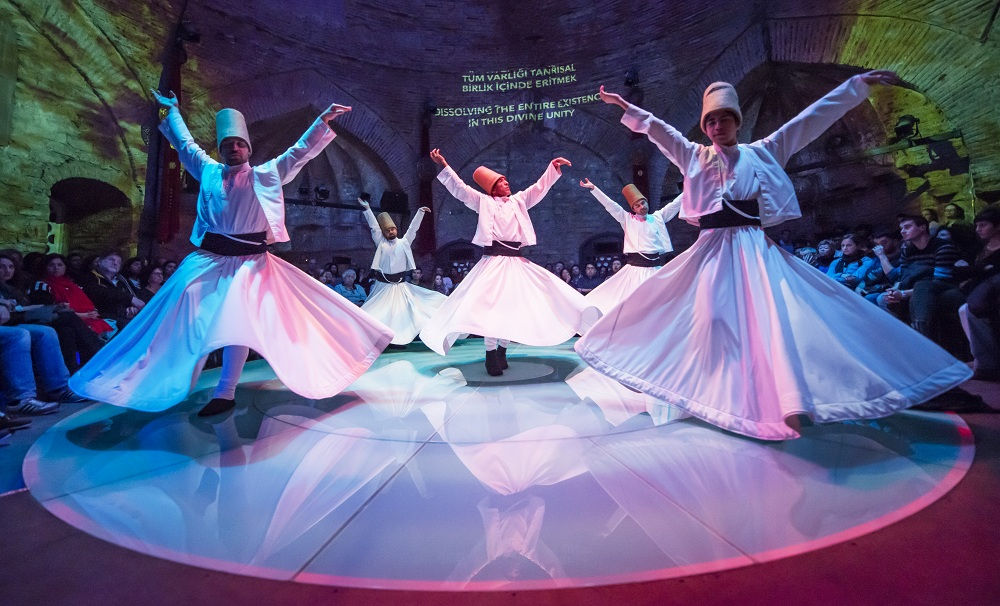 8:30 PM – Rhythm of the Dance Show
This show is also at the Hodjapasha Cultural Center. This show was very much worth watching.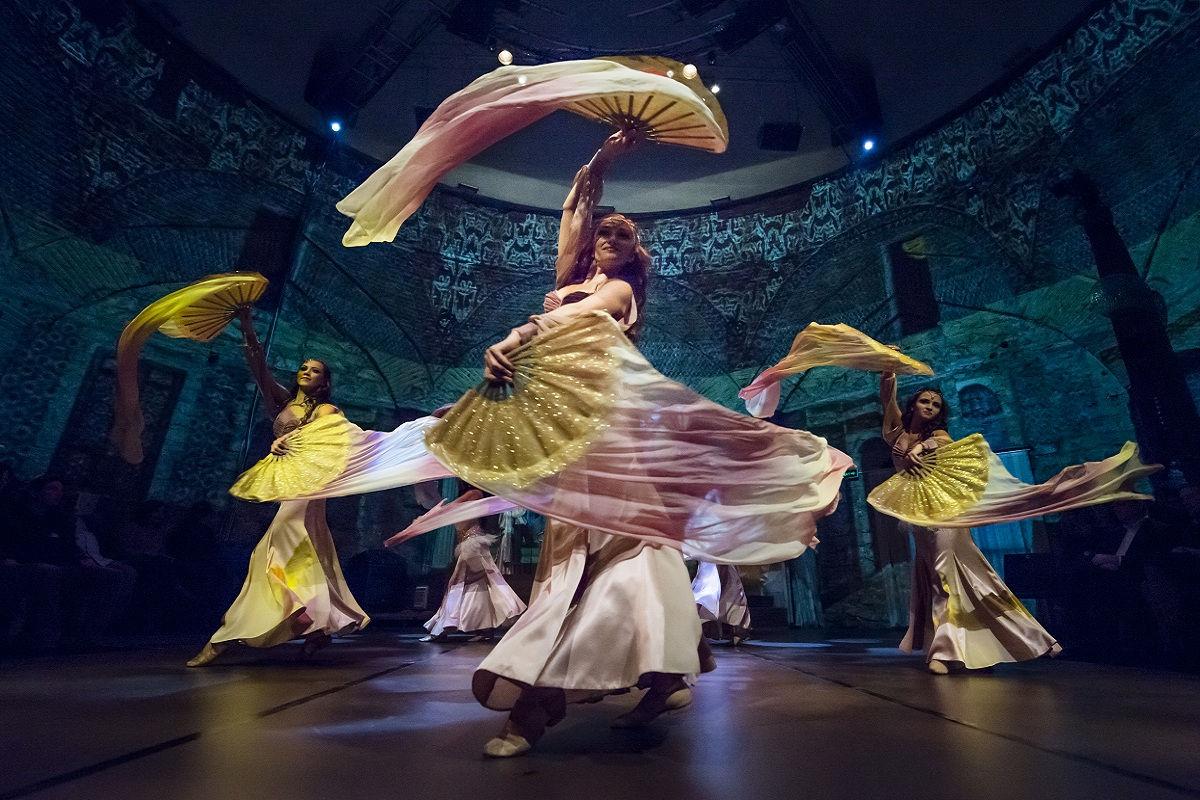 9:30 PM – Dinner
Since the recommended restaurants below are next door to the Hodjapasha Cultural Center, you can have dinner before or after the shows. One place that gets many good reviews and that I personally liked is
Şehzade Cağ Kebap
Open every day 11AM–10PM except Sundays
Hoca Paşa, Hoca Paşa Sk. No:6 D:4, 34110 Fatih/İstanbul, Turkey
Google Map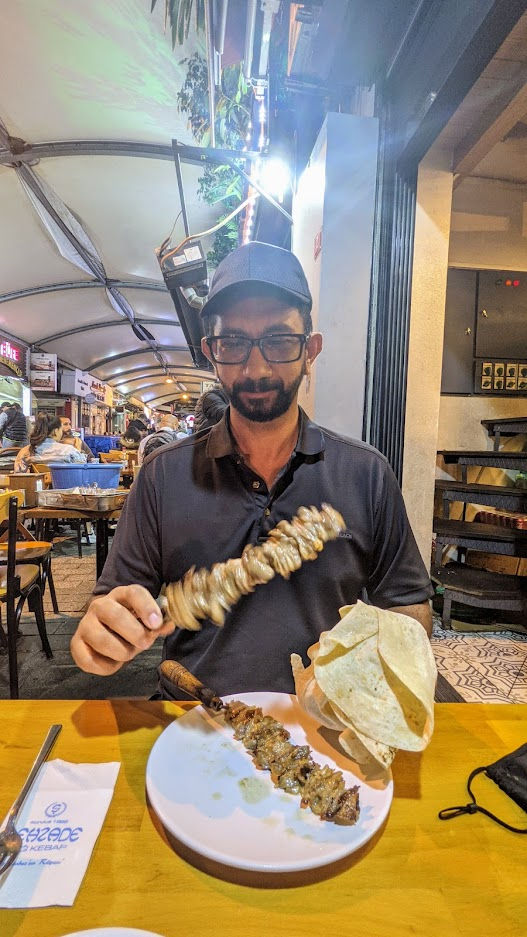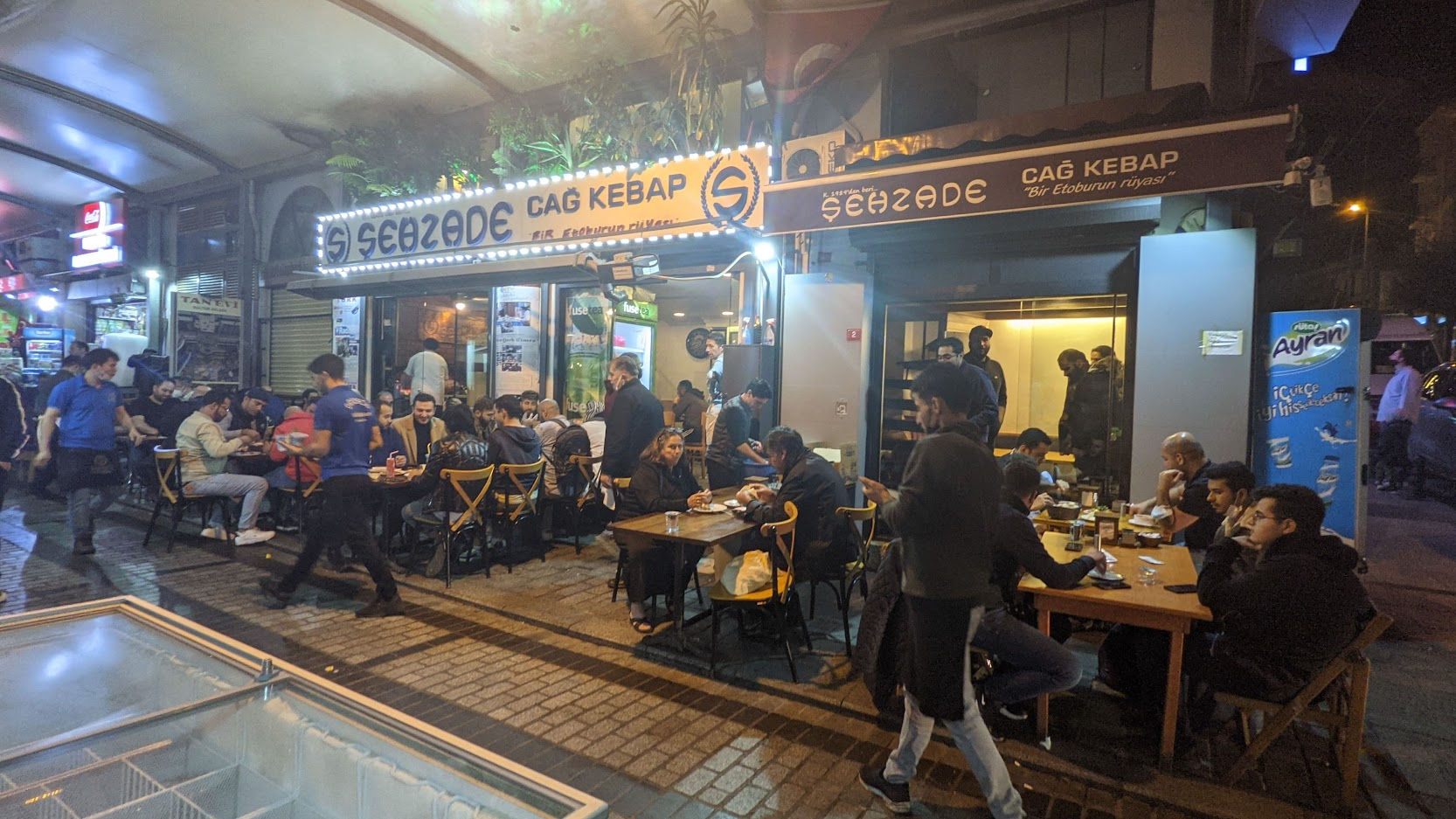 Though tasty, it's not very filling. At $3.50, consider it an appetizer and then go next door to fill you up with something like Iskendar Kebap or mixed grill, e.g.
Kasap Osman
Hoca Paşa, Hoca Paşa Sk. No:22, 34110, 34110 Fatih/İstanbul, Turkey
Google Map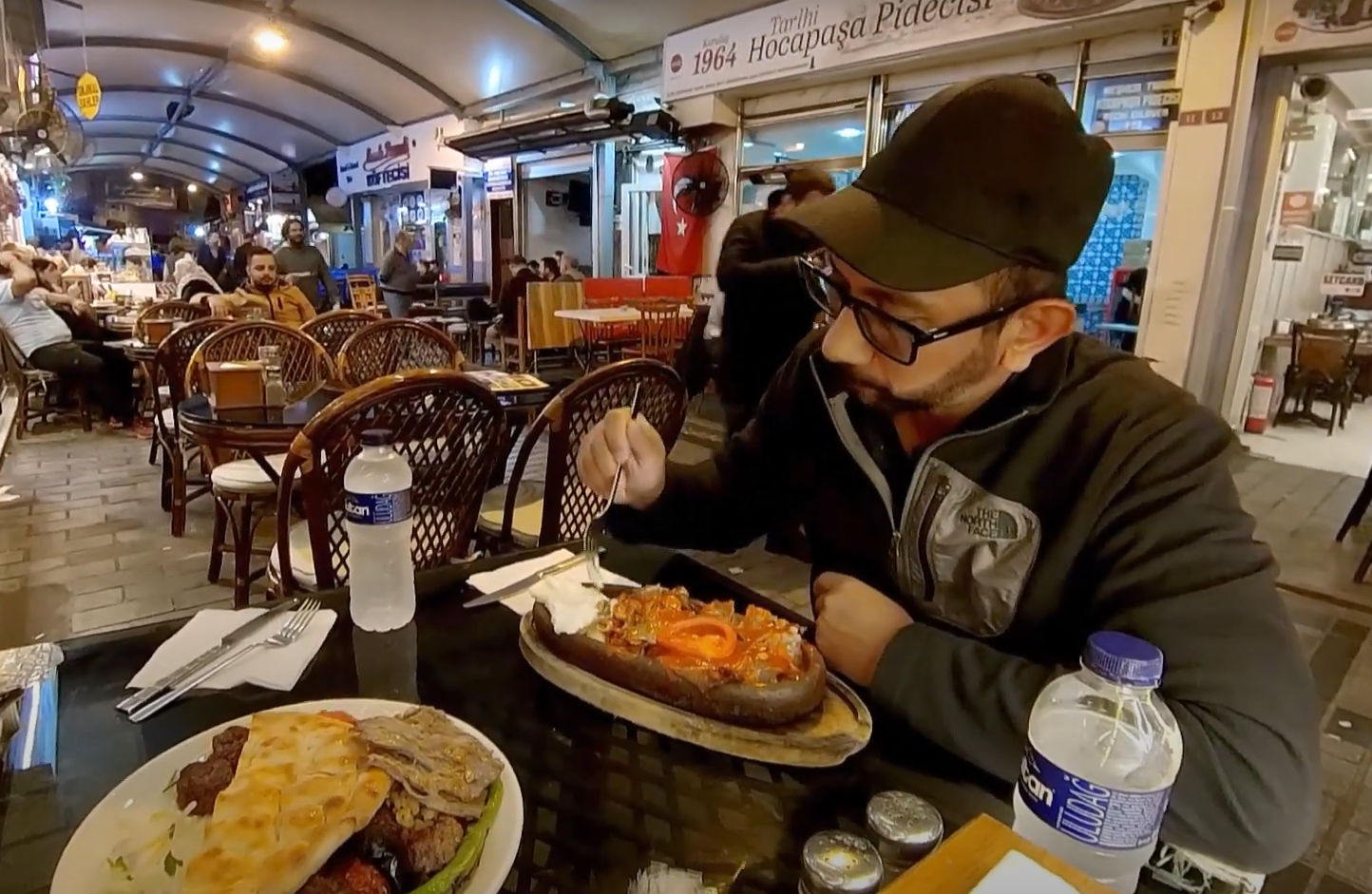 Day 3
9:00 AM – Breakfast
For a change, walk 4 minutes from the Mercure hotel to this restaurant.
Birben Restaurant
Walk (4 minutes) from hotel
Hoybar Mahallesi, Eminönü, Arpacılar Cd. No:13, 34112 Fatih, Turkey
https://www.birbenrestaurant.com/index-eng.html
Open everyday 8AM to 12 AM
Google Map
The place is clean and they offer a wide variety of food. Try the Lahmacun.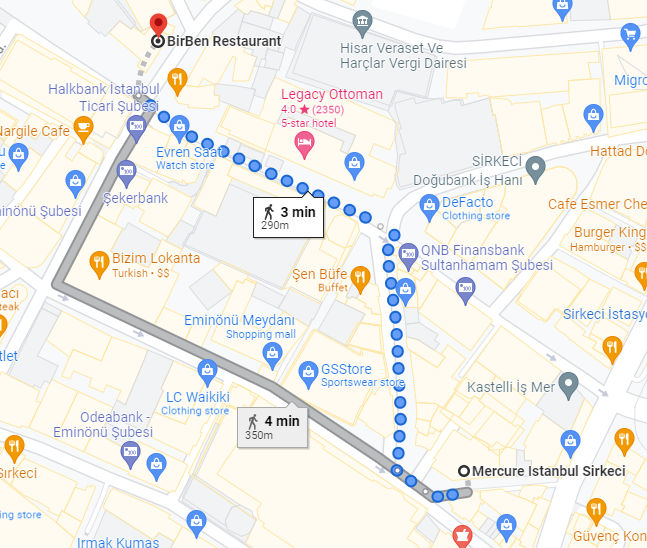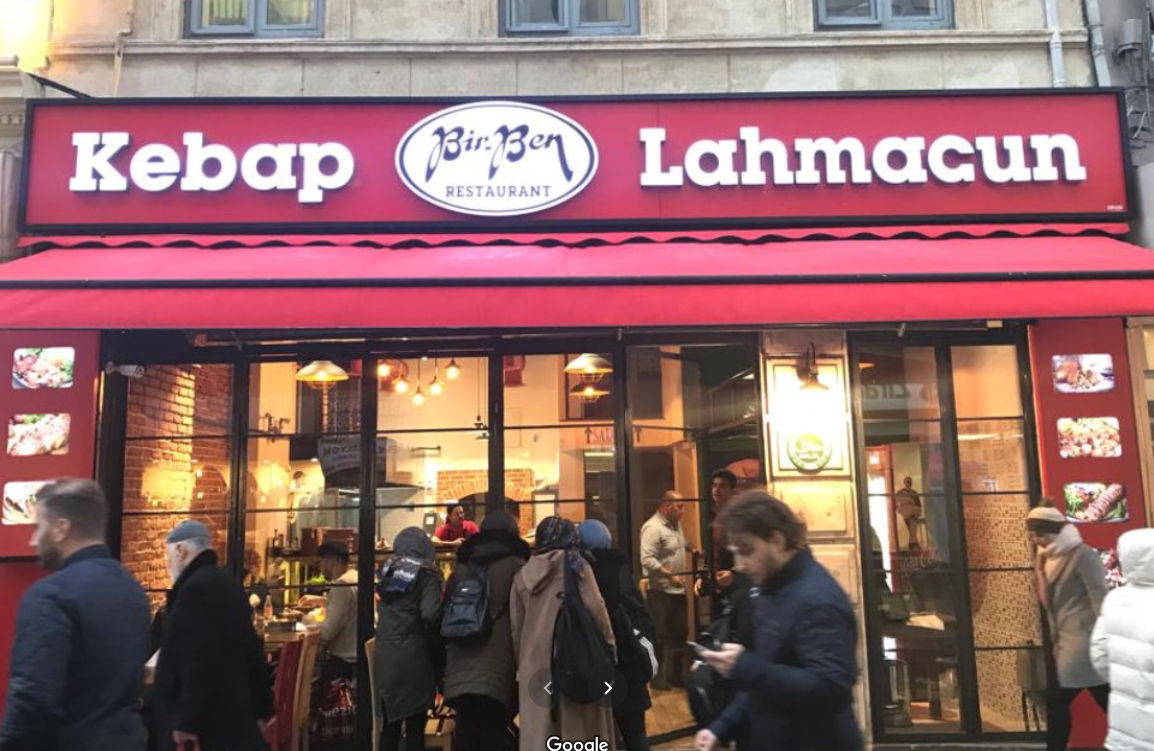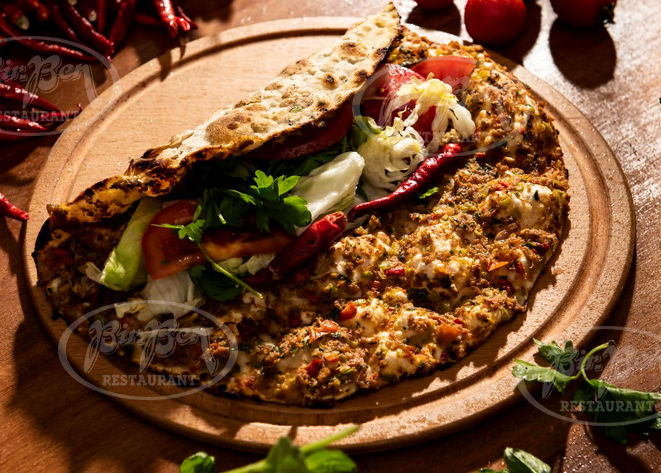 10:30 AM – Dolmabahce Palace
Take a taxi to the Dolmabahce Palace (12 minutes).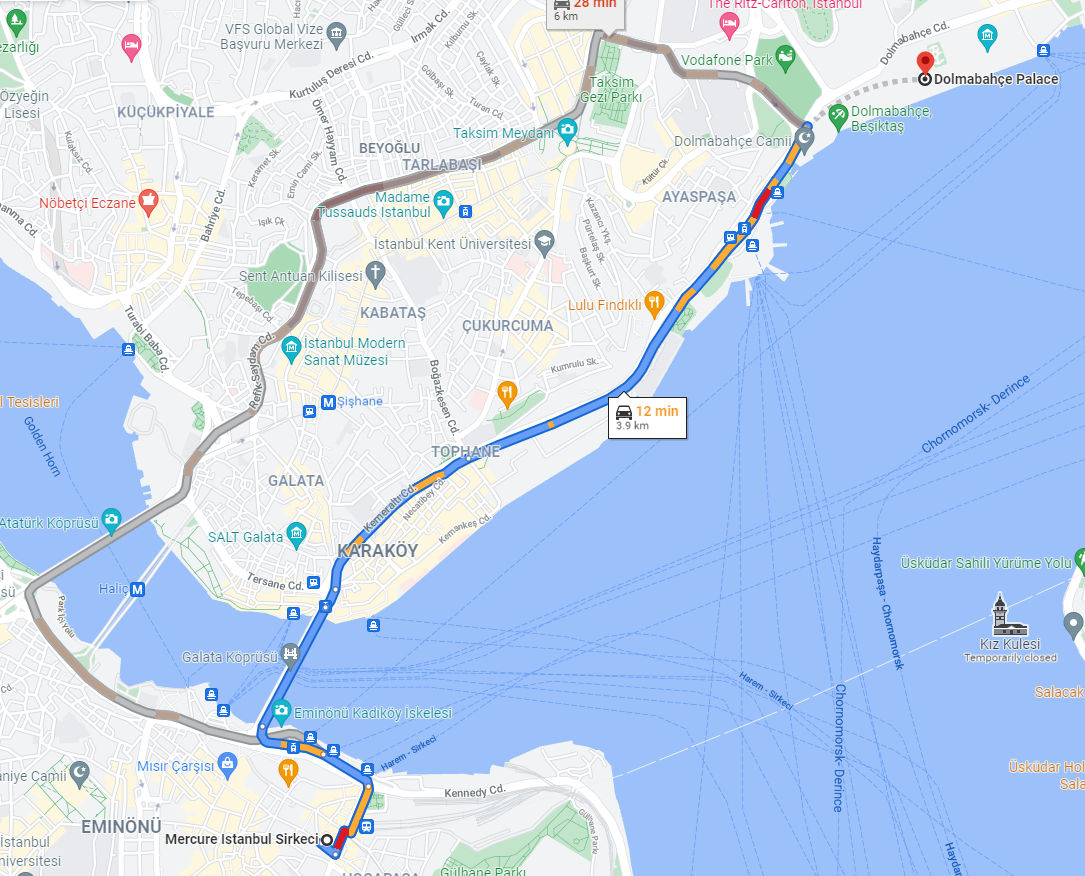 Dolmabahce Palace
https://www.millisaraylar.gov.tr/en/palaces/dolmabahce-palace
9 AM to 6 PM
$18
Must buy tickets at Dolmabahce Palace
This palace was built in 1843. I personally liked it more than the Topkapi Palace. Unfortunately, they no longer let you take pictures inside.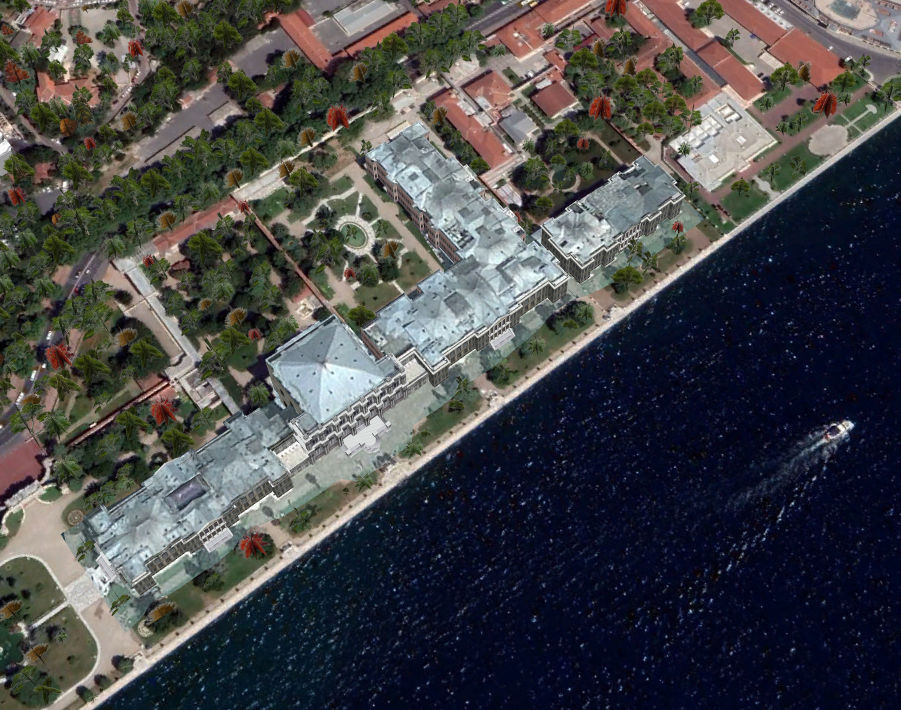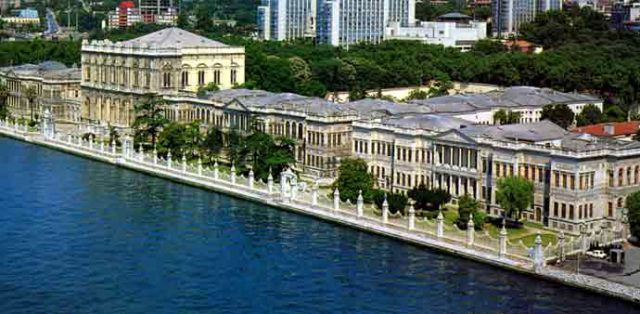 1:00 PM – Taksim Square / Istiklal Cadessi
Next, taxi on over to Taksim Square and walk down Istiklal Cadessi.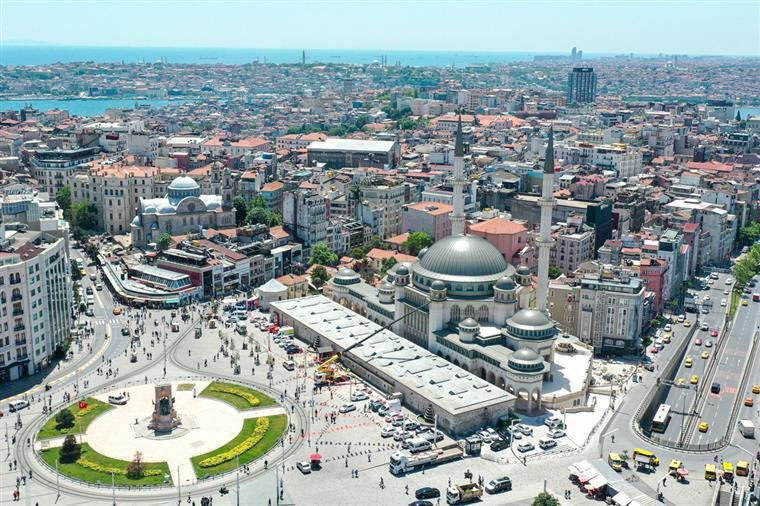 1:00 PM – Lunch
Near Taksim Square, on Istiklal Cadessi, have lunch at Sütiş Kebap Dünyası (Kabab World).
Note: Don't eat too much because there's another place you have to try nearby.
Sütiş Kebap Dünyası
Katip Mustafa Çelebi, İstiklal Cd. No:13, 34433 Beyoğlu/İstanbul, Turkey
Google Map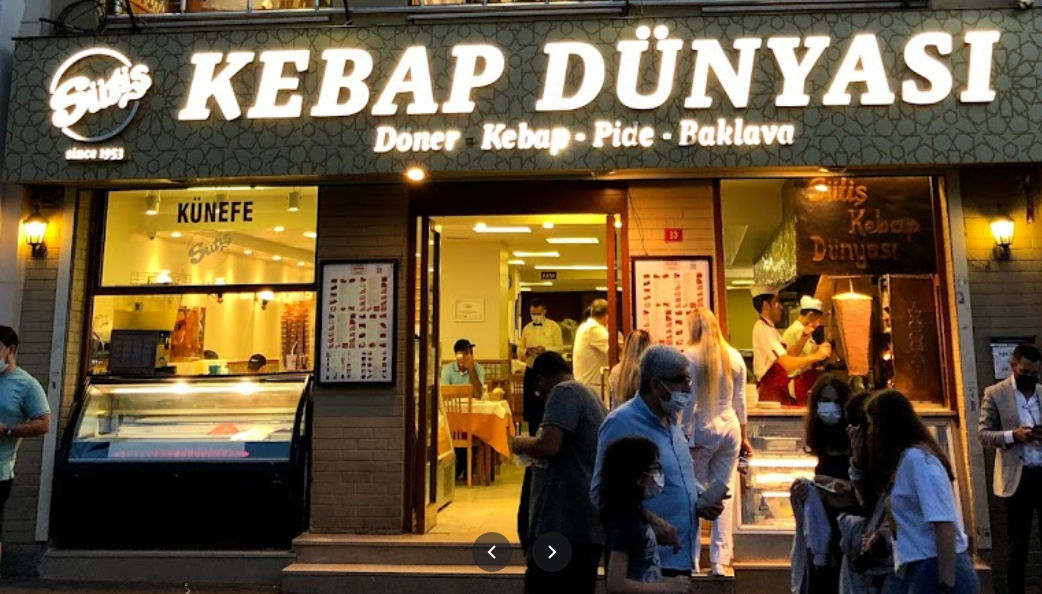 I had the Iskendar Kebap and Domatesli (Tomato) Kebap and both were very good.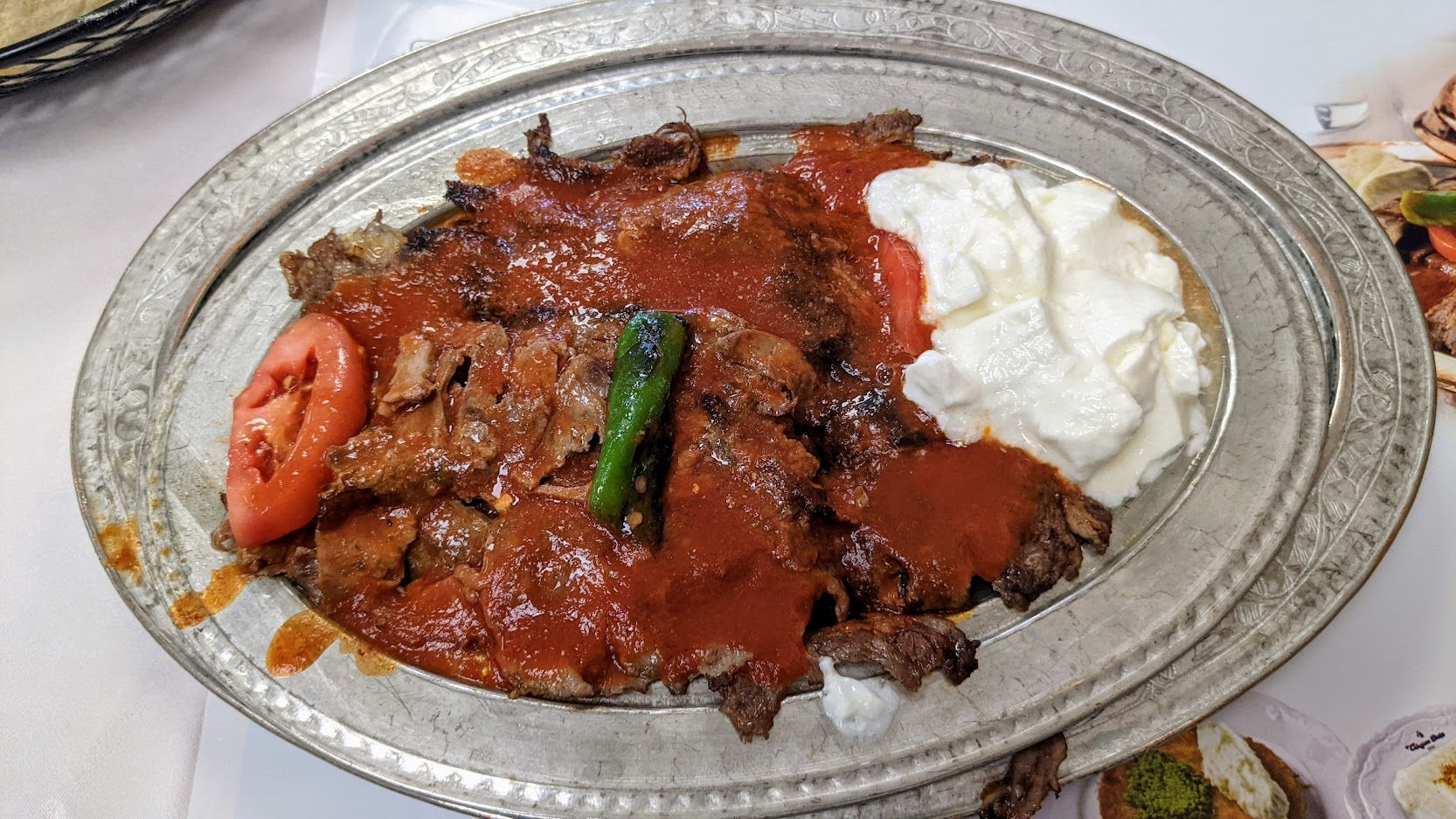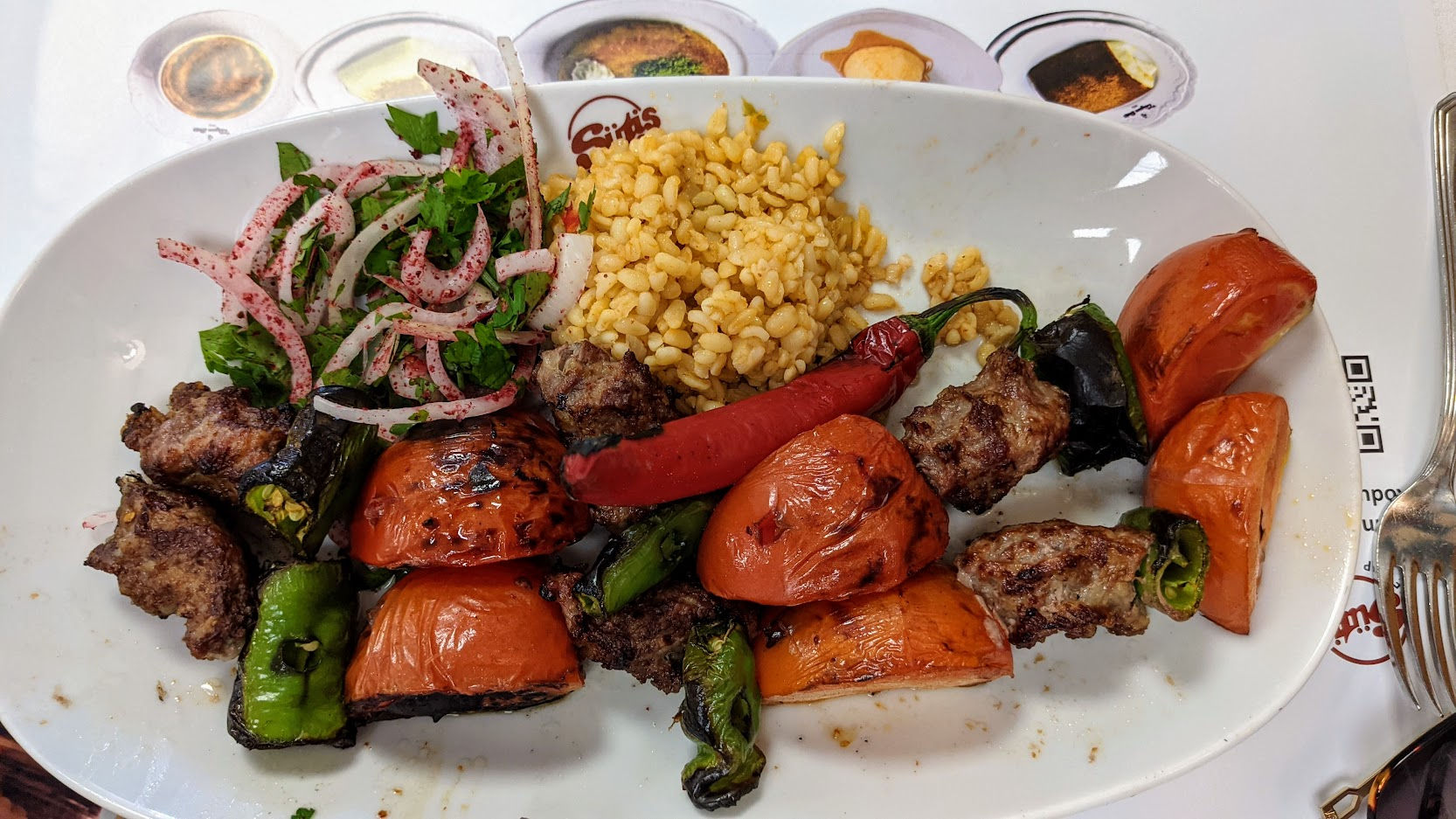 2:00 PM – Walk Along Istiklal Cadessi
This street is closed to vehicles except for trams that run along its length.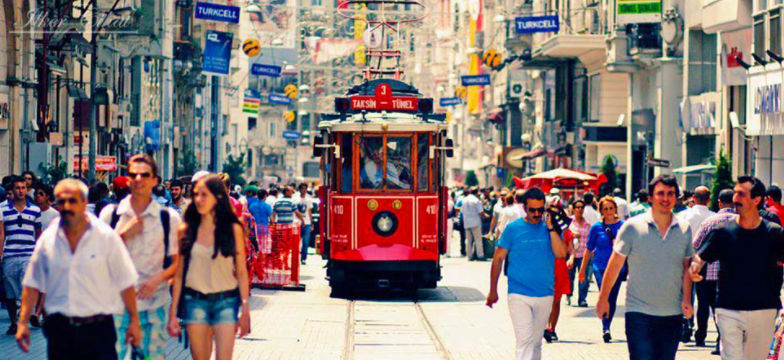 2:15 PM – Lunch (Part 2)
I know you just had lunch but this second lunch is light if you eat it without the bread. The place is right off of Istiklal Cadessi.
Lades Menemen
Katip Mustafa Çelebi, Mahallesi, Sadri Alışık Sk. 11/12 11/12 11 D:12, 34435 Beyoğlu/İstanbul, Turkey
http://lades.com.tr/
Open everyday 7AM–11PM
Google Map
Order Menemen with Turkish Sausage or mixed Menemen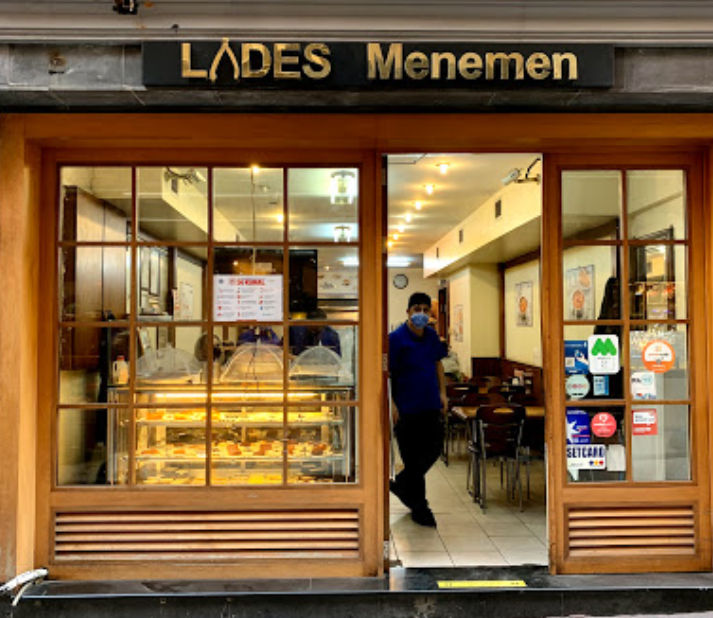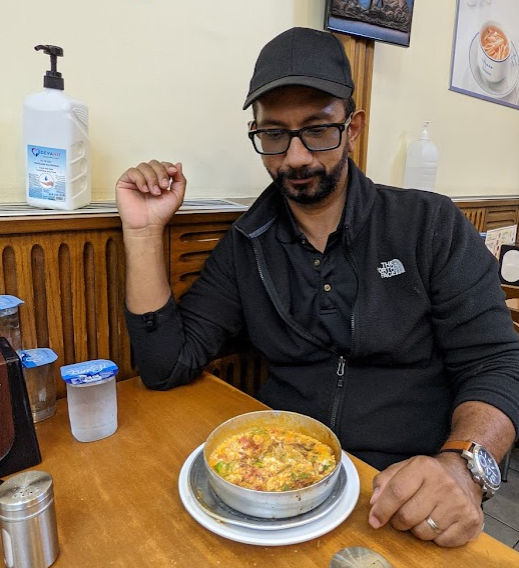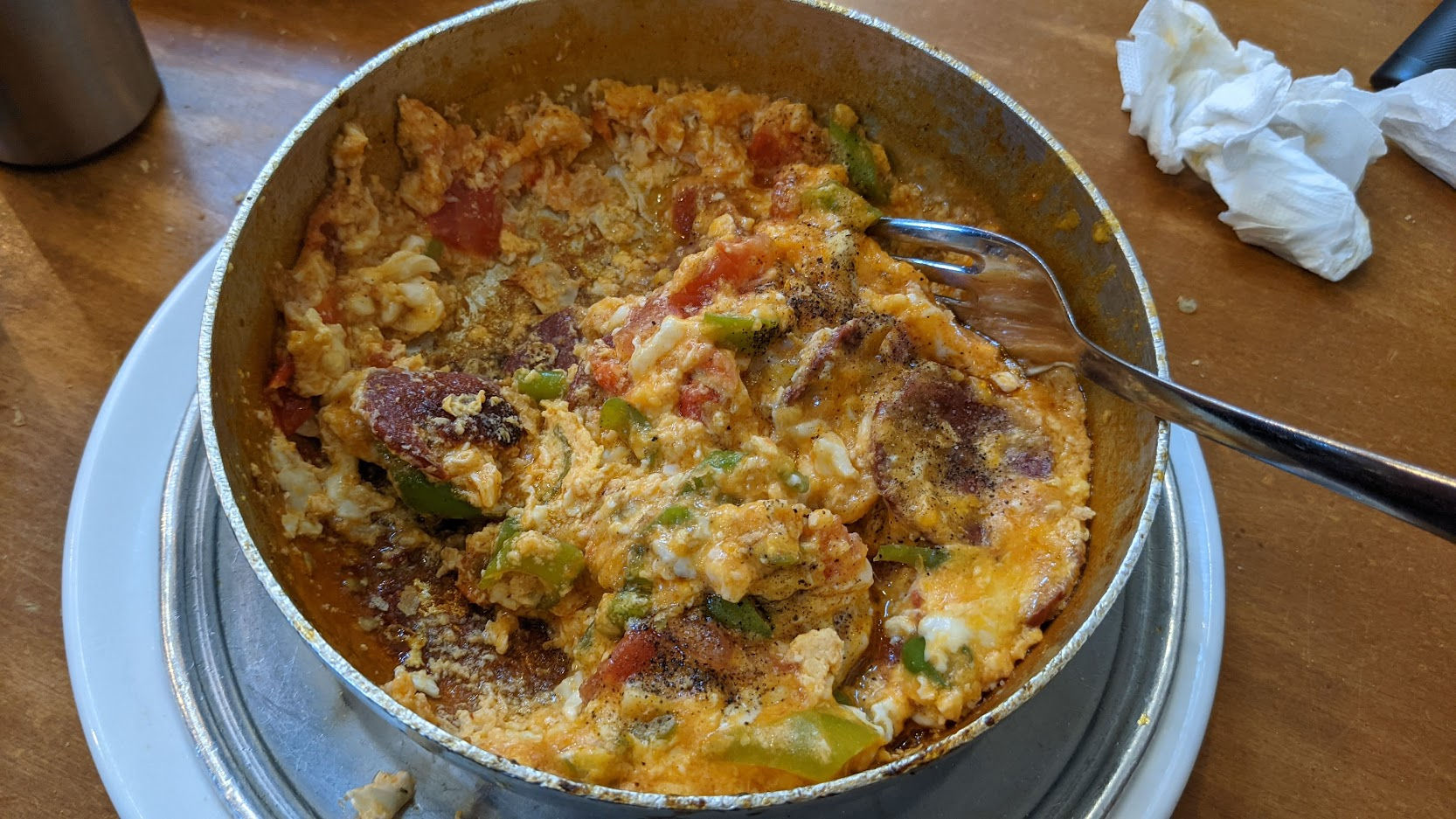 2:45 PM – (Turkish) Coffee Break
Continue walking along Istiklal Cadessi and stop by this cafe for some Turkish coffee.
Mandabatmaz
Asmalı Mescit, Olivya Gç. 1/A, 34430 Beyoğlu/İstanbul, Turkey
https://www.mandabatmaz.com.tr/
Open everyday 9AM–12AM
Google Map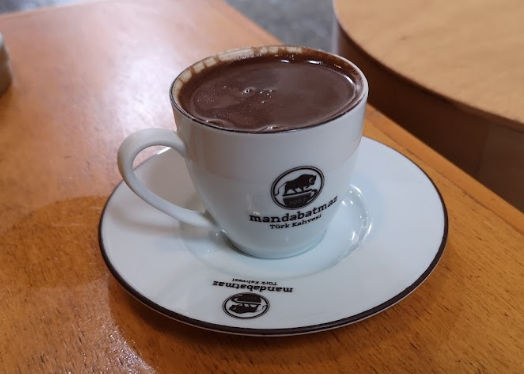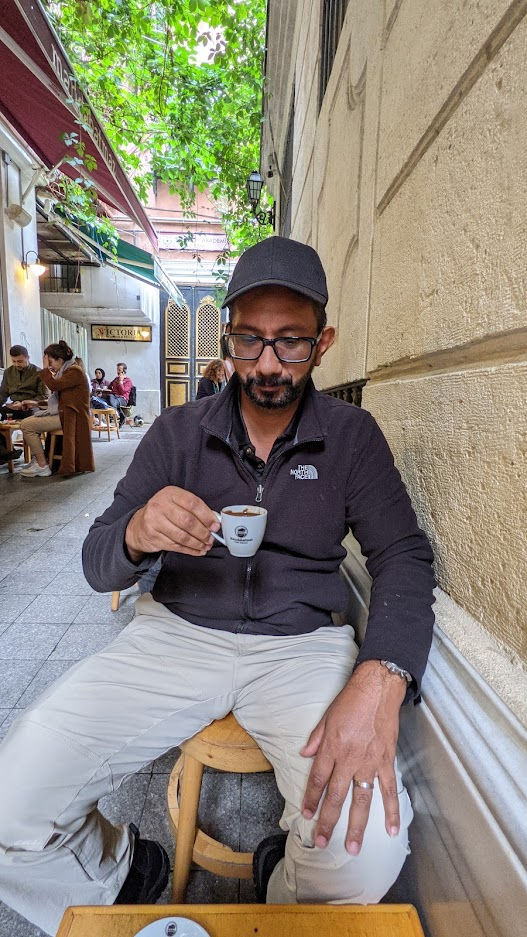 3:30 PM – Galata Tower
Continue walking along Istiklal Cadessi until you reach the Galata Tower (built in 1348).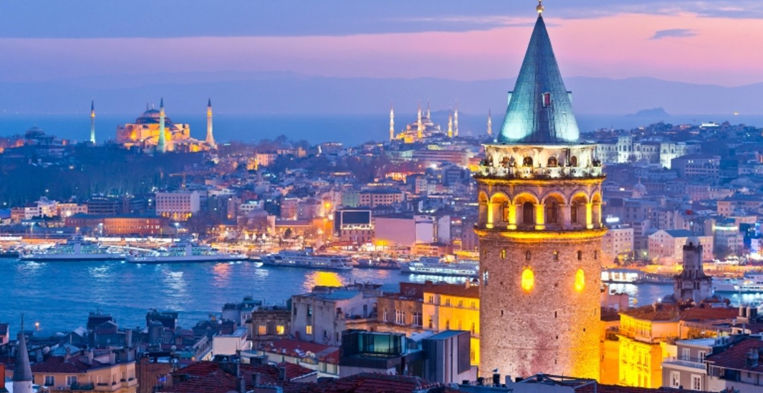 5:00 PM – Galata Bridge
Continue walking along the main path until you get to the Galata bridge. Walk across the bridge to the other side.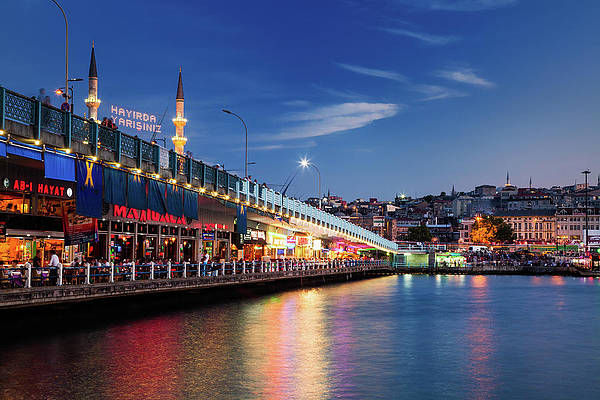 6:00 PM – Bosphorus Tour
Near the government ferry terminal you'll see a Bosphorus Tour boat. Pay 25 Turkish Lira for the 90 minute tour. Boats leave every hour on the hour.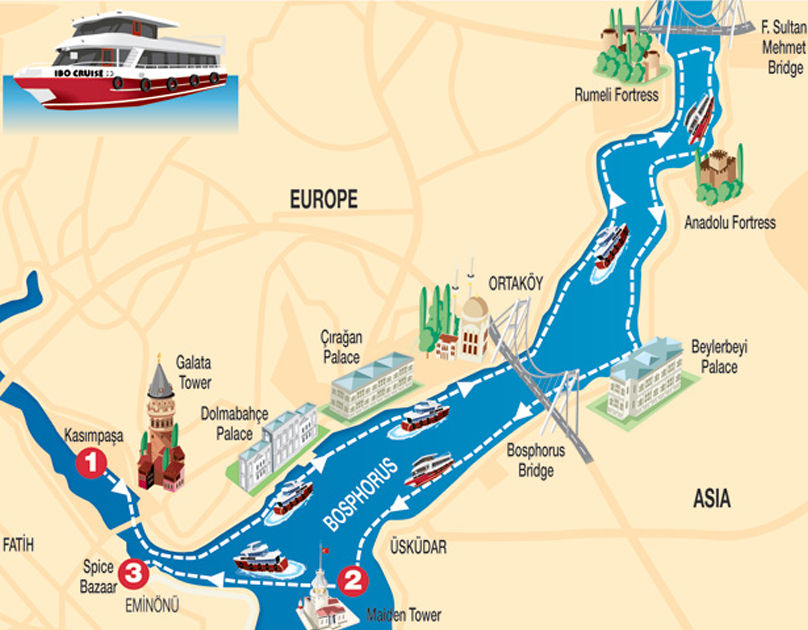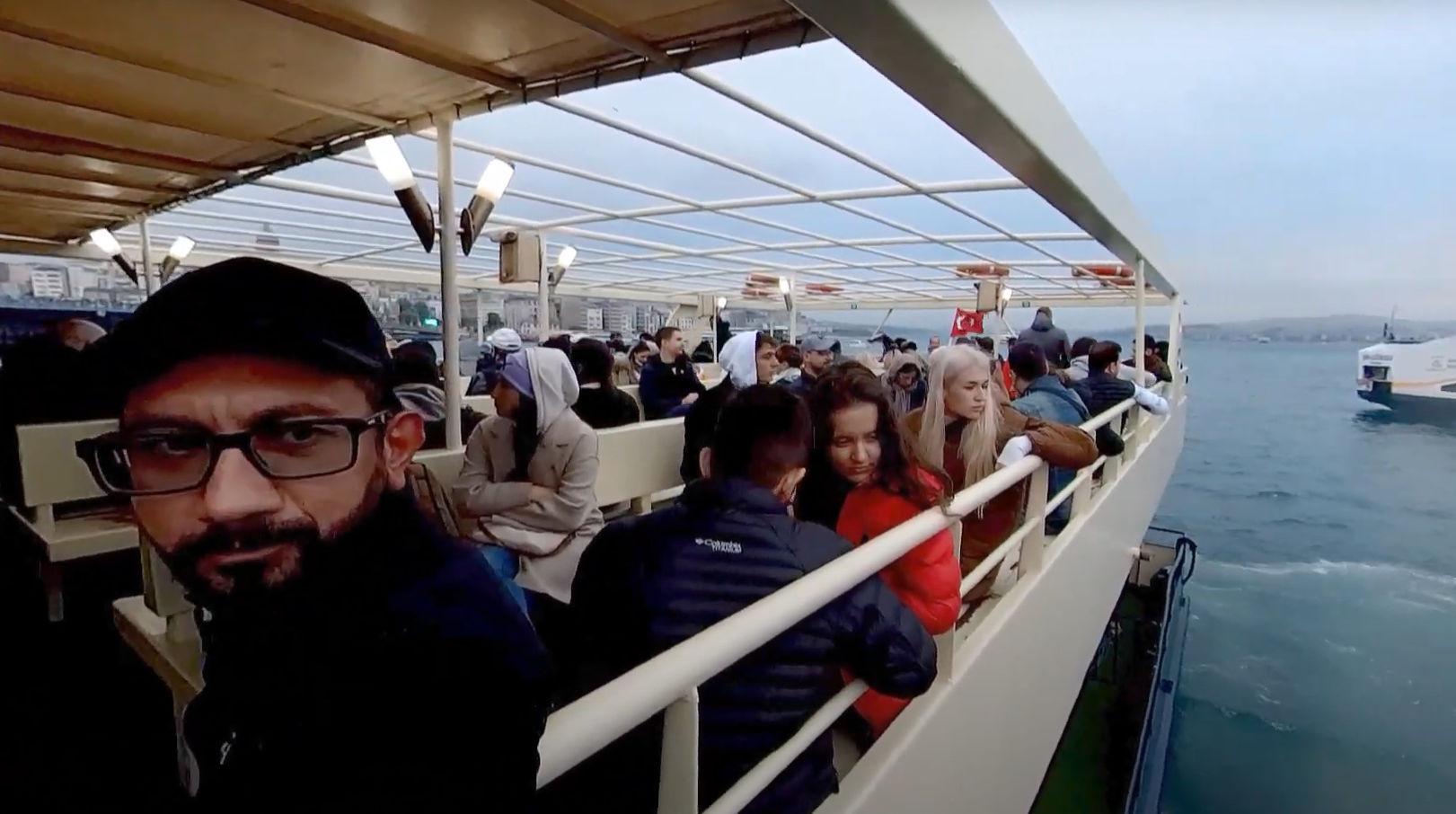 8:00 PM – Dinner
Walk across the Galata bridge then to the right where you'll see a bunch of waterfront restaurants. Pick one where you can dine on the top floor with a nice view, e.g.
Paradise Restaurant Karaköy
Kemankeş Karamustafa Paşa, Rıhtım Cd. 25/A, 34425 Karaköy Beyoğlu/Beyoğlu/İstanbul, Turkey
Google Map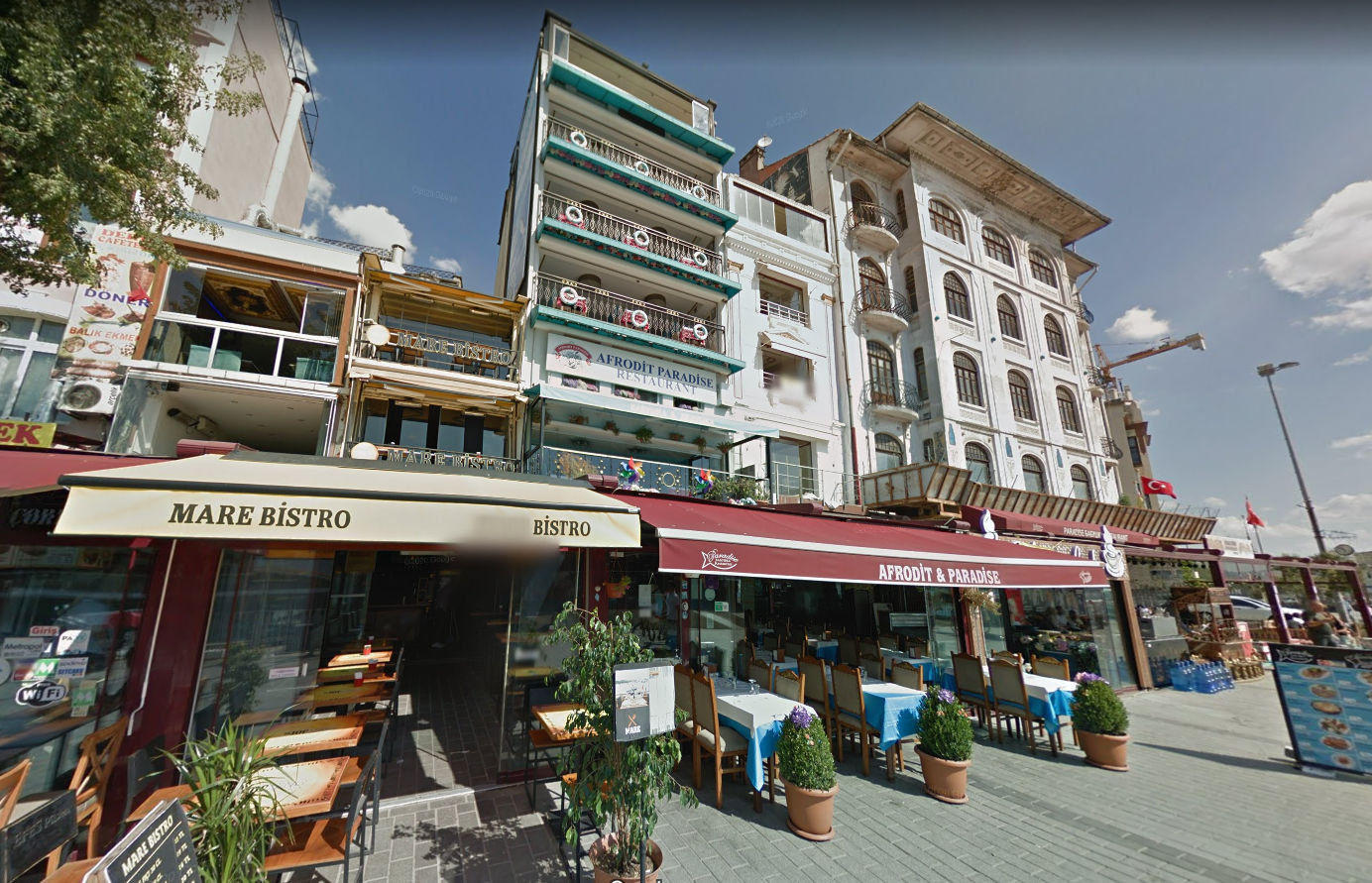 9:30 PM – Baklava
Continue walking a short distance to
Karaköy Güllüoğlu
Kemankeş Cad. Katlı Otopark Altı No: 3-4, 34425 Beyoğlu, Turkey
Open every day 7 AM to 1 AM
Google Map
Have some baklava and Turkish tea. Then, buy a lot of baklava to bring home.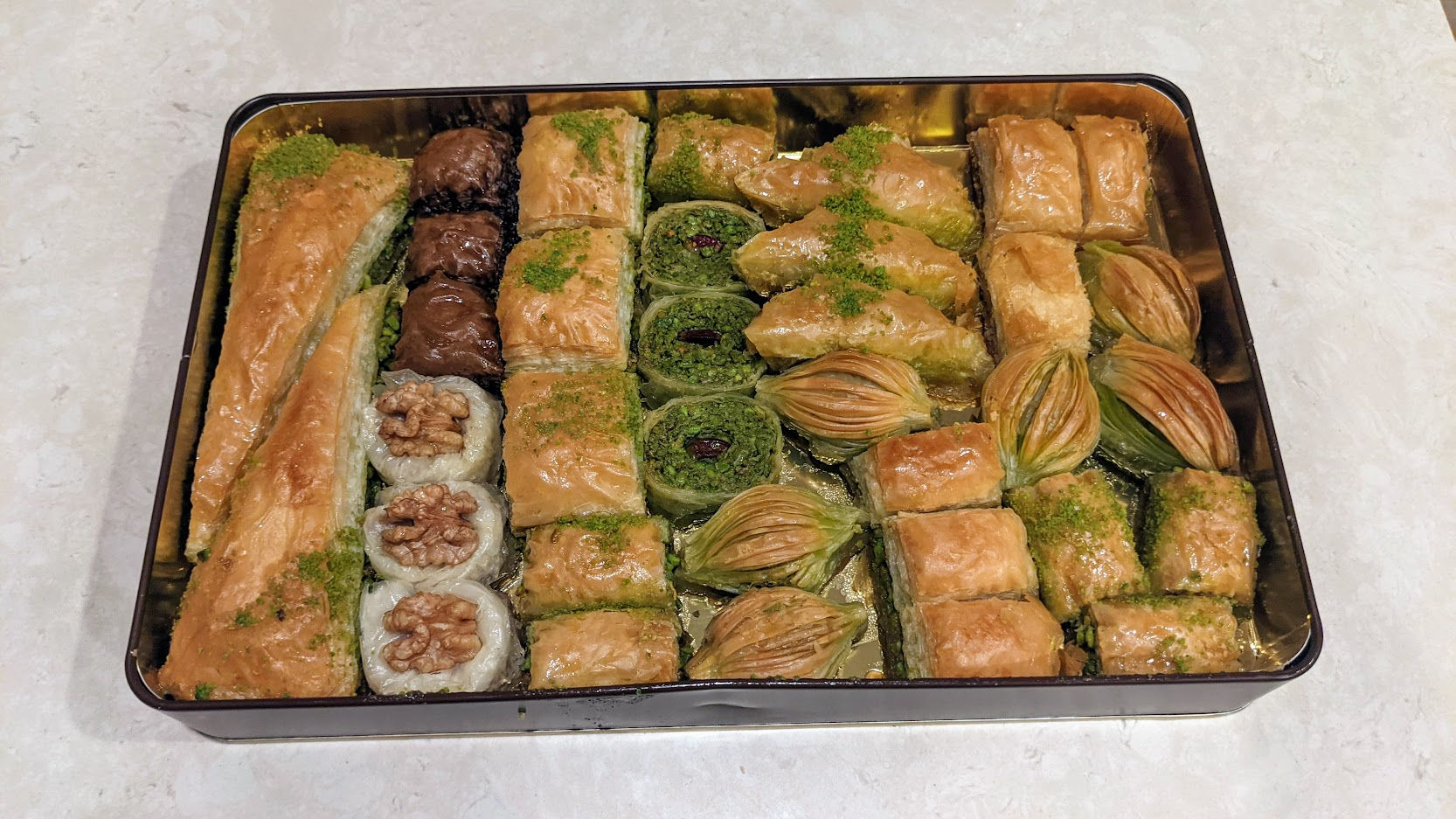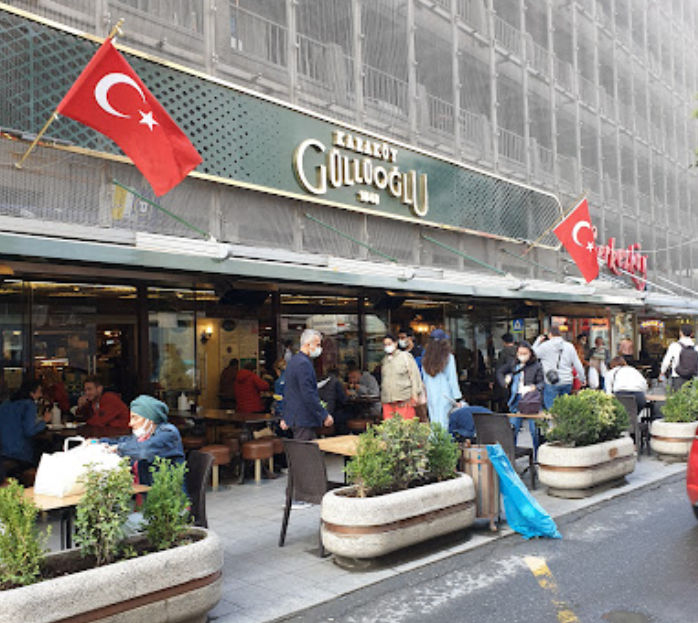 More Food
If you have time, here is some more food to try.
Dönerci Şahin Usta
Mollafenari, Kılıçcılar Sk. No:5, 34120 Fatih/İstanbul, Turkey
Open everyday 11 am to 5 pm except Sundays
Google Map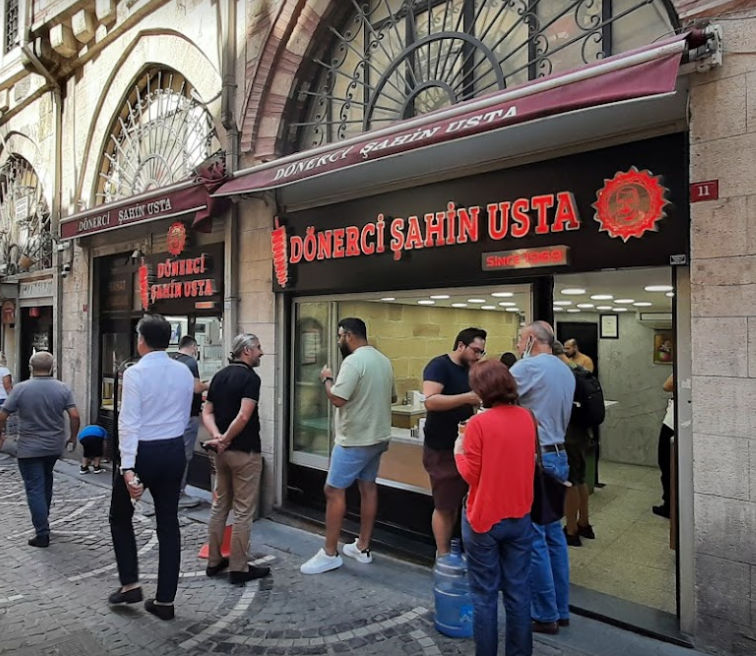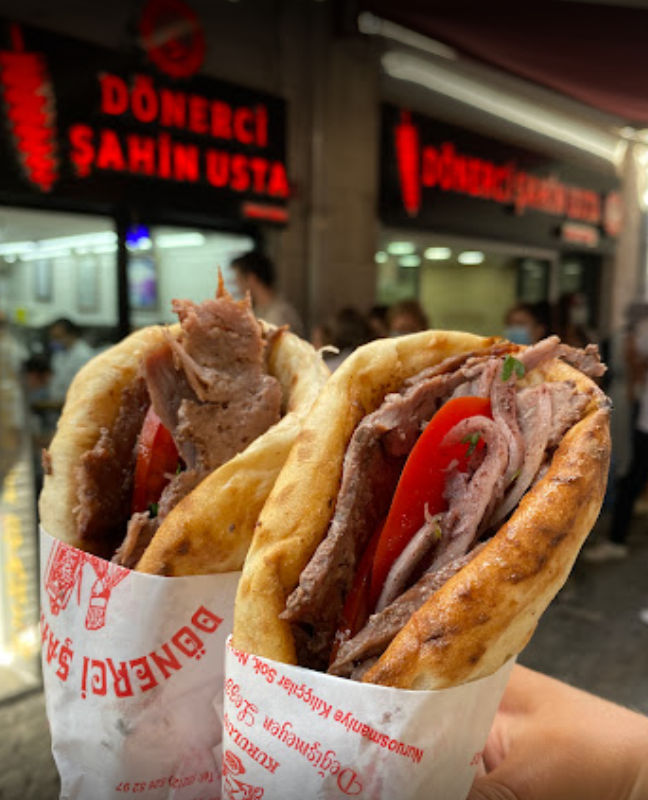 Ayla Tantuni Asmalımescit
Tomtom, İstiklal Cd., 34433 Beyoğlu/İstanbul, Turkey
Open everyday 24 hours
Google Map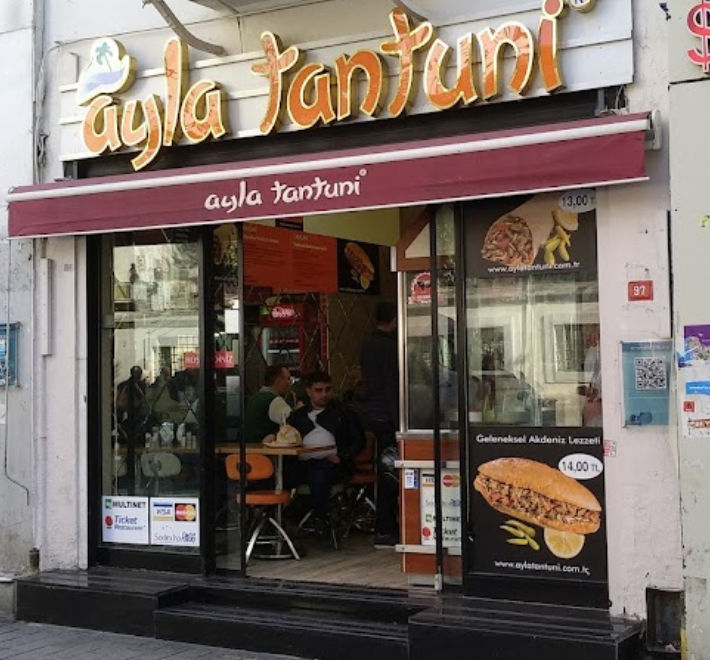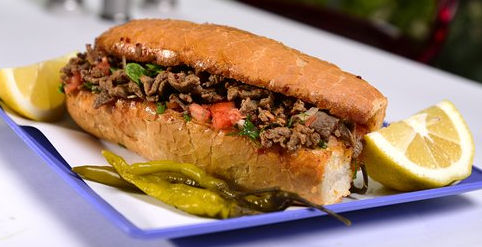 Dürümzade
Hüseyinağa, Kamer Hatun Cd. 26/A, 34435 Beyoğlu/İstanbul, Turkey
Open everyday 10AM–1AM
Google Map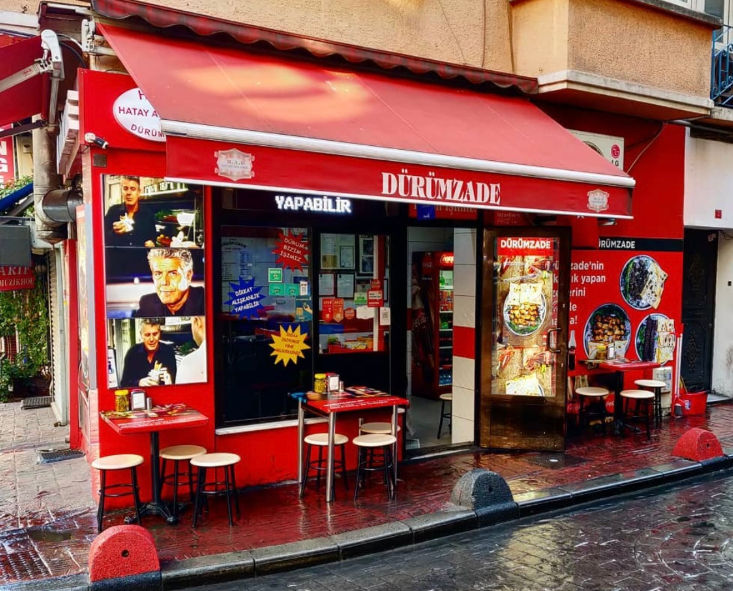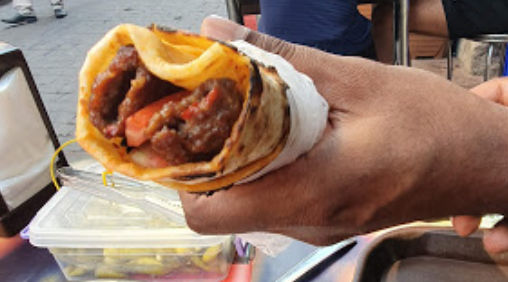 Van Kahvaltı Evi
Kılıçali Paşa, Defterdar Ykş. 52/A, 34425 Beyoğlu/İstanbul, Turkey
Open everyday: 8 AM to 5 PM
Google Map
Order Gozleme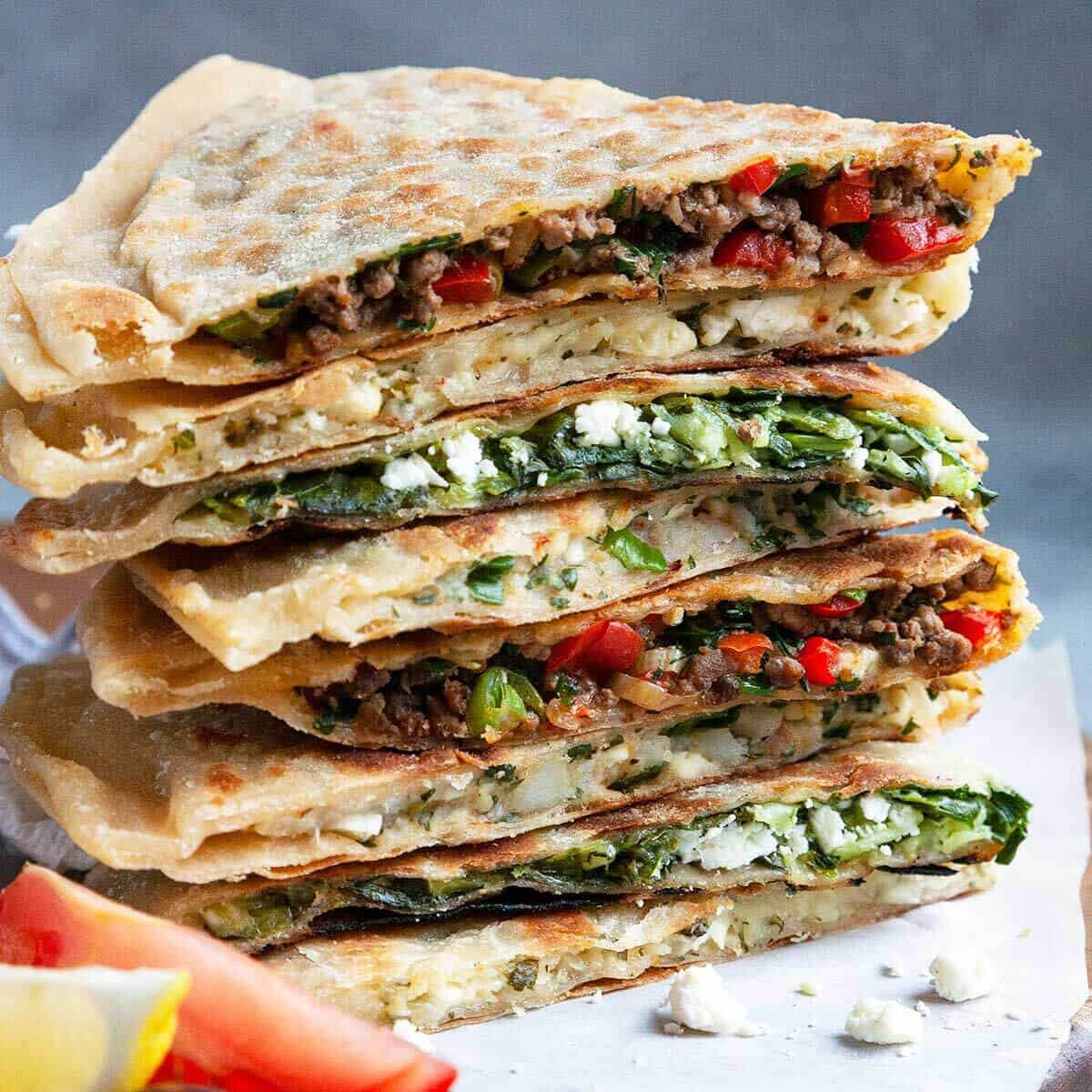 Bereket Döner
Hacı Kadın, Tavanlı Çeşme Sk. No:2, 34134 Fatih/İstanbul, Turkey
https://www.bereketdoner.com.tr/restoranlar Everyday 10AM–10PM
Google Map
Order Doner kabab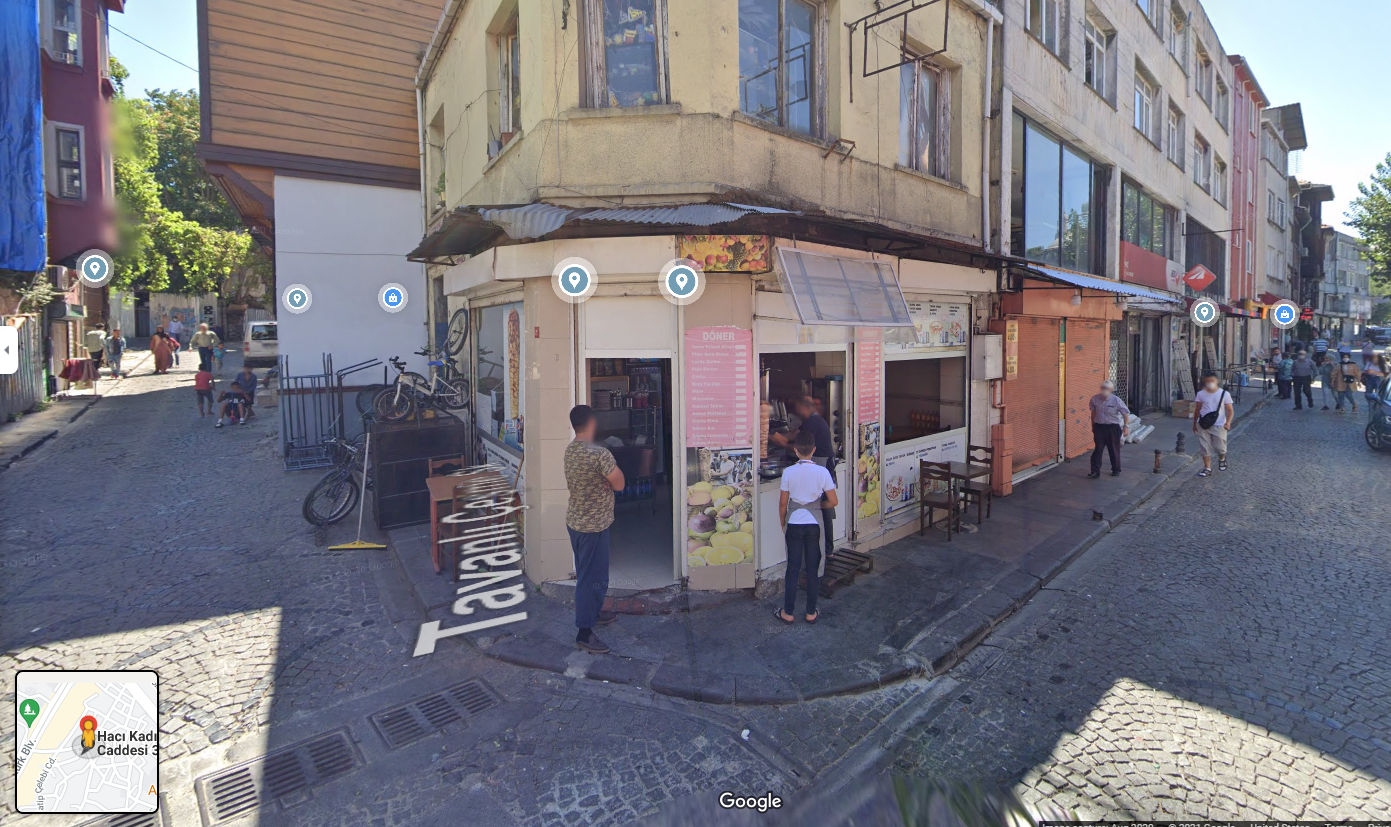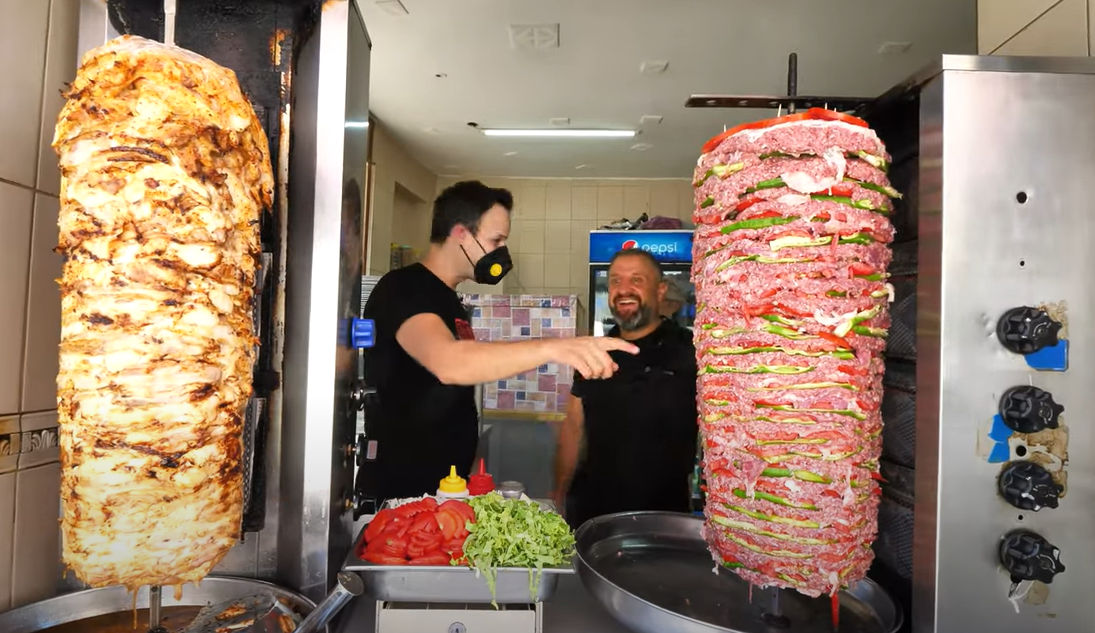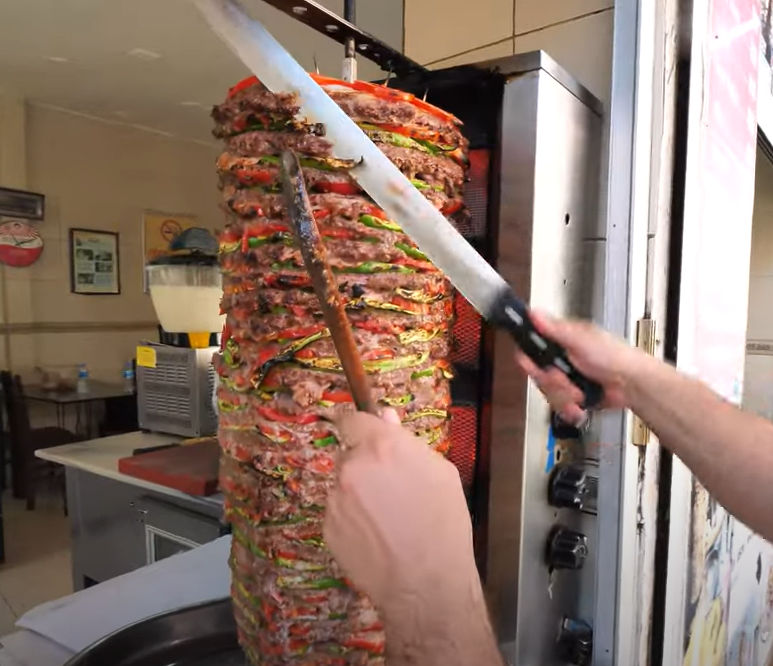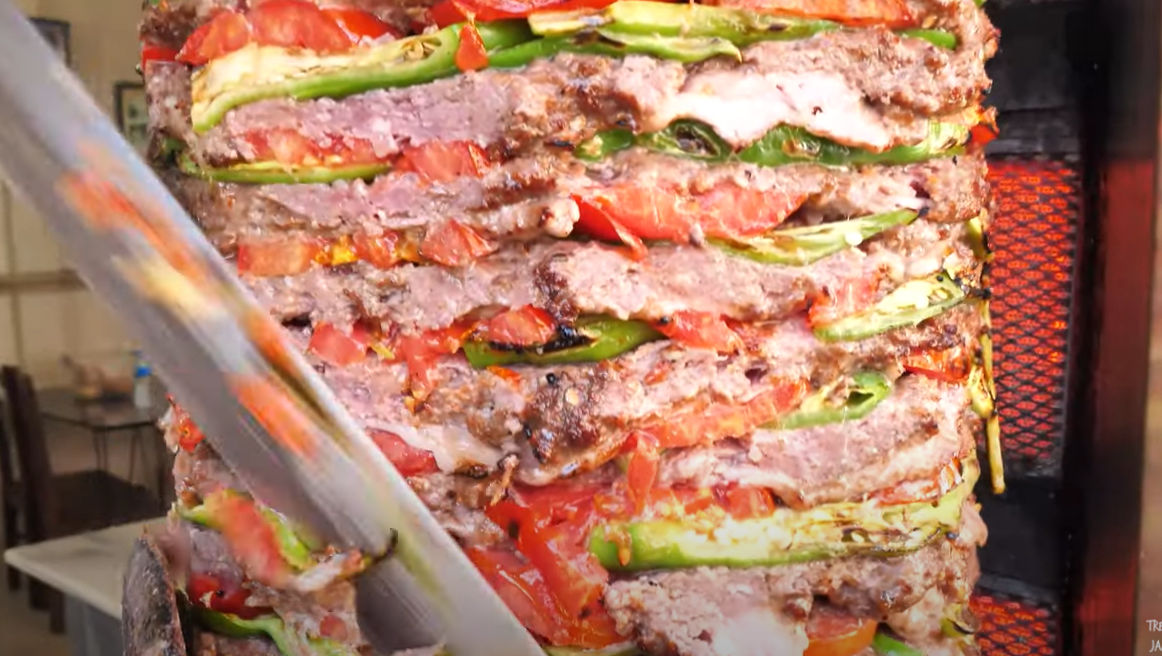 Tarihi Leziz Pide Fırını
Demirtaş Mahallesi, Kuvel Oğlu Han, Kıble Çeşme Caddesi, Fatih, İstanbul (Near Sulaimaniye Mosque)
Instagram
M-F: 10 AM – 7 PM
Sat, Sun: Closed
Google Map
Order Pide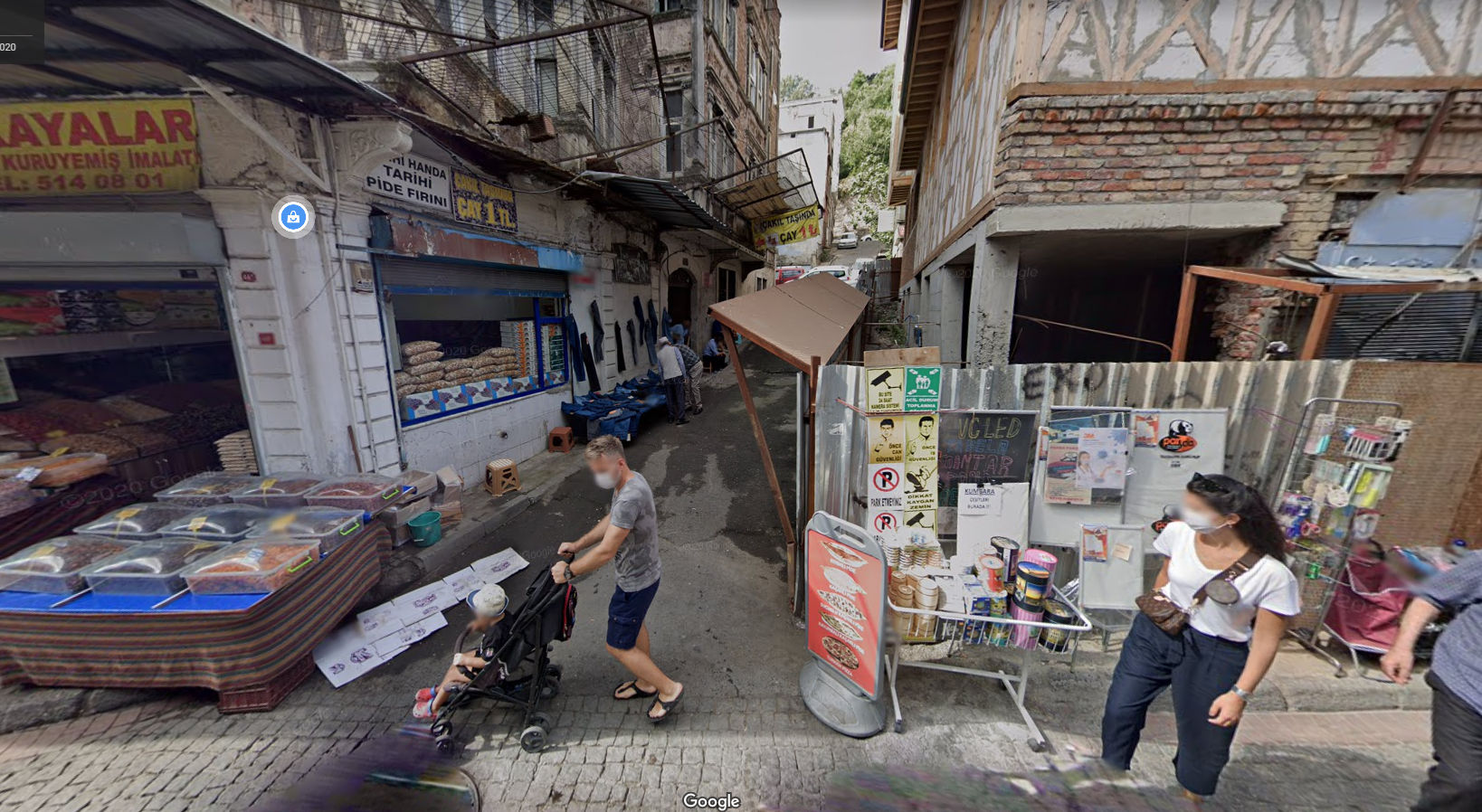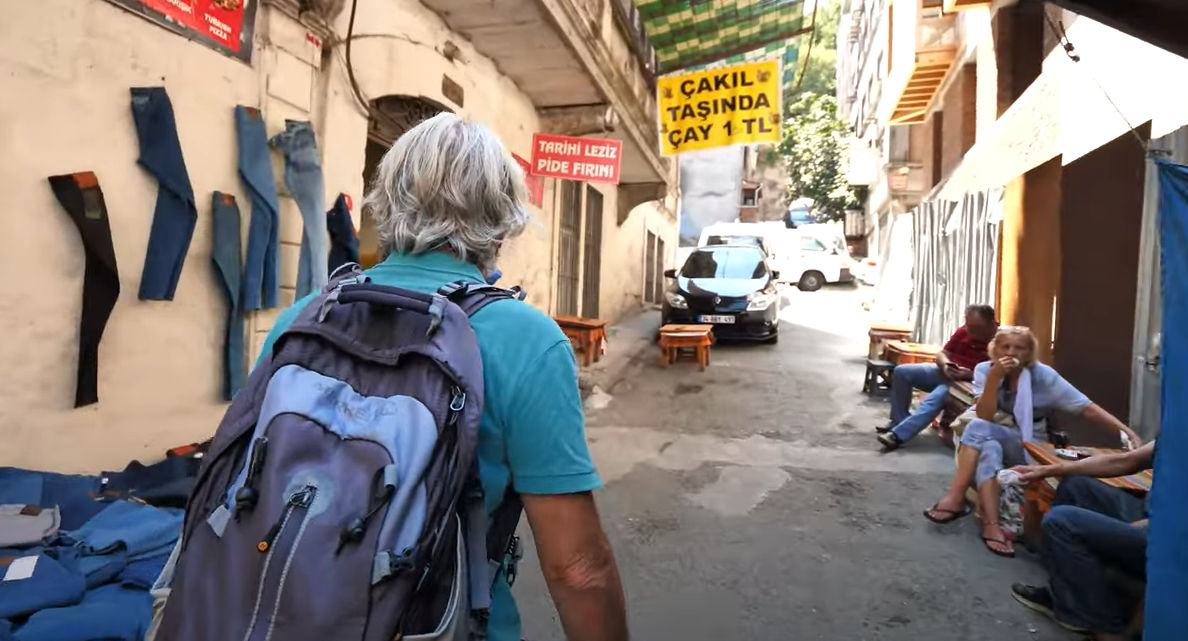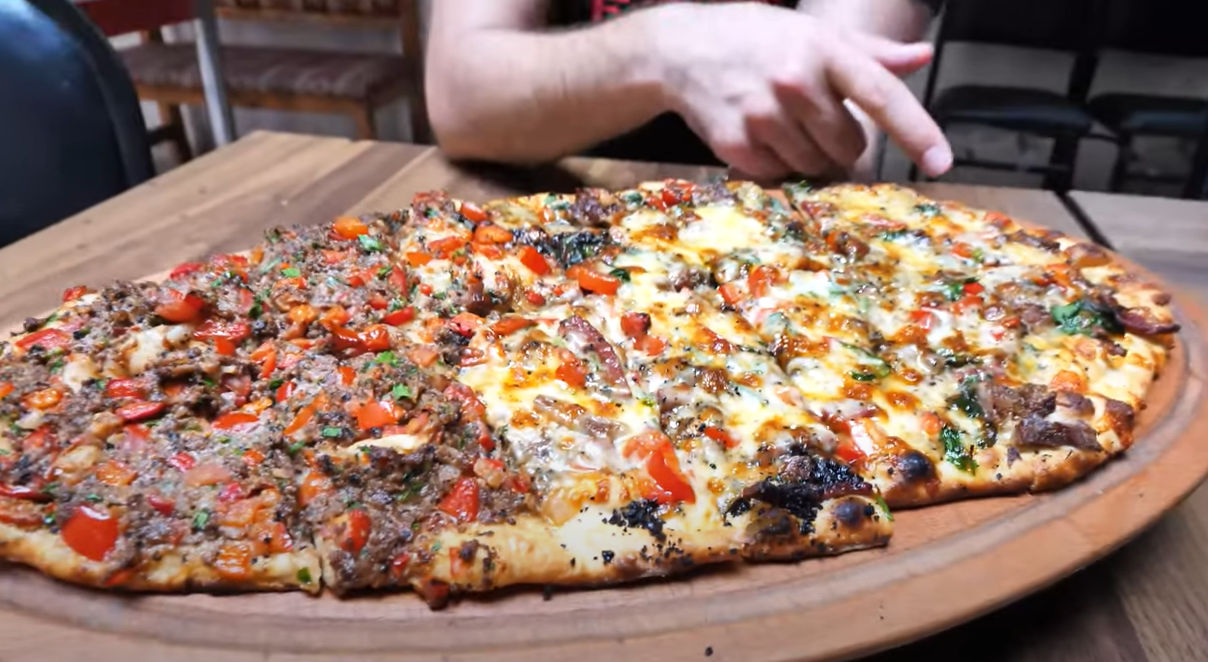 Karadeniz Döner Asım Usta
Sinanpaşa, Mumcu Bakkal Sokağı No:6, 34353 Beşiktaş/İstanbul, Turkey
Google Map
Open everyday 10:30 AM to 6 PM except Sundays
Order Doner kabab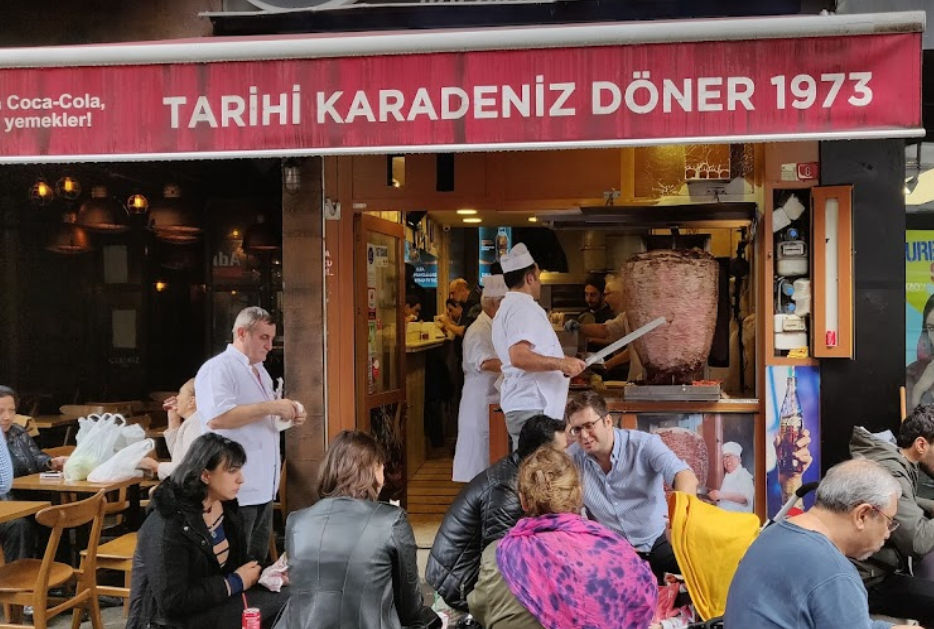 Köfteci Hüseyin 1958
Şehit Muhtar, Mahallesi, Kurabiye Sk. 9/A, 34435 Beyoğlu/İstanbul, Turkey
https://www.instagram.com/kofteci.huseyin1958/
Open everyday 11:30AM–8PM except Sundays
Google Map
Order Kofte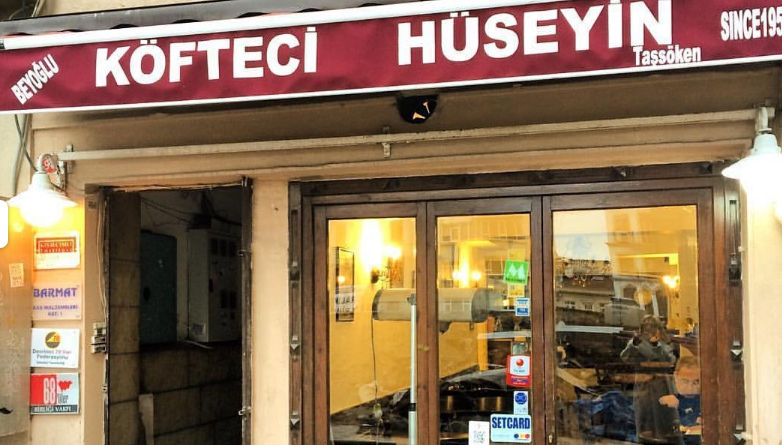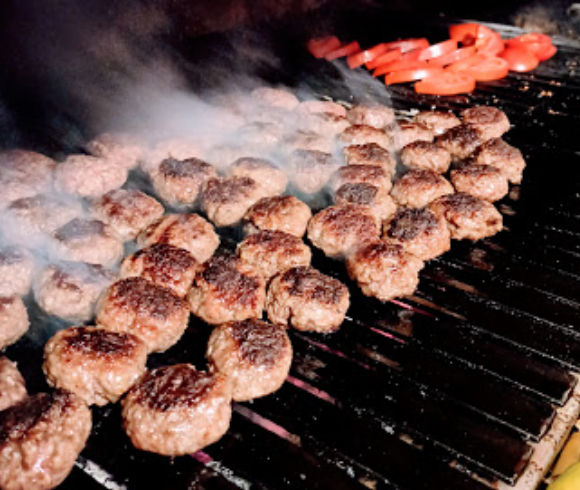 Şeyhmuz Kebap Salonu
Mollafenari, Atik Alipaşa Medresesi Sokak 4/A, 34120 Fatih/İstanbul, Turkey
Google Map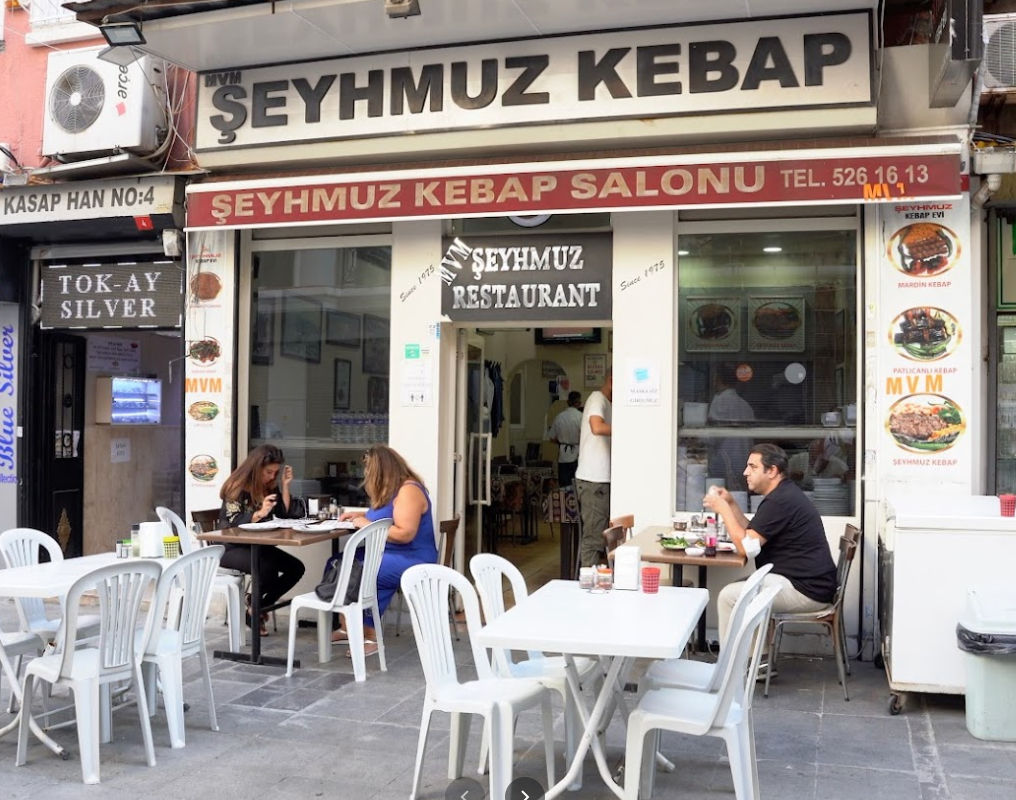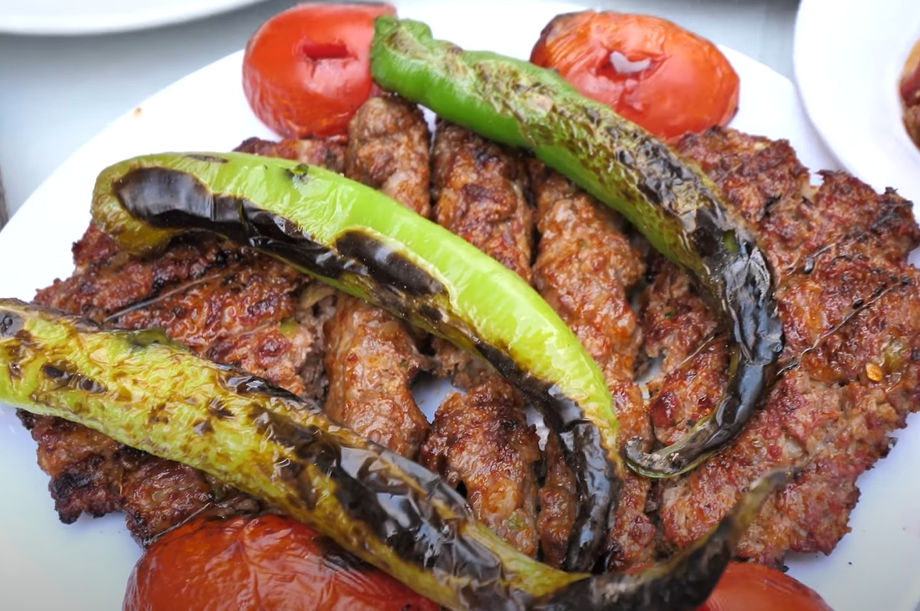 Dürümcü Raif Usta
Mollafenari, Küçük Yıldızhan Sk. No:6, 34120 Fatih/İstanbul, Turkey
Google Map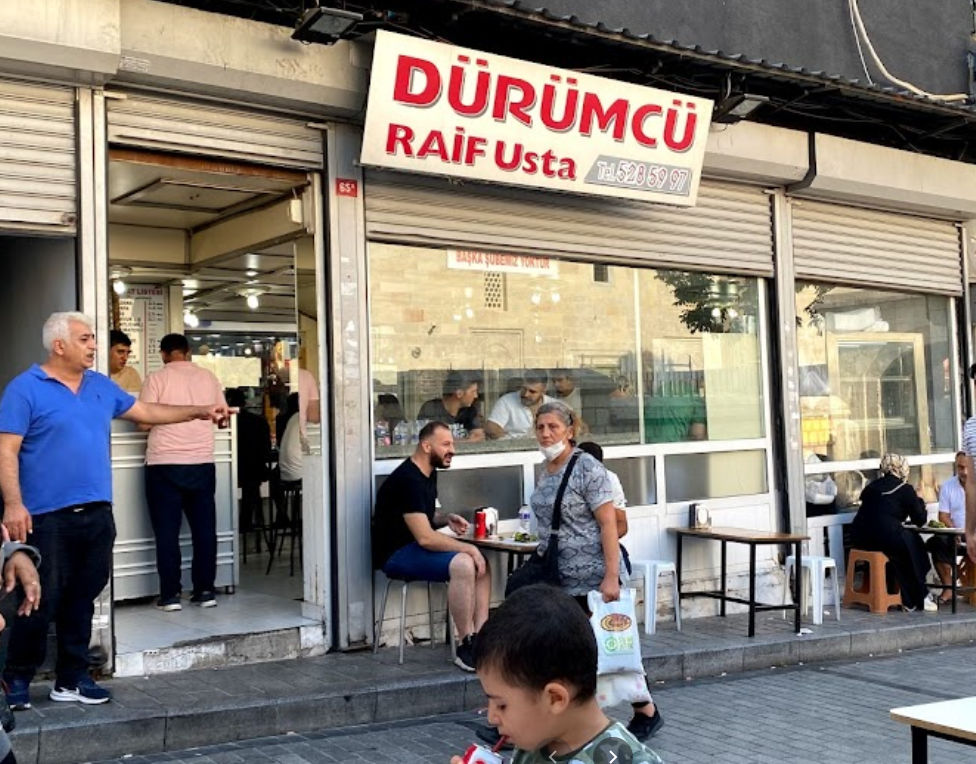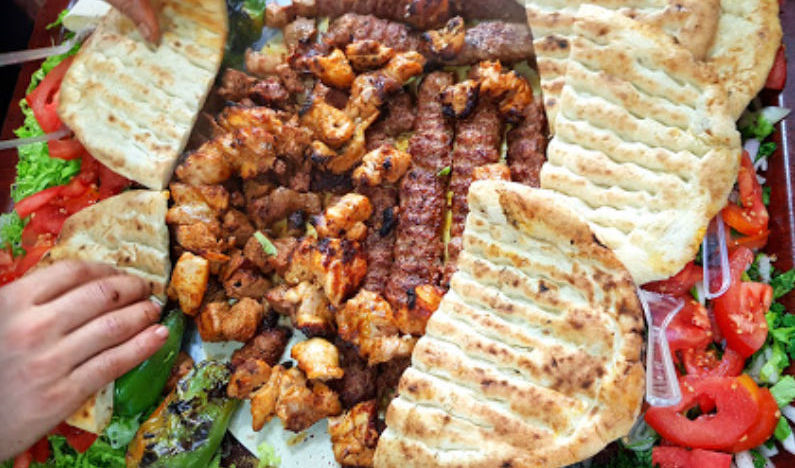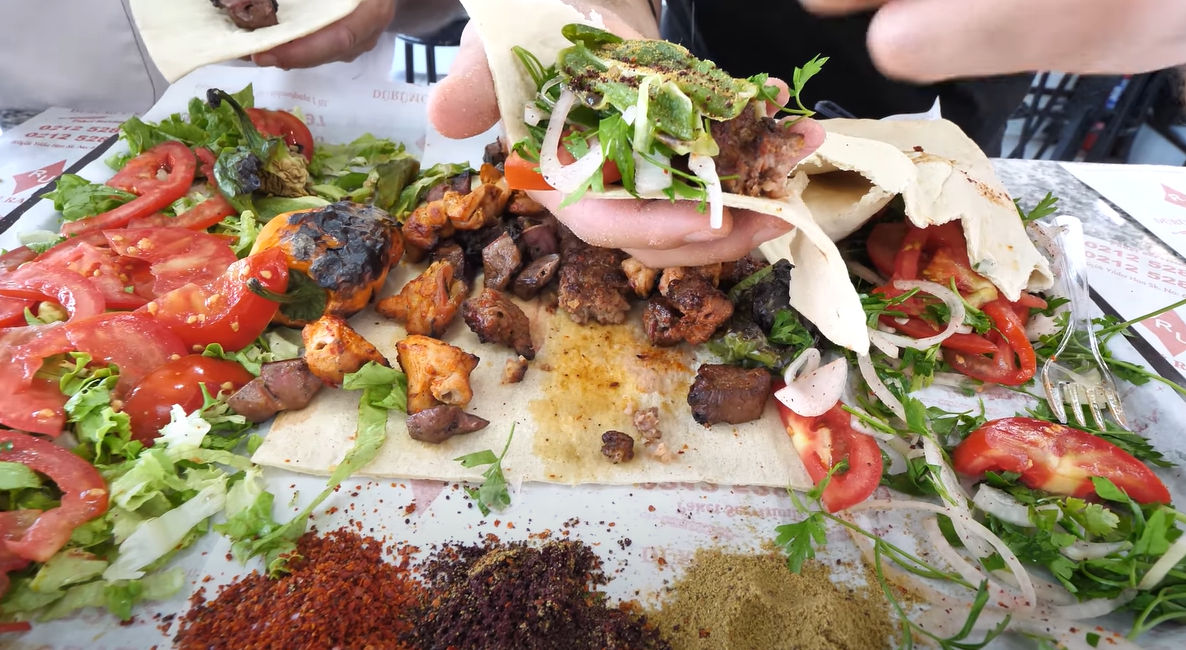 Gul Ebru Kantin
Beyazıt, 34126 Fatih/İstanbul, Turkey
Google Map