Let's say you want to do some home improvement somewhere besides your, e.g. at one of your rental properties. You may be tempted to just bring a few tools related to the job you're going to work on. What often happens, though, is you end up realizing you need another tool that you didn't expect to need. Once you do that a few times, you then realize you need a way to just bring ALL your tools so you don't waste time going back and forth. But how can you bring all your tools? Below is how I bring most tools to a remote worksite. I find this setup works very well.
Heavy Duty Stackable Tool Boxes with Wheels
There are many toolboxes on the market but some are overpriced. I went with the Ridgid ones below.
In the photo above, I have stacked four boxes. The problem, though, is the handle is below the top-most box and it tends to hit your hand which is painful. So, I just stack 3 boxes and the small parts box is lightweight enough to carry by hand.
Following is a description of each box.
Small Parts Box
Unlike other small parts boxes, this one has a robust locking mechanism so when you carry it around, the latch doesn't accidentally open and spill all your parts everywhere.
I only put the parts I use the most like
screws in various lengths (T-25 star head in lengths 1-1/4″, 1-5/8″, 2″, 2-1/2″, 3″)
drywall screws
various metal screws shorter than 1-1/4″
zip ties
metal washers
Wago wire connectors (better than wire nuts)
plastic wire clamps in 3 different sizes
plastic ribbed drywall anchors
rubber bands
etc
For small or few items, I put them in 4 mil 4″ x 6″ clear zip lock bags.
Using a label maker, I label the screws by length.
For the plastic basket, I use this for long items like the 2′ long level and for items specific to a particular task, e.g. if I'm building a new fence, I put string, plumb level tool, knee pads, etc.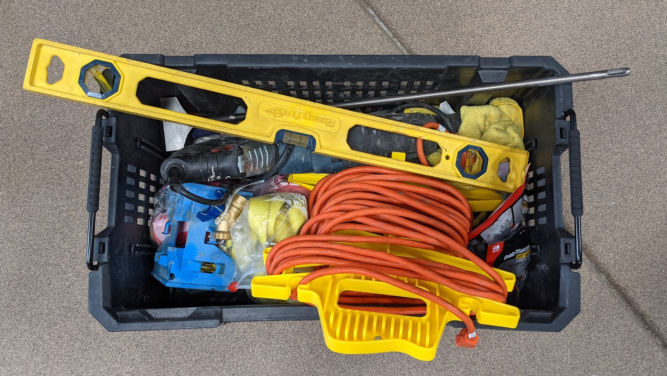 In the toolbox below, I put various small tools grouped by category in 12″ x 12″ 6 Mil Zip Lock clear bags. These are relatively thick plastic bags so they don't puncture easily. In the tray, I put things that don't fit into the other categories, e.g. because they are too long. The categories of items are
electrical (wire stripper, multimeter, outlet tester, voltage sensor, voltage tester, small pliers)
reciprocating saw blades
writing (pencils, markers, pencil sharpener, eraser, pen)
cutting (scissors, tin snips, utility knife, pvc pipe cutter)
gloves
various sizes of flathead screwdrivers
various sizes of philips screwdrivers
socket set and socket adapters
various sizes of chisels
various sizes of hex keys
measuring tools (hard tape measure, laser distance measure, angle measuring tool, soft tape measure)
various drill / driver specialty bits
various angle grinder blades and attachments
various mini circular saw blades
stud finders (magnetic, electrical)
various oscillating tool attachments
various wrenches
The bottom-most box that has the wheels is used for power tools and a few other tools.
hammer
sledge hammer
rubber mallet
paint stirrer
drill
driver
reciprocating saw
oscillating tool
angle grinder
orbital sander
mini circular saw
jig saw
clamps