If you have nasal congestion, which could also cause coughing, then one of the best medicines to take is Sudafed. However, be careful which one you get.
Sudafed (behind the counter)
This kind of Sudafed has the active ingredient Pseudeophedrine which can be used to illegally make methamphetamine (meth / "speed"). As such, it can only be gotten behind the counter, i.e. by talking to a pharmacist at Walgreens. You can get 4 hour Sudafed and 12 hour Sudafed. If you are impatient and can't wait 12 hours to take the 12-hour version, then just buy the 4-hour version. Psychologically, taking medicine more often may make you feel better. One doctor told me that this version of Sudafed (Pseudeophedrine) is better than the kind below (Sudafed PE). Also, you can get a cheaper generic brand like Wal-Phed since all that really matters is the active ingredient, not the brand.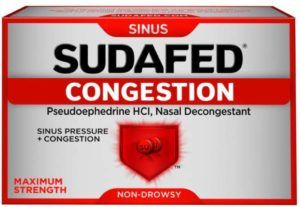 Sudafed PE (over the counter / off the shelf)
This kind of Sudafed can be gotten over the counter / off a shelf because its active ingredient is phenylephrine which can't be used to make illegal drugs. That's why it has the PE acronym in the name.