Search engines, particularly Google. consider two primary things when it comes to search engine ranking:
Relevant content
Credible backlinks / Inbound Links
Relevant content
This one is easy. Just write relevant content. The more, the better. As long as it's content people actually care about.
Credible Backlinks
This is not easy because you depend on getting other reputable websites linking back to you. Below are different ways to get backlinks. This list will be updated as new discoveries are made.
PR
Getting news outlets to write a story about you is the best way to get credible backlinks but it's not easy. If CNN had written an article about your website and the article links to your website, you'll get a boost in search engine ranking. You can hire a PR agency (expensive) or do PR yourself by reaching out to journalists and pitching your story to them. The topic of PR can take up a whole book so I'll it at this. Basically, if you have a good story, e.g. new product/service launch, new feature launch, etc, you can tell journalists about it who represent news outlets that cater to news related to your story, e.g. a new technology product would be pitched to a technology blog (e.g. TechCrunch).
Write your own articles
There are credible websites that let your contribute content, e.g. how-to guides, that also let you link to the source of information (your website).
Video Websites (YouTube, Vimeo)
These websites will let you add a link to your website in the description section of your video
GitHub
Pinterest
Track Backlinks
To find our how many websites link back to your website (backlinks), log in to Google Search Console and click on Search Traffic > Links to Your Site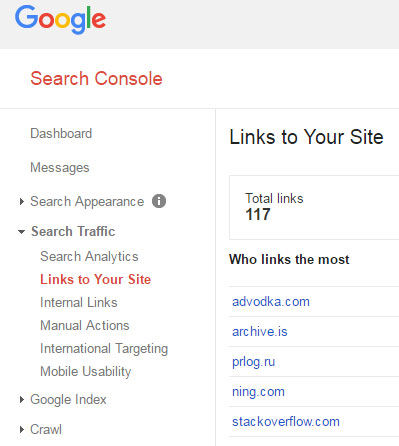 You can also find backlinks from your website or competitor websites using the following services:
Free Websites to Post Content
Website Authority Checker
http://www.seoreviewtools.com/website-authority-checker/