Preparation

Cut weeds using a brush cutter (rent from Home Depot)
Trim weeds using a string trimmer (rent from Home Depot)
Clean yard using power brush (rent from Clark's rockery – $35 / day)
Clean cement using rotary surface cleaner (rent from Home Depot – $22 / four hours)

Divider

Use 4×4 posts as divider with neighbor
Use 3 stakes per 4′ of divider (2 on ends on neighbor side, one in middle on my side)

Perimeter

Dig up using drill dirt along the perimeter
Lay 2″x3″ wood leaving 3″ above wood to driveway surface

Edging

Use edging to create areas for sand, rubber mulch, and river rocks
Weed Blocker

Buy commercial weed blocker from Costco
Buy weed blocker from Clark's rockery across the street from Home Depot
Lay weed blocker under divider to prevent weeds coming up along divider
Overlay weed blocker by 50%
Use weed fabric staples. If need more, buy from Clark's rockery.

Boulders

Place boulders here and there and light up with spot lights
Buy faux boulders / rocks from Amazon

Plants
Trees

Two Myrtle Trees (one on each side of driveway near sidewalk)
Maybe Hollywood Juniper
Maybe Dynamite Crape Myrtle 
Evergreen trees = leaves all year round
Deciduous trees = loses leaves in the winter or dry season

Water

 Sprinkler

Find sprinkler shut-off valve
Test anti-siphon valves

Drip irrigation

Install drip irrigation for all plants

Lighting

Install GFCI outlet on garage exterior
Use LED low voltage lights (guide)

Mulch (Sand + Rubber Mulch + River Rocks)

Put part SAND and part RUBBER MULCH and part RIVER ROCKS using edgers to create natural design
Need 400 sq ft of mulch for front yard
Mulch should be 3 inches deep
So, need 400 sq ft x 1/4 foot deep = 100 cu ft of mulch
1 cu ft = 1 sq ft at 12 inches deep
1 cu ft = 4 sq ft at 3 inches deep
Use shredded rubber mulch instead of wood mulch

0.8 cu ft – $9.97 from Lowes (shredded rubber mulch) (need 125 bags – $1250)
1.5 cu ft – $8.99 from Costco (non-shredded rubber mulch) (need 67 bags = 600)

Looks like real mulch but zero maintenance and no color fade.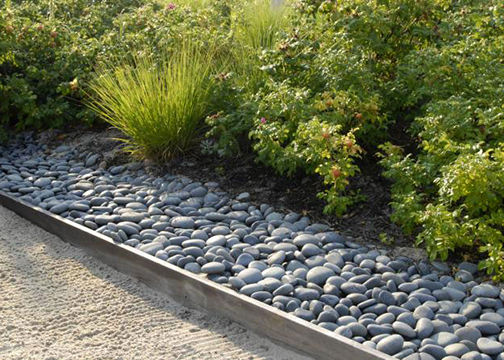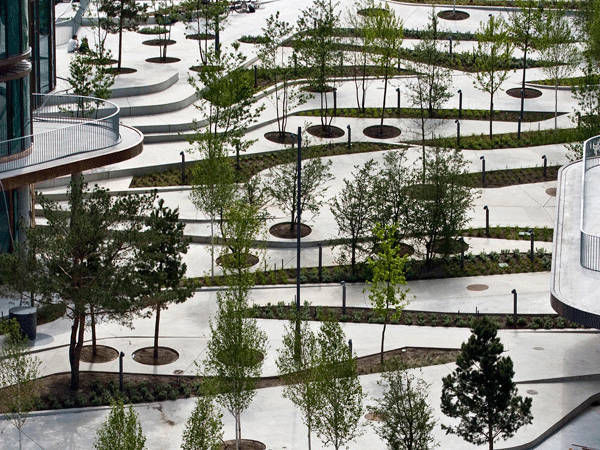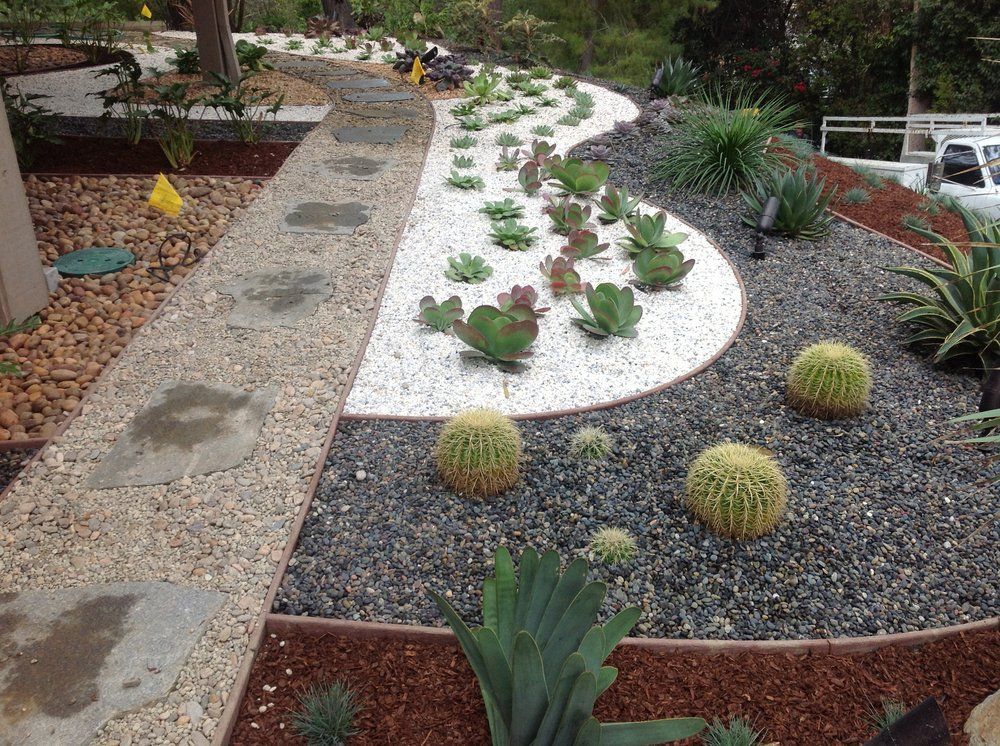 Use 4×4 post cut into different lengths as divider with neighbor.

Put strip of river rocks where Italian Cypress trees are to go.
For back yard fence, use post anchors
http://www.homedepot.com/p/Simpson-Strong-Tie-12-Gauge-Black-Powder-Coated-E-Z-Spike-FPBS44/100655352?MERCH=REC-_-PIPHorizontal1_rr-_-203215004-_-100655352-_-N